By now you've accumulated plenty of documents—music, movie, image, text, and PDF files—and at this point you may want to do something with those files beyond flinging them into folders. One of the best ways to get any such doing done is to double-click them. Try it and their default application opens. In the case of pictures and PDFs, that default application is Apple's Preview.
As its name implies, Preview is designed to let you view documents. But it doesn't have mystical all-seeing powers. Rather, it confines its talents to image and PDF files.
Preview's ability to open image files is very broad. The application supports the major image formats—including those that bear the bmp, gif, jpeg, pict, png, and tiff extensions—as well as rarer file types. And it can export images to most major file types. In addition, you can use Preview to lightly edit these files. For instance, if you need to cut Cousin Jo-Jo out of a photo, you can use the Crop tool to do just that. You can also rotate images, adjust their color and size, annotate them, and select specific portions of them (everyone but Cousin Jo-Jo, for example).
Similarly, you're not limited to viewing PDF files. You can combine multiple unprotected (meaning not locked by the document's creator) PDF files into a single document; rearrange their page order; and annotate, crop, and sign PDFs.
Because Preview's abilities go beyond the obvious ones, we have a fair bit of ground to cover. Consequently, we'll concentrate on images this week, and In the next lesson we'll turn our attention to Preview and PDFs.
Images go in and out
You have various ways to open images in Preview. The easiest is to double-click a compatible image file (or group of selected files). By default, it (they) will open in Preview. Alternatively, you can drag images to the Preview icon in the dock. Or within the Preview application, you can choose File > Open and navigate to the image you want to open.
Once an image is open, you can convert it. One avenue for doing so is to hold down the Option key and choose File > Save As. (The Save As command won't appear if you don't hold down Option.) In the sheet that appears, click the Format menu and choose a different format; your choices are JPEG, JPEG 2000 (a more recent JPEG standard that provides better compression than the original JPEG format did), OpenEXR (a high-dynamic-range image format), PDF, PNG, and TIFF. Unless you have a very good reason for using JPEG 2000 or OpenEXR, stick with JPEG or PNG. (If you're unfamiliar with these image types and wonder why you might choose one or another, see my "20 more technical terms every Mac user should know.")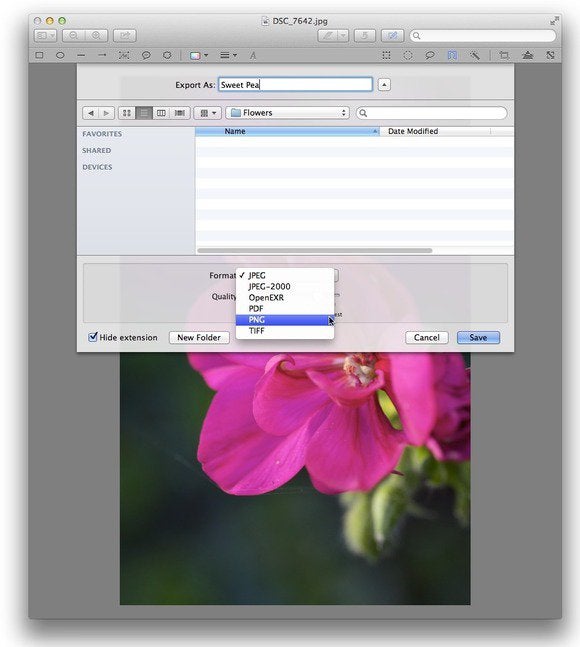 If you have some objection to touching the Option key (and really, isn't it time you got over that?), choose File > Export. You'll see the exact same sheet with the same options in the Format pop-up menu.
Altering your images
Before converting your images, you may wish to muck with them. For instance, you may find that an image you've opened is rotated 90 degrees the wrong way. Or that darned Cousin Jo-Jo may have crept into the outer edge of an otherwise lovely family photo. Let's now look at some ways you can use Preview to edit your images. To begin, choose View > Show Toolbar (if the toolbar isn't already present). In addition, choose View > Show Edit Toolbar.
Rotate and flip: I occasionally prod you to memorize certain keyboard shortcuts. This is one such case. Although you could choose Tools > Rotate Right or Tools > Rotate Left, you'll find it far easier to rotate images if you imprint the Command-R and Command-L commands, respectively, on your brain. (Regrettably one of these commands is not consistent with iPhoto's Rotate command. In iPhoto you press Command-R to rotate counterclockwise and Command-Option-R to rotate clockwise.)
You can flip images, too. When you choose Tools > Flip Horizontal, the image flips around so that objects that were on the left are now on the right, and vice versa. If you choose Tools > Flip Vertical, the image appears upside-down and backward.
Crop: If you haven't learned this trick by now, let me catch you up. You can greatly improve many images by cutting out extraneous or distracting material—the kid who expresses his displeasure at the camera by jamming out his tongue, or an element-choked screenshot that hampers the viewer's ability to focus on the subject of the image. This is where cropping comes in. When you crop an image, you scissor out material you don't want to see.
By default, the rectangle selection tool is the active option when you open an image. To crop an image, simply click and drag over the portion of the image that you want to keep. If you don't capture the selection exactly right, just click and drag one of the eight handles (which appear as dots around the edges of the dotted selection border) to resize the selection. To impose the crop, choose Tools > Crop (or memorize and use the handy Command-K shortcut). Do this and you'll be left with just the portion of the image that you selected.
Note: When you purchase something after clicking links in our articles, we may earn a small commission. Read our affiliate link policy for more details.
Chris has covered technology and media since the latter days of the Reagan Administration. In addition to his journalistic endeavors, he's a professional musician in the San Francisco Bay Area.