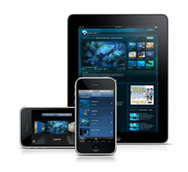 The name Brightcove may not be familiar to you, but the company provides Web-based streaming video for a number of high-value clients, such as The New York Times, Time, Condé Nast, The Weather Channel, Universal, and many more. On Monday, Brightcove announced that it's launching a video player based on HTML5 specifically to bring compatibility with the iPad, iPhone, and iPod touch.
The Brightcove Experience for HTML5—which will be free to existing customers of its Professional, Enterprise, and Express editions—will dynamically deliver H.264-encoded video to devices like the iPad. Brightcove can detect a user's device on the fly and automatically provide content in the correct format.
Brightcove says major partners such as The New York Times and Time are already using the solution to build versions of their sites tuned for the iPad. An early version of the software is currently available for existing customers, and the company will continue to improve it over the next year, adding support for player customization and branding, ads, analytics, social sharing, and other features in Brightcove's Flash-based solution.
If one were to pick a single contentious issue about Apple's forthcoming iPad, it might very well be the device's lack of support for Adobe's Flash technology. Even prior to the iPad's launch, some companies have already chosen to forego the use of Flash to make sure that their sites display well on a range of devices.
Flash's near ubiquity on the Web is still a steep challenge to overcome. But with Brightcove's addition to the likes of sites like YouTube and Vimeo, both of which currently provide H.264-encoded video, it's clear that the iPad is already having a substantial impact on the way Websites provide video content.