Editor's Note: The following article is reprinted from Macworld UK. Visit Macworld UK's blog page for the latest Mac news from across the Atlantic.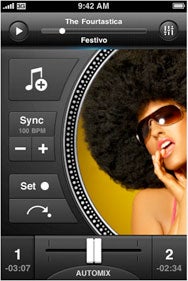 Algoriddim has announced the release of djay Remote, an application that promises to turn your iPhone or iPod touch into a fully-fledged DJ controller.
Wirelessly syncing with Algoriddim's djay software on the Mac, djay Remote enables users to mix and play their iTunes music. Algoriddim claims the application offers remarkably realistic control that sets djay apart from similar software and is carried over to the iPhone version, including the ability to run Automix on a selection of songs, work two turntables individually, scratch and cue music in real-time and control high quality effects, looping, skipping and cue points.
Other djay Remote features include seamless integration with djay via WiFi (two-way-synchronous), ultra-low latency, full access to the user's entire iTunes library on the Mac, an automix function, multitouch-enabled mixing in real-time, individual control of dual turntables for scratching, cueing, skipping, and other effects, and EQ and volume controls.
Available from the App Store, djay Remote costs $5 and requires the iPhone 3.1 Software Update or later.