SLIDESHOW
Towers of power: A slideshow look at past Mac tower computers
Apple's history of tower Macs, in pictures.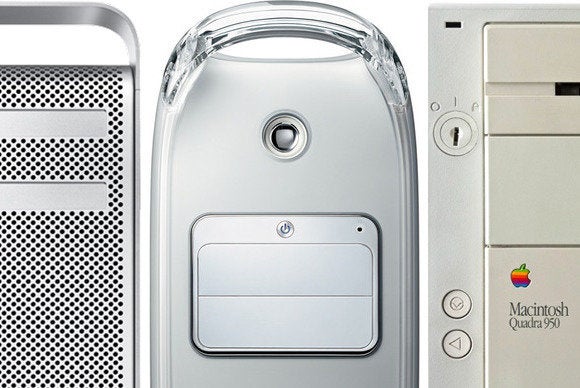 Standing tall
Mention Apple computers, and most people think of all-in-one designs, or space-saving desktop machines. But Apple has a long history of tower computers that weren't just tall, heavy-duty systems for power users. Apple's towers have always had a design and style that makes them stand out from a skyline of beige PC towers. In this slideshow, we'll take a visual tour through some of the pillars in Apple's tower-design history.
Be sure to share your thoughts and experiences with your Mac tower in the comments below.
Macintosh Quadra 700
You might not consider the Quadra 700 to be a tower, since it was essentially a Mac IIcx case standing on its side. The Quadra 700 was released in October 1991, and had a 25MHz Motorola 68040 processor. It had two NuBus slots and a PDS (processor-direct slot), and used SCSI to connect to external hard drives.
[Photo: Ben Boldt via Wikipedia]
Macintosh Quadra 950
The follow-up to the Quadra 900, the 950 is the machine that some people consider to be the first true Mac tower. If you had a bunch of NuBus cards, this was the Mac to get—the Quadra 950 (released in May 1992) had five NuBus slots, as well as a PDS. The key locked the power switch so that unauthorized people couldn't turn it on or off. The key also locked out input devices.
[Photo: Danamania via Wikipedia]
Macintosh Quadra 840AV
This model was released a few months after the Quadra 800 in July 1993. The "AV" in the name referred to the computer's S-Video and composite-video ports, which were not available in non-AV Macs. The Quadra 800 was a more affordable minitower alternative to the Quadra 950, but I have bad memories of this tower's case. The cover slid on and off awkwardly (I think I may have warped a cover while it was off), and accessing the components was hard. It contained three NuBus slots and one PDS.
[Photo: Vectronic's Apple World]
Workgroup Server 9150
This was the first Apple server not to be based on a consumer model. (Apple also declined to go the reverse route and make a consumer Mac based on the 9150's design.) Released in April 1994, the 9150 had four NuBus slots and a PDS. Buyers had a choice of an 80MHz 601 PowerPC processor or a 120MHz 601+ PowerPC.
[Photo: Makubu]
Network Server 500
The Network Server 500 (April 1996) was designed for enterprise networks. It didn't come with Mac OS installed; Apple instead used AIX, an IBM-developed Unix operating system. The machine had seven half-height/three full-height bays and six PCI slots, and weighed over 80 pounds.
[Photo: Shrine of Apple]
Power Macintosh 6500
This case design actually made its debut with the Performa 6400 in August 1996. Computers with this tower design had a built-in subwoofer, and PCI slots (two in this case) replaced the NuBus slots. The Power Macintosh 6500 had an option for an Iomega Zip drive, which wasn't found on the Performa models.
[Photo: Ben Boldt via Wikipedia]
Power Macintosh 8600
Apple announced the 8600 along with the Power Macintosh 9600 in February 1997. The company then went on to use the same case design for the Power Macintosh G3, which replaced the 8600 and 9600 in November 1997. What's remarkable about this case design is that it was the last beige tower Apple ever created.
[Photo: Recycled Goods]
Power Macintosh G3 (blue and white)
The Bondi Blue iMac was revealed in May 1998, and anticipation was high in regards to how Apple would apply its new design aesthetic to its tower Macs. The answer came in January 1999, when Apple updated the Power Macintosh G3 with a new blue and white, easy-access design. The basis of this case design lived on in Apple's towers for the next five years.
[Photo: Stevesonian]
Power Macintosh G4 (Quicksilver)
In September 1999, the first Power Macintosh G4 came in a case similar to the Power Mac G3, but in a graphite color. Nearly two years later, Apple unveiled a new case, the Quicksilver Power Macintosh G4, which had four hard-drive bays, one optical-drive bay, one Zip-drive bay, four PCI slots, and one AGP slot.
[Photo: Apple]
Power Macintosh G4 (mirrored drive doors)
When you looked at this machine, two features immediately grabbed your attention: the mirrored doors on the drive bays, and the four holes near the bottom. The mirrors on the doors were purely cosmetic, serving no practical purpose. The same could be said about the four holes, though the air intake was located just underneath the tower's face, so the holes could work with that.
[Photo: Apple]
Power Macintosh G5
The aluminum tower made its debut in June 2003, and Apple is still using this tower design for its Mac Pro—at least until later this year. (The company renamed the tower the Mac Pro when it switched to Intel processors.) At one point during the Power Macintosh G5's run, Apple used a liquid-cooling system for its CPUs. Learn more about the Power Mac G5.
[Photo: Apple]
Mac Pro (2013)
Apple is taking a fresh, new approach with its latest tower design. The new Mac Pro relies on Thunderbolt 2 for expansion—no internal options are available. The machine won't be released until later this year, but you can learn more about the 2013 Mac Pro before you make plans to buy one.
[Photo: Apple]
The 10 most significant Apple keynotes
Next Up: Check out these related slideshows
Today's Best Tech Deals
Picked by Macworld's Editors