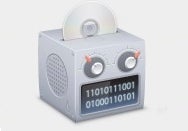 Fuel Collective on Monday released Permute, a new OS X application for converting media files.
To use it, drag a video or audio file over Permute's main window, choose a format from the drop-down menu, and click the Start button. Once you've done that, you just watch as the progress bar ticks away the time until your conversion is complete.
Permute comes bundled with about 20 presets, so you can optimize your converted media file for playback on anything from an Apple TV to an iPhone to an Xbox. You can tweak the built-in presets or even add your own custom configurations. It's a 64-bit app that can also take advantage of multiple cores to speed up encoding. And it can convert .dvdmedia & VIDEO_TS folders to ISO disc images, which Fuel Collective says provides for better media center support.
The software joins a crowded field of Mac video-conversion options, such as the free VideoMonkey or HandBrake ( ) and Roxio's $50 Popcorn 4 and $100 Toast 10 Titanium ( ), among others.
Permute's free trial lets you give the program a whirl by converting up to ten files—after that you'll have to upgrade to the full version for $15. The software requires an Intel processor, OS X 10.6 or later, and the open-source X11 framework (which is included on OS X's install disc).