By my count, app maker Chilli X offers more than a half-dozen variations on clock apps for the iPhone and iPod touch via the App Store. These apps, led by Chilli X's PhotoFrame, typically turn the entire screen of your mobile device into a picture frame and clock with alarms, a time-and-date display, and other assorted features.
Since Chilli X's apps rely so heavily on screen real estate, you might figure that the iPad and its larger screen would provide too tempting an opportunity for the developer to pass up. You would figure correctly—Chilli X plans on offering an app called PhotoFramePlus for the iPad.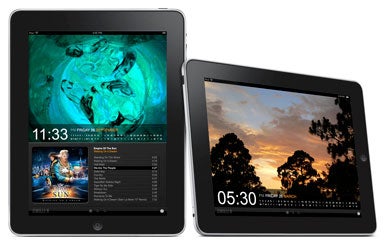 In a blog post announcing the app, Chilli X describes its iPad effort as a "souped-up version" of PhotoFrame. PhotoFramePlus will display the time, date, and a monthly calendar by default. Tapping on the bar at the bottom of the screen will bring up the year view of a calendar; you'll be able to flip back and forth through the years.
Chilli X plans to include a selection of photos with PhotoFramePlus, though you'll also be able to add your own photos to the iPad app. What's more, the developer says it will make more sets freely available on its Website.
But Chilli X plans on adding more than just pictures to PhotoFramePlus. The developer says it will add screens that only feature new looks, but new functionality as well. An example posted to the Chilli X blog shows a screen of 10 clocks, each displaying the time in different parts of the world. Chilli X hints that this approach could be a workaround for the lack of multitasking on the iPad, suggesting that it could build screens that allow users to control their music or follow Twitter and RSS feeds.
Chilli X hasn't set a price for PhotoFramePlus yet. Dave Hornsby of Chilli X told me via e-mail that the company is thinking of a $4.99 price tag, with an introductory offer of $2.99, though that's still being debated internally. PhotoFramePlus may not be in the App Store when the iPad arrives on April 3; if not, Chilli X says, it should arrive shortly after the iPad launch.