Touch-Fill-Go is a clever little $5 pseudo-document-scanner from Earthlink that's pretty good, with the potential to be pretty great.
The app serves several related functions. First, it's a pocket-sized scanner. Using the iPhone's camera, you snap a photo of the printed document or form you need to fill out or save. Touch-Fill-Go offers an on-screen grid to make sure you're lining the photo up well, and the grid turns green when the software thinks your shot is ready. Tap anywhere on the screen, and the image is captured.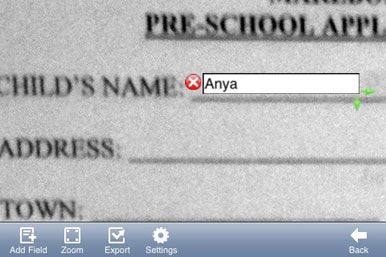 Already at this point, I find the app's functionality quite useful. Snapping images of my receipts for expense report or business cards to deal with later quickly proved quite useful. But Touch-Fill-Go gets considerably more powerful.
Once you've "scanned" the image, you can choose from a few quick image editing tools to crop it, adjust its alignment, or tweak the brightness and contrast. The brightness and contrast controls are a little frustrating to use, only because they don't offer live preview; it's a lot of "nudge the dial, check the effect, repeat." Cropping and re-aligning works well and intuitively. And once you've finished tweaking your image, the app really shines.
That's because Touch-Fill-Go lets you write on your documents. So if you have a paper copy of a form to fill out (say, the aforementioned expense report), you can snap a photo, type into auto-detected form fields (or create new text fields as needed), and then e-mail the completed document anywhere as a PDF attachment. Does the document need your signature? No problem: The app offers a screen where you can sign with your finger, and then you're free to place your signature anywhere in the document. You can do the same for other hand-drawings, if needed. That means any printed form you encounter can be turned into an electronic document, filled out digitally—complete with your signature—and delivered via e-mail. If you loathe pens and stamps like I do, you'll get why I'm so fired-up about this app.
Touch-Fill-Go doesn't offer true optical character recognition, though. As a result, the black-and-white PDFs it generates won't contain text that you can copy and paste elsewhere. But the PDFs it makes are impressively crisp, given that they're initially born as iPhone photos.
One key missing feature, I must admit, unfortunately makes Touch-Fill-Go less than spectacular. While I could indeed submit my completed expense report from the airport, that would only work if I had a printed copy of the form to photograph. Were I able to deliver PDFs and Word documents directly into the app, so that I could then fill them out and submit them without every needing to touch a sheet of paper, that would be truly awesome. A recent update to the app comes close; if the PDF you need is available on the Web, you can snag it from within Touch-Fill-Go and edit it from there (which means iPod touch users could turn to this app as well). So if can you use a webmail client to get the PDF in your inbox, you're all set. To achieve perfection, Touch-Fill-Go should let me send PDFs (and Word documents) directly into the app, whether via a unique e-mail address or some other approach.
My only other complaint is that the PDFs Touch-Fill-Go generates skew a bit large; a business card I scanned clocked in at 1.6MB. But even though the app lacks some features I would love, Touch-Fill-Go has repeatedly proven itself genuinely useful. Add to that the fact that it's a breeze—even fun!—to use, and Touch-Fill-Go is a solid winner.
[ Lex Friedman is a frequent contributor to Macworld.]