Star Rangers—a $3 game from ANALOGretro—is a visually pleasing, space-based first person intergalactic war game. You're seated in the cockpit of your spaceship with the vast expanses of space laid out before you. It would be quite serene a setting, if only pretty much everyone wasn't singularly focused on killing you.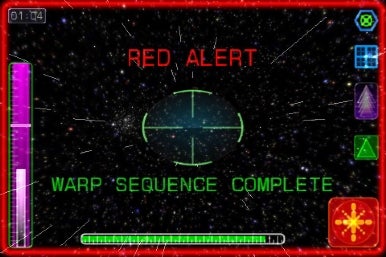 Despite the murderous intentions of space, your view from the cockpit looks great. Your enemies are organic and distinct-looking space ships with varying skill levels and toughness. While simple in its design, the game responds quite smoothly as you tilt the iPhone to steer. You fire by tapping an on-screen button, and you can adjust your speed with a clever slider. You'll need to swap between a couple other screens too, so don't get too attached to stargazing; you must check in with your radar screen and the map frequently.
When you check your radar screen, you can point a course directly to your enemies, which is useful and necessary if you want to blow them up. With the map screen, you can move all over the galaxy by warping, but often times enemies will have vacated the premises by the time your warp has been completed.
Star Rangers sports four different difficulty levels, and offers all sorts of achievements to unlock. The frenetic space dogfights are fun (if brief) distractions, but the warp jumping mechanism splits up the combat so it feels disjointed at times.
A free lite version serves as a basic tutorial for the game, with only a very easy introductory mode with laughable enemies to defeat.
[Lex Friedman is in fact the last starfighter.]
Note: When you purchase something after clicking links in our articles, we may earn a small commission. Read our affiliate link policy for more details.