Most browsers these days can download files just fine, but what if you need a little extra oomph for getting the download job done? Leech is a "download assistant" from Many Tricks, makers of Butler and yFlicks. Newly released Leech 2.0 brings some big new features that make it a more useful assistant than ever.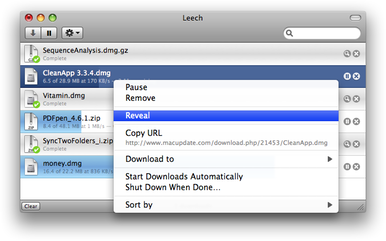 Leech is basically a download aggregator: it integrates with most popular browsers, including Safari, Firefox, OmniWeb, and Camino. When you click a download link, Leech springs into action instead of your browser's download window opening. It can also work with other browsers via a simple drag and drop.
Leech 2.0 lets users move, pause, queue, or remove multiple downloads via contextual menus. Users can also specify certain file types and domains that Leech should let the browser handle: for example, you can let Safari handle Dashboard widget downloads, since it can automatically unpack .zip files and install the widget for you. Leech 2.0 also gains the ability to automatically download a series of related files from a URL (such as a series of files named in a scheme like "IMG1.jpg," "IMG2.jpg," and so on). Also present are Sparkle support for automatic in-app updates and full 64-bit support for Safari under Mac OS X 10.6.
All of this is on top of Leech's existing features, like automatically routing files based on their type or what site you download them from, shutting down your Mac once all downloads are finished, marking URLs for download at a later date, and keeping a permanent searchable list of all your downloads from every browser. Leech even uses its Dock icon as a download progress indicator, making it easy to quickly tell how much time your downloads have left.
Leech 2.0 costs $14 for new users, and upgrades for those who bought 1.x before March 17, 2010 are just $5. Users who purchased after that date get a free license upgrade. Leech requires Mac OS X 10.5 or later and is compatible with both Intel- and PowerPC-based Macs.
(Disclaimer: Macworld Senior Contributor Rob Griffiths is a partner at Many Tricks.)