The App Store is crammed with apps offering Voice over IP features. But Goober Networks hopes that its latest app can stand out from the crowd by offering competitive rates on local and international VoIP calls.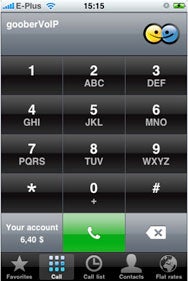 Goober VoIP is a free app for iPhone and iPod touch users running the iPhone 3.0 software update. With Goober VoIP, users can make calls over any Wi-Fi or 3G connection, a capability made possible by AT&T's policy change last year to allow VoIP calls over its cellular network. VoIP apps like Goober's offering can help mobile phone users avoid running up high charges on calls—and they can provide voice-messaging capabilities to devices like the iPod touch.
Goober says the first two minutes of each call with Goober VoIP are free, credited to your account after the call ends. Flatrates, which let users call as much as they want whenever they want to landlines or mobile numbers, start at $6.
A Goober representative told me that Goober VoIP's flatrate prices compare to what Skype offers with its VoIP app. What's more, Goober claims to have lower per-minute rates—a call in the U.S. would cost around 1 cent per minute with Goober VoIP as opposed to around 2.1 cents based on Skype's posted rates. Goober says its rates are 25 to 50 percent lower than Skype's per minute rates.
However, Skype does offer one feature that Goober VoIP currently lacks. Skype users can place free calls to other Skype users. Goober VoIP users can't call other Goober VoIP users for free, though the representative told me that feature will be possible in future updates.
In addition to its new VoIP app, Goober also offers a messaging app—called simply Goober—for the iPhone and iPod touch. That app arrived in the App Store last May.