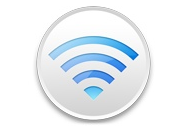 It just so happens I opened my AirPort Utility mere moments ago to make a tweak to my wireless network, only to discover an exclusive invitation to update to AirPort Utilty 5.5.1. Apple released the update for Mac and Windows on Wednesday, along with new firmware for the AirPort Extreme and Time Capsule.
The new version of AirPort Utility fixes a couple general bugs along with two specific issues: one where it won't import all settings when importing a configuration, and one where it won't correctly propagate MAC address control lists when using an extended network. The latter issue also led to a potential security problem where unauthorized computers could join a locked network via a network extender.
You'll want to upgrade AirPort Utility to 5.5.1 before embarking upon the firmware update, which applies to Time Capsule and the late 2009 AirPort Extreme Base Station. Included are a patch for a problem with wireless performance in the 5GHz band and an issue with creating a Guest Network in that same band.
For both updates you'll have to be running at least Mac OS X 10.5.7, Windows XP SP3, Windows Vista SP1, or Windows 7. The AirPort Utility update is available via Software Update or Apple's download page, but you'll have to update the firmware by accessing it with the AirPort Utility.