Editor's Note: The following article is reprinted from the Today @ PC World blog at PCWorld.com.
The iPad is going on sale on Saturday, and it's not just the Apple Store and Best Buy that are gearing up for the big day. There are tons of people out there who want to sell you everything from iPad reservations, domain names, e-mail addresses and more. Some people may get caught up in the iPad hype, but don't let yourself be fooled. Many of these iPad offers are claiming an inflated value for their wares in the hopes of making a quick buck. Here are the top 5 scams and inflated claims I found circulating the Web.
iPad domains
eBay is filled with speculative domain investors trying to sell iPad URLs including TheAppleiPadSucks.com, HotiPadGames.com and iPad3GHackz.com.

The prices range anywhere from $1 to $5000. Ebay seller 4tip2toe is asking $4,999 for four iPad domains including theAppleiPads.com, BuyiPad3GS.com, iPad3G4U.com and iPad3GBUY.com. Another eBay seller is trying to pass off iPad-Facebook.com for $500. To be clear, that URL has no relation to the social network Facebook.
Reservation sales
With iPads already sold out for launch day, some enterprising people are willing to sell their reservations for iPads this Saturday. You can find these offers all over Craigslist. One seller claims to be selling a 16GB iPad reserved for pickup at the Apple Store in Midtown Manhattan. There are several offers for reserved iPads in Boston, and other sales in Chicago, San Francisco and other cities across the U.S. These offers range in price from $100 just for the reservation (not including the iPad) to $700 or more for a 16GB Wi-Fi iPad that retails for $500. These iPad sales may be the real thing, but then again they may not. So if you choose to go this route, make sure you meet the person in a very public and very safe place, and don't hand over a dime until you see that shiny new iPad.
iPads for sale
On the other side of iPad reservations are iPad resellers trying to sell you their devices over eBay. One eBay seller, for example, claims to be offering a 16GB Wi-Fi iPad for a $200 markup at $700. The problem is, just like with the reservation offers, there's no way to know if this person has the goods. In the sales details the seller says they work for "a local retailer" and got two iPads early. That sounds a little fishy since Apple has all iPads on lockdown across the U.S so that not even Apple Store employees can access them, according to Reuters. The other problem is the eBay seller doesn't provide any of their own pictures of the iPad in question to prove they have the device in their hands. I'm not buying it, what about you?
iPad e-mail addresses
If you thought buying a sleazy iPad domain was crazy, what about an iPad-related Webmail address from Yahoo Mail or Gmail? One seller claims to be offering Apple_iPad_Dealer@yahoo.com, and is accepting six cents as the starting bid on ebay. For my money, that's about six cents too high. Webmail accounts are free, remember, and if you can't get what you want in Gmail or Yahoo there's always Hotmail, GMX or AOL, among many other free e-mail providers. Other Webmail accounts for sale on eBay include buytheipad@gmail.com, ipadclearance@gmail.com and iPadRepairservices@gmail.com. One seller is even trying to pawn off iPadSecurity@gmail.com for $200.
Coupon scam
When a seller claims something is "100% legit," there's a good chance you're looking at a potential scam. Several sellers are claiming to sell you instructions on how to get 36 percent cash back from the seller fees when you buy an iPad on eBay. There is no physical product obviously, and one seller says they will deliver the instructions via e-mail within a "couple days" after the $75 payment clears. But why exactly would a buyer want to get a discount on fees that are charged to the seller? That's a little odd, don't you think?
Apple announced Wednesday that its retail stores and most Best Buy stores will be open at 9 a.m. on Saturday morning. So all of you that pre-ordered can get your hands on your new iPad as soon as possible. If you haven't ordered an iPad you'll have to wait a bit longer since the device is sure to be out of stock for a few weeks. Of course, if you want to pay a premium to a private seller that may or may not have the device in the first place, you might get your hands on an iPad sooner. Then again, you may not. As the saying goes, "buyer beware."
iPad (2010)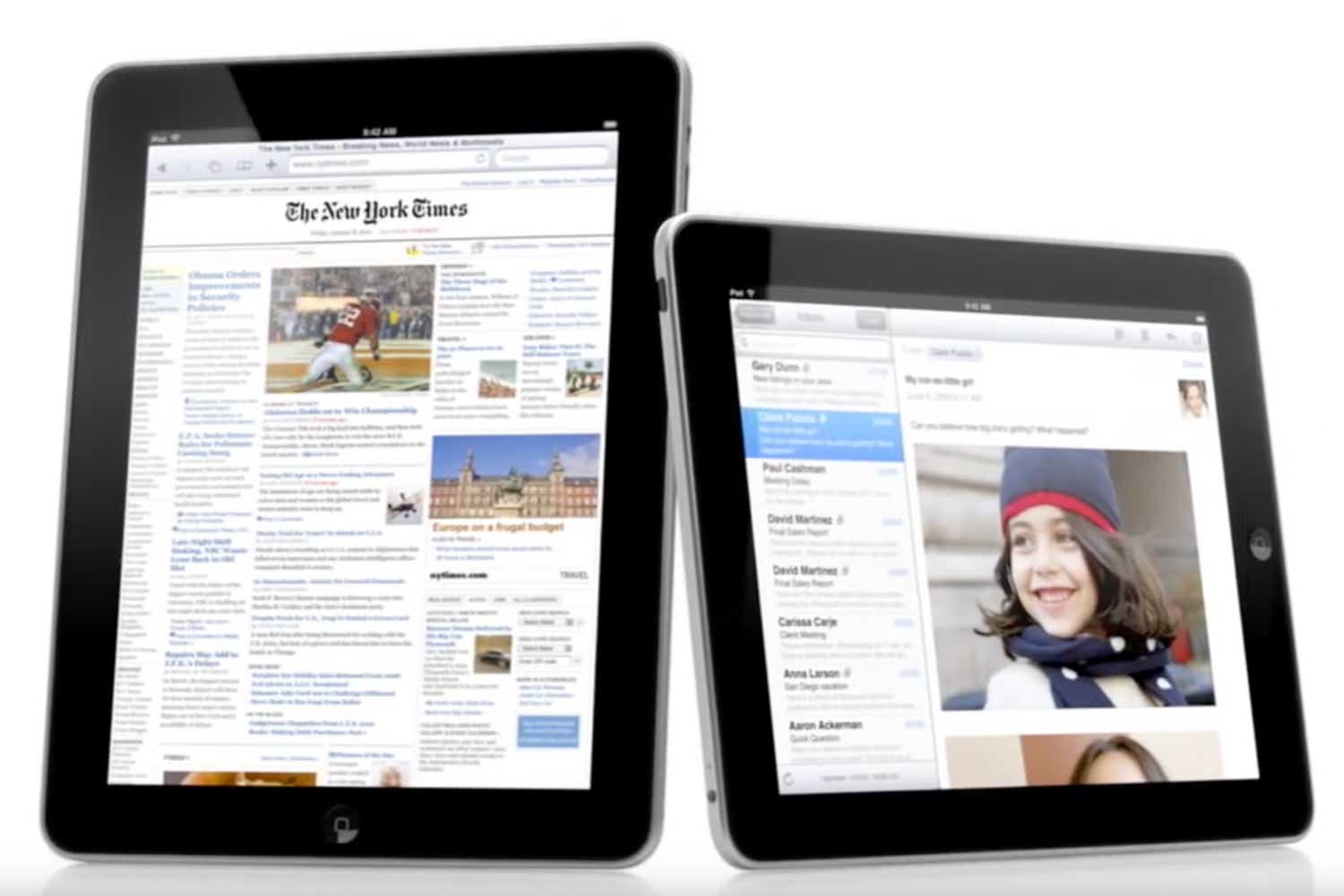 Read our full
iPad (2010) review