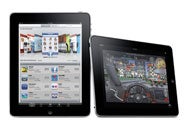 The morning of March 12, 2010, I roused myself from a deep slumber a little before 8:20 a.m. Wiping the sleep from my eyes, I walked to my Mac Pro and began to refresh the Apple store over and over again. Yes, like many other Mac writers and Mac fans, I awoke to pre-order an iPad so I would be certain to have one on April 3.
In my weary and blurry state I saw two delivery options: normal shipping or expedited shipping for a mere $12. Given the fact that I set an alarm to awake up so I could pre-order a device sight unseen (and untouched), it seemed ridiculous not to splurge on faster shipping, so I ponied up the extra 12 bucks.
As the haze of my conspicuous consumption wore off I realized something: Apple promised an April 3 delivery date for the iPad, no matter which method of shipping one opted for. Clearly, I had just wasted $12. I figured it was just a tax brought on by my own stupidity and vowed to never mention this dark episode to anyone (such was my shame, dear reader).
My morning-addled mind aside, it seems odd that such a mistake could even be made. Apple goofed by giving people an option for expedited shipping option for a product slated to arrive on a certain date.
That being said, I thought nothing more of it. However, it looks like I wasn't the only person who made this mistake. The following email from Apple was waiting for me this afternoon ( others received it as well):
To Our Valued Apple Customer:

Thank you for your recent Apple iPad purchase.

Our records indicate that when you placed your iPad pre-order, you chose to pay for expedited shipping.

Expedited shipping is not necessary to ensure delivery. Apple has processed a refund for the shipping charge on your order. Please contact your card-issuing bank for information on when the credit will be posted to your account.

Your iPad will deliver on April 3rd in the areas where UPS offers Saturday delivery.

You can view the most up-to-date status of your order at .

Sincerely, The Apple Store Team
Good on Apple for making this situation right. Sure, I wasn't upset to begin with, but now I'm both impressed and happy (a happy customer is a repeat customer).
Thanks, Apple Store Team! And seeing as how this $12 is now "found money," I'm going to use it to support iPad development by spending it on some fancy new iPad apps (that is, once I actually receive my iPad).