With the iPad a few days away, now begins one of the great rituals of the release of a new Apple product: the posting of the reviews from the lucky few journalists who were given a week to play with the product.
Here are the reviews we've found so far:
Walt Mossberg of the Wall Street Journal weighs in with "Apple iPad: Laptop Killer? Pretty Close."
For the past week or so, I have been testing a sleek, light, silver-and-black tablet computer called an iPad. After spending hours and hours with it, I believe this beautiful new touch-screen device from Apple has the potential to change portable computing profoundly, and to challenge the primacy of the laptop. It could even help, eventually, to propel the finger-driven, multitouch user interface ahead of the mouse-driven interface that has prevailed for decades.

[…]

All in all, however, the iPad is an advance in making more-sophisticated computing possible via a simple touch interface on a slender, light device. Only time will tell if it's a real challenger to the laptop and netbook.
Ed Baig of USA Today writes "Verdict is in on Apple iPad: It's a winner."
The first iPad is a winner. It stacks up as a formidable electronic-reader rival for Amazon's Kindle. It gives portable game machines from Nintendo and Sony a run for their money. At the very least, the iPad will likely drum up mass-market interest in tablet computing in ways that longtime tablet visionary and Microsoft co-founder Bill Gates could only dream of.

[…]

Apple has pretty much nailed it with this first iPad, though there's certainly room for improvement. Nearly three years after making a splash with the iPhone, Apple has delivered another impressive product that largely lives up to the hype.
Andy Ihnatko of the Chicago Sun-Times (and Macworld!) has posted part one of a promised five part series, "The iPad is pure innovation – one of the best computers ever."
The iPad user experience is instantly compelling and elegant. It's not every computer and every function. It's a computer that's designed for speed, mobility, and tactile interaction above all other considerations.

The most compelling sign that Apple got this right is the fact that despite the novelty of the iPad, the excitement slips away after about ten seconds and you're completely focused on the task at hand … whether it's reading a book, writing a report, or working on clearing your Inbox. Second most compelling: in situation after situation, I find that the iPad is the best computer in my household and office menagerie. It's not a replacement for my notebook, mind you. It feels more as if the iPad is filling a gap that's existed for quite some time.
David Pogue of the New York Times writes "Love it or not? Looking at iPad from 2 angles."
And the techies are right about another thing: the iPad is not a laptop. It's not nearly as good for creating stuff. On the other hand, it's infinitely more convenient for consuming it — books, music, video, photos, Web, e-mail and so on. For most people, manipulating these digital materials directly by touching them is a completely new experience — and a deeply satisfying one.

The bottom line is that the iPad has been designed and built by a bunch of perfectionists. If you like the concept, you'll love the machine.

The only question is: Do you like the concept?
Tim Gideon of PC Magazine reviews the iPad and gives it 4.5 red dots out of 5.
Kindle: I like you, but I am nervous about your future. The iPad displays books in a way that is much flashier than your black and white e-ink screen. It shows illustrations in color. Page turns actually look like page turns. And Apple gets the extras right, like being able to bookmark any word in the book you're reading and then find it on a menu of all your bookmarks, sorted by date.

[…]

Is the iPad a perfect product? No. And the omissions will give the anti-Apple crowd plenty of ammo. Why do I need this extra device that's not a full-fledged laptop? Where's the camera? What about Flash? Um, how about multitasking? These are all valid complaints, but one thing I can say about most Apple products, and certainly the iPad: There may be things it doesn't do, but what it does do, it does remarkably well. Aside from the aforementioned limitations, there isn't a lot else to gripe about.
Xeni Jardin of BoingBoing writes, "Apple's iPad is a touch of genius."
Tapping and swirling my way through iBooks (the store includes free, public domain titles in addition to the $9.99-$12.99 bestsellers), and iPad native apps provided at launch such as the spectacular, game-changing Marvel Comics app (crisp, lucid art, the ability to navigate frame-by-frame, rendering spoilers down the page obsolete), the Epicurious recipe browser, and the news browsing app by Reuters (free app in which video is, again, a seamless delight), the idea hits. This is what we wanted e-books to be all along. Rich, nimble, and dense with image and sound and navigability, right there inside the flow of the story. And this is what we wanted the web to feel like all along. We just want it to work, and we don't want to be aware of the delivery method while we're enjoying what's delivered.
Bob LeVitus of the Houston Chronicle writes that "Apple's iPad is better than expected."
It turns out the iPad isn't as much a laptop replacement as I thought (though it could easily be used as one). Instead, it's an entirely new category of mobile device. For example, now when I want to surf the Web from the couch or back deck, the iPad is the device I choose. Starbucks? Same thing. Think of the iPad as a new arrow in your technology quiver, an arrow that will often be the best tool for a given task.

I had high expectations for the iPad, and it has met or exceeded most of them.
Omar Wasow at The Root says that "techies are wrong about the iPad":
…the techie obsession with specs and obscure features completely misses how most consumers will actually use the iPad. A small percentage of power users will be disappointed that the iPad doesn't, say, have an HDMI video-out port or that it currently lacks the ability to run multiple applications simultaneously or that it fails to address some other esoteric concern. The rest of us (even most techies) will be thrilled that doing what we want to do on the iPad is generally effortless. Wanna read the news in bed before breakfast? Easy. Wanna play a casual multiplayer game of Scrabble on the sofa? Trivial. Wanna check your calendar, review a recipe, listen to a mix of indie rock, and load a map with detailed driving directions for an upcoming trip? Cake. With few exceptions, the iPad is impressively easy and fun to use.
And Stephen Fry is unpacking his iPad on YouTube.
Of course, our own iPad coverage will arrive as soon as we get our hands on one!
iPad (2010)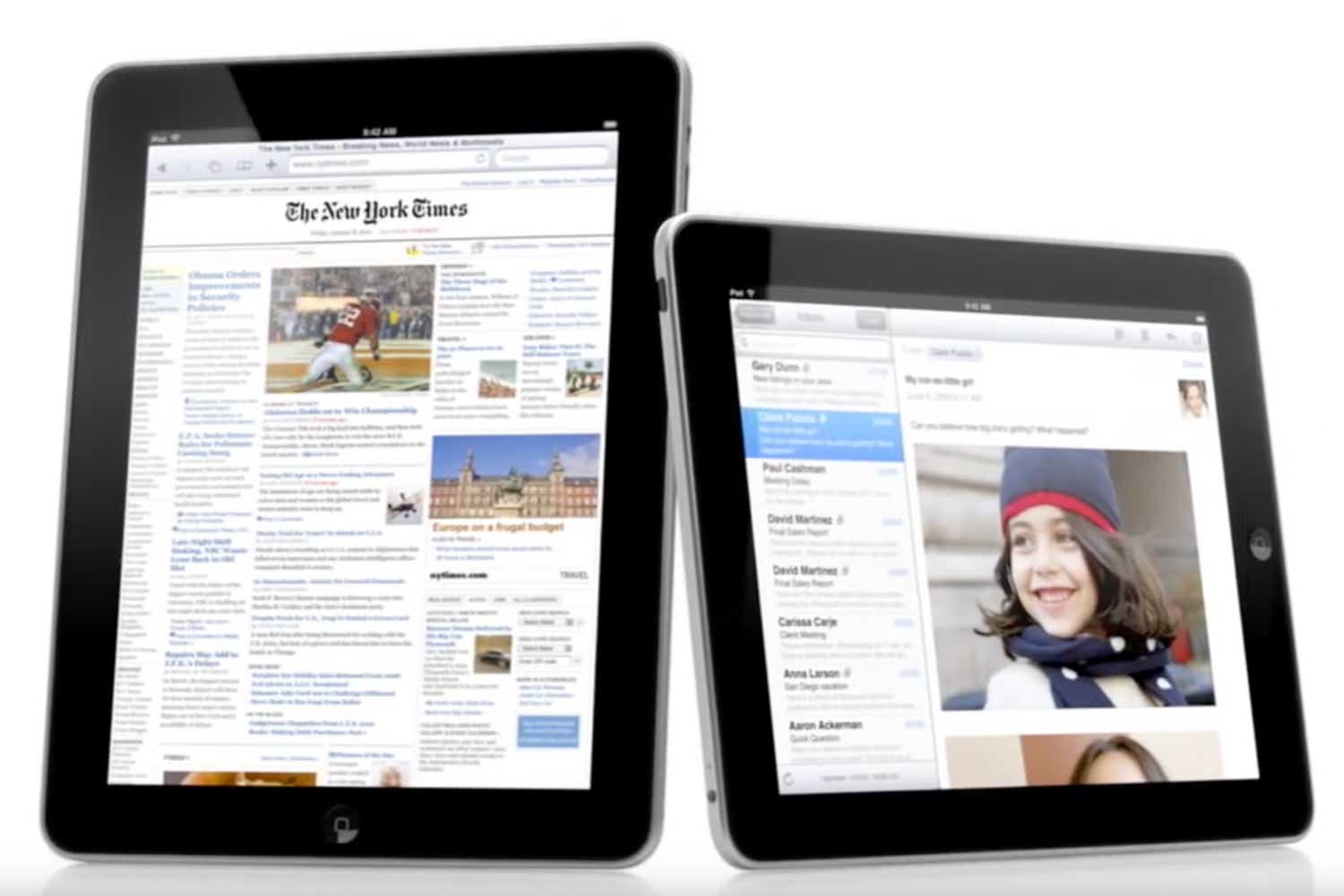 Read our full
iPad (2010) review