I've just seen a TV piece about The Great Pacific Garbage Patch. Like the Rolling Stones, it seems to be (a) on a permanent world tour of North America and Asia, and (b) composed of members who are indestructible by any known means.
Unlike the Stones — who are by all accounts skeletal and tiny, sized for convenient packing and transport — the Great Pacific Garbage Patch is distressingly huge. As in "somewhere between Texas and the continental United States." It's composed of a huge cloud of dispersed plastic. Trash from land and ships goes into the water. Part of the plastic breaks down after prolonged exposure to light; the rest breaks up into particles that just sort of stand around dumbly, like when Keith Richards looks at Ronnie Wood during a guitar solo and tries to figure out why Brian Jones looks different all of a sudden. We can only assume that this slow process of laminating the ocean in plastic can't have a net-positive effect on the environment.
But this isn't an ecological column. Naturally, I'm only bringing up the slow destruction of all life on the planet to make a point about Apple. This big trash continent was the gradual residue (literally) of a problem that went on quietly for decades. Now that it's here, the only thing we can do about it is race to become the first explorer to plant a flag in this big plastic landmass and then see if there's any native peoples living there that we can then exploit economically.
Apple's Great Garbage Patch is its corporate culture of secrecy. It once served the company and its products very well but it's steadily becoming a liability. And in the iPad, we could be looking at the first event in which the price of secrecy is paid by the users.
I ask you: just how the hell are software developers supposed to build software for this almost-unprecedented new computer without having access to a living, breathing sample?
Up until a week ago, I didn't have have an iPad either. Instead, I installed apps into the iPad simulator that Apple includes with the Xcode development system, and ran them in a window.
I plugged my graphics tablet into my MacBook so that I could get some kind of a tactile experience. But I needed to use my imagination and when I thought a certain feature of an app had been implemented poorly, I was uncertain of my reaction. In a graphics app, I kept thinking I was supposed to tap on the circle icon and then draw it in my document. I was actually meant to drag it out of the tool palette and drop it where I want it to go.
I was about to add a critical note about this — as one of the first "civilian" users of these apps, developers are desperate for pre-release feedback — but stopped short. I suppose if I had been able to actually touch that tool bin with my fingers instead of clicking a stylus on a surface a foot away, I'd find their method more natural and practical.
The developers themselves are in much bigger trouble than I am. Like lab monkeys clinging to a wire-mesh mother in a futile pursuit of warmth and love, the community has built themselves a collection of iPad mockups that range from adorable to sadly desperate. I have seen iPads milled by computer out of blocks of aluminum and others from resin. Wooden ones. Cardboard ones. Sheets of paper printed with UI layout lines, cut to size, and glued into pads. Little whiteboards. Lucite sheets festooned with sticky notes like scales.
Developers have invested a lot of faith in these mockups, but they're no substitution for the real thing. To create a truly touch-based app when you only have a mouse-and-keyboard interface to work with requires superhuman powers of abstract thought.
It's apparent in many of the apps I've been testing. The DNA of "mouse and keyboard" interface design can be seen throughout the user experience. A good iPad app, I'm coming to understand, needs to carefully compartmentalize all of its tasks and functions to minimize onscreen clutter help the user to focus on the one thing that he or she immediately wants to accomplish. For example, when I've finished reading my latest emails and I want to delete the ones I don't need any more, it should feel as though I've left the "reading email" app and started up a "deleting email" one.
The apps I've liked the least have been the ones that want every feature to be no more than a tap or two away. That's more appropriate for an iPhone app. User interfaces that look like an iPhone app that's merely expanded to fit the larger screen are a different kind of problem. A standard-sized "New Document" button that grabs your eye when they're docked in the upper left corner of a tiny iPhone screen gets completely lost on the iPad. All too often the most important elements of the UI are like crumbs that have been trapped in the corners of the screen.
Furthermore, those kinds of apps will do nothing to quash some critics' impression that the iPad is nothing but a big iPhone.
This isn't a defect of the iPad or the UI: It just demonstrates the limitations of developing for simulated hardware. I fear that hundreds of thousands of early-adopters will buy these first-generation apps and suffer a serious letdown. I'm betting that the iPad won't show its true strength until a couple of weeks later, after thousands of developers have finally been able to run their apps on a live iPad. They will slap their heads, have one last night of intimacy with their significant others, and then sleep in their offices until they've completed and released a totally-revamped edition.
But the initial damage will have been done.
None of this will have any kind of long-term impact on the iPad. Remember, Apple had a monster success with a $599 phone that had no 3G, GPS, or a video camera. I should also point out that we have no idea of how soon Apple actually had their hands on a serious quantity of functioning iPads.
Still, it all seems unnecessary. And my experience in testing all of these apps has gotten me concerned. Is the freshman class of (possibly) sub-par iPad apps just the first truly detectable sign of a much more troublesome phenomenon? "Secrecy" is a simple word that describes cutting oneself off from the rest of the world. Alas, this also prevents the world's information from coming in. By the time Apple raises the curtain, they might find that the world changed and it's no longer a place in which their Super Cool Secret thing has any relevance.
Digital, IBM, and possibly Microsoft are three companies that become irrelevant. Apple doesn't make those same mistakes thanks to a culture of innovation. That doesn't mean that they can't arrive at irrelevance through an innovative means, though.
iPad (2010)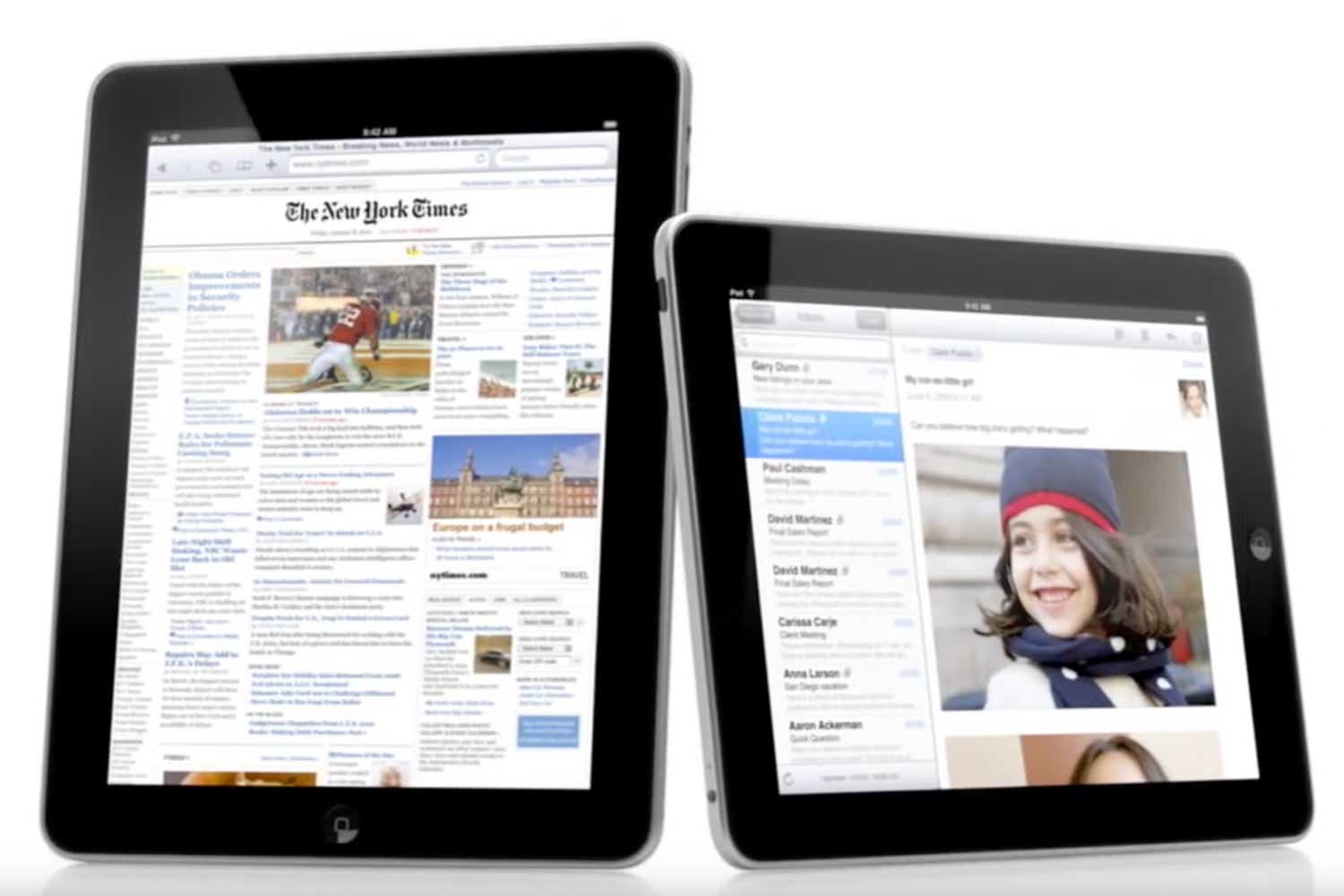 Read our full
Review iPad (2010)