OK, people, people, let's get started. As Benjamin Franklin once said, "Lost time is never found again…"
Well, that sounds smart, huh? Sometimes, your own words are just not enough, I guess. When one of those moments is upon you, it helps to have a handy resource available to fill that gap in your brain.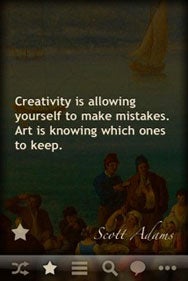 Notable Quotes from Hand Carved Code provides you with a wealth of quotations from the famous to the infamous at the flick of a finger. Packaged wonderfully, the app gives the feeling of sifting through grandfather's old mahogany desk. To actually be able to swipe through virtual stacks of papers with quotes on them would have really completed this illusion—perhaps in a later release. Still, I found myself spending time browsing for words of wisdom or inspiration, just because the app looked so good. Any time I spend a decent hour with an app immediately after downloading it, that's a great sign.
The quotes are sorted by subject or author, and you may bookmark your favorites for quick access when you need some instant wit. It seems like every subject is covered—from age to science to war—in addition to plenty of contributions from famous authors. I certainly had no trouble finding something appropriate for most any instance.
Your dearest quotes can be sent to e-mail or Facebook, although I was disappointed at the lack of an easy Twitter link, as Twitter seems the perfect place to spread some short words of wisdom. There is a handy "copy to clipboard" function, making it possible to get your favorites into your Twitter client of choice, but a built-in option would be better.
Whether you're looking to spice up your dialogue or just impress your friends, Notable Quotes should give you what you are looking for, doing it with a classic style.
[ Jeff Phillips is an educator, photographer and technology advocate. Find him on his blog or podcast.]