At a Glance
Expert's Rating
Our Verdict
Apple's Stickies program, which lets you put Post-It-style notes on your Mac's screen, has been around for nearly 16 years, yet apart from styled text and the capability to store images, today's Stickies can't do much more than the version that debuted in System 7.5 back in 1994. If you've ever wanted a stickies-like program with more features and flexibility, check out TaskCard .
Like Stickies, TaskCard lets you create onscreen "post-it notes," which the program calls cards. You can resize each card to your liking, choose a color for each card, and collapse any card to its title bar. Global settings let you choose your preferred font, as well as card opacity and color-gradient level (you can't set these on a per-card basis, unfortunately). Within any card, you can also apply basic formatting—bold, italic, underline, and strikethrough—to individual tasks.
Wait, tasks? That's right, as its name implies, TaskCard lets you create hierarchical to-do lists within cards; pressing Space when a task is selected marks the task as completed. You can assign a due date to any task by pressing T (which sets the due date as today) and then using the arrow keys, or a pop-up calendar, to choose a future date. Overdue tasks are automatically underlined; each card with overdue tasks displays a notice. You can also assign to any task a priority (five levels, from Lowest to Highest, are available); you can drag items to move them within a card or between cards; and you can drag related files into a card for quick access.
While these features are a welcome upgrade for Stickies lovers, some of the editing controls aren't very intuitive. For example, you might think pressing Tab would indent an item, but instead it enters editing mode for that item; to indent an item, you press +. You also can't select (and, thus, copy or cut) multiple items, and the Undo command is limited to text edits; you can't undo the movement or deletion of a task.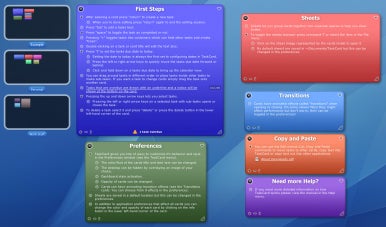 TaskCard's other notable feature is that you can create groups of cards called sheets. Each sheet can contain as many cards as you need, organized however you prefer. Switch to a different sheet, using the sheet thumbnails along the left edge of your screen, and that sheet's cards replace the ones currently on the screen; the data and layout of each sheet's cards are preserved between switches. An odd limitation is that you can't rename a sheet from within TaskCard; you must rename the sheet's document file (by default, located in ~/Documents/TaskCard) in the Finder.
TaskCard can behave like a standard program, keeping its windows onscreen all the time, or you can enable a Dashboard-like mode where your cards fade away when you switch to another program. With either mode, you can opt to obscure all other programs, using the background of your choosing, when TaskCard is active. (I'd like to be able to assign a keyboard shortcut for showing and hiding TaskCard, so it really did work like Dashboard.)
While there are scores of to-do-list programs out there, if you're a fan of Stickies—on your Mac or on your desk—TaskCard is worth a look.
Want to stay up to date with the latest Gems? Sign up for the Mac Gems newsletter for a weekly e-mail summary of Gems reviews sent directly to your Inbox.