[This article was last updated April 2, 2010. For a more recent version, visit the wiki version of this article.]
When Apple first took the wraps off the iPad, we tried our best to answer all the questions that cropped up about this entirely new device. And, with the help of Steve Jobs' iPad presentation and a little bit of hands-on time, we were able to give a pretty good overview of what to expect from the iPad.
But a lot can change in two months. More details about the iPad have come out. And we've managed to get our hands on an iPad all our own. So we're able to go back and update our old iPad FAQ with the latest details about the device.
Pricing and availability
What's the iPad going to cost?
Pricing depends on two factors: the amount of storage the iPad includes, and whether or not it has support for 3G networks. An iPad equipped only with Wi-Fi connectivity, available April 3, costs $499 (16GB), $599 (32GB), or $699 (64GB). The Wi-Fi-plus-3G version, available later in April, will cost $130 more at each size—$629 (16GB), $729 (32GB), and $829 (64GB).
But if I wait and pay more for the 3G model, I get free 3G access, right?
No, the extra cost is ostensibly to cover the extra hardware required for 3G connectivity. Cellular data will cost extra.
How much extra will it cost?
Apple has struck a deal with AT&T that lets you pay either $15 a month for 250MB of data, or $30 a month for unlimited data. But unlike with the iPhone, a 3G plan isn't mandatory, and there's no contract involved—it's pre-paid and on a month-to-month basis. So you could, say, activate 3G service for your iPad before your vacation and pay just for that month. The iPad will even let you set the plan to auto-cancel at the end of the month, so if you forget you won't be charged any extra.
What about if I already have a data plan for my iPhone. Does that count?
Nope. Each device requires its own plan.
AT&T doesn't have good 3G coverage where I live, work, and travel—will it work with Verizon or T-Mobile instead?
Not at the moment. Although the 3G-enabled iPad will ship unlocked—meaning it won't be tied to a particular network—the device uses a GSM chip that's incompatible with Verizon's 3G network. T-Mobile is a GSM network, but its 3G data runs at 1700MHz; the iPhone's 3G components support 850, 900, 1800, and 1900 MHz GSM/EDGE, and 850, 1900, and 2100 MHz UMTS/HSDPA. Bottom line: the iPad won't work on T-Mobile.
Beyond that limitation, the 3G-enabled iPad requires a micro-SIM card for mobile-network access; currently, AT&T is the only U.S. carrier using these cards. (Other international carriers also use mini-SIM cards).
If you want to use an iPad with another cellular network, your best bet is to just buy the Wi-Fi version and a Wi-Fi-based cellular modem, like the Novatel Wireless MiFi. You'll have to pay for a plan, but you can use that wireless connection with your laptop, iPad, or any other Wi-Fi-capable device.
Are they any other differences between the Wi-Fi and 3G models?
Besides price, there are a few physical differences. The 3G models weigh an extra tenth of pound, and have a black antenna window that covers part of the top and stretches onto the back of the iPad. The 3G models also include GPS functionality.
So I can pick up an iPad on Saturday?
Assuming that you ordered one when Apple started taking pre-orders in March, then sure. Otherwise, you may have to wait a bit. As of this writing, Apple's online store says that any iPad ordered right now will be delivered by April 12—that's a lag of about 10 days. The bottom line: Don't expect to queue up in front of an Apple Store on Saturday morning and walk away with an iPad, no matter what this week's episode of Modern Family would have you believe.
That said, there are two options if you have the early-adopter itch but lack the in-store pick-up reservation. Apple only holds reservations until 3 p.m.; any unclaimed iPads are then made available for sale to the general public. So it's possible you could pick one up that way. The iPad is also available at Best Buy, Apple Authorized Resellers, and campus bookstores, though those outlets will likely have a limited supply on hand.
Hardware and design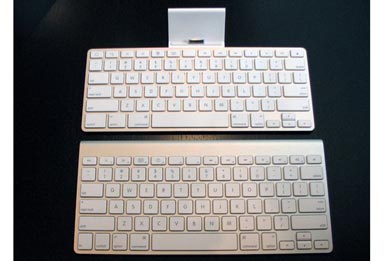 What if I don't want to use the on-screen keyboard to type in long e-mails?
You have other options. Apple will sell the Keyboard Dock, a weighted iPad dock attached to a thin Apple keyboard. When using the external keyboard, the iPad's onscreen keyboard disappears, letting your document fill the entire screen. The iPad also supports Bluetooth keyboards, so you can type without having to physically connect the iPad to a keyboard—though you will want to prop the iPad up somehow (with a dock or case or other stand) so you can actually see what you're typing.
Will these keyboards support keyboard shortcuts?
Yes. The Keyboard Dock keyboard features several special keys, including one that locks the device. Bluetooth keyboards that offer media-control keys will control iPod playback on the iPad, and keys that adjust the volume up and down and display brightness up and down will work on the iPad as well. Many keyboard shortcuts familiar to Mac users will work, such as command-C for copying and command-V for pasting. The option key works its extended-character magic, so pressing option-u followed by u will generate the letter u with an umlaut. You can even hold down the shift key and use the arrow keys to select text. And app developers can add in support for their own keyboard shortcuts. In short, the keyboard support is more robust than you might have expected.
How easy is it to pair a Bluetooth keyboard with an iPad?
Very easy. You open the Settings app and tap on General and then Blueooth. You keyboard should appear in there; when you tap to pair it, the iPad will ask you to enter in a few digits on the keyboard and press return. And that's it. (Removing the pairing is similarly easy; you just tap on the device in the same Bluetooth window and the devices will unpair.)
How good is the on-screen keyboard?
This is a vital question, but we're going to have to get back to you. It's going to take us more time with the device before we can make a judgment on how on-screen typing feels. Stay tuned.
Does the iPad have a built-in GPS (Global Positioning System) receiver?
The 3G version does; the Wi-Fi version does not. The 3G-capable iPad uses the same Assisted GPS technology used in the iPhone 3G and 3GS. (Despite how it sounds, "Assisted GPS" is not a lesser form of GPS. "Assisted" means the device can use other cues—such as the location of nearby cellular towers or Wi-Fi networks—to speed up the initial GPS "fix" compared to using the GPS circuitry alone.) The Wi-Fi version uses the same Wi-Fi-based location finding system as the original iPhone. If it can spot some familiar Wi-Fi base stations, it can figure out where you are.
Does the iPad have a compass?
Yes it does! If you're in Maps, you can double-tap the location button and the map view will orient itself to whatever direction you're pointing the iPad.
How hot will the iPad get?
It's still too early to tell; we'll get back to you. It doesn't seem particularly hot, though, in our initial use.
How comfortable does it feel in the hand?
This is going to vary from user to user. We need to spend more time with it ourselves. The iPad is most definitely heavier than an Amazon Kindle, and it's unlikely you'd hold it in your hands for long periods of time—to watch a movie, for example. Beyond that, we just can't say yet.
Can I use the iPad to present on an external display/projector?
Yes. Unlike the iPhone, which currently is limited to video-out from the iPod and YouTube apps, apps on the iPad can send video out via the same dock-connector-to-video adapters available for the iPhone. A good example of this is the Keynote app, which will let you present your slides on an external monitor if it's hooked up. Your iPad then becomes a controller, so you can advance slides, jump around between slides, even hold your finger down and turn it into a faux laser pointer on the external screen. (Unfortunately, Keynote doesn't currently support presenter notes, so you won't see those.) Apps need to specifically support this feature, so we'll have to see which iPad developers take up the challenge.
Does the iPad come with a pair of Apple headphones? And if I plug in a set of headphones with a built-in microphone, will the iPad support it?
Surprisingly, the iPad does not come with headphones! You'll need to supply your own. But yes, if you plug in headphones with a built-in microphone, the iPad will sense it and use it as your sound input for apps that do audio recording. (If you don't plug anything in, the iPad will use its tiny built-in microphone, located next to the headphone jack.)
How is the sound quality from the little speaker?
Color us impressed. The sound is loud and the quality decent. Don't get us wrong: It's still a fairly tiny speaker down at one end of the iPad, so it's not going to wow audiophiles. But you could watch a movie on it, sans headphones, and have a pretty good time.
Short of connecting it to a computer and looking in iTunes, how do I know when the iPad is getting "full?"
Just open the Settings app, tap General, and tap About. The Available line will tell you how much space is left.
I know that the iPad has 802.11n, but will it connect to a 5GHz-only 802.11n network?
Yes.
Can you set different wallpapers for the home screen and the lock screen?
Yes, you can. You set both from the Settings app, by tapping on Brightness & Wallpaper. When you select a Wallpaper image, at the top you'll see a toolbar with options for Set Lock Screen, Set Home Screen, and Set Both.
Can I use any Mac or AC adapter to charge the iPad?
Not quite. When we tried to plug the iPad into existing iPod or iPhone accessories, we discovered that some Macs and AC adapters we tried were able to charge the iPad; others caused the iPad to declare it was "Not Charging" despite it being connected and syncable. It turns out that the iPad has some very specific charging requirements. With the included 10-watt USB power adapter, it charges awake or asleep. On high-powered USB ports such as most recent Macs and the iPhone power adapter, it charges as well, though more slowly, according to Apple. On Macs and PCs without high-powered USB ports, the iPad will charge when it's sleeping, but when it's awake it will display that "Not Charging" message in the status bar at the top of the screen.
Will my iPhone accessories work with it—specifically the wall charger and headphones? I remember when the iPhone came out I had to buy an adapter for my iPod headphones to make them work on the iPhone.
Nothing hinky this time—your headphones will work, and the iPhone wall chargers should work as well. Plus, the iPad comes with its own charger (a USB cable and AC adapter).
Built-in Software
Does the iPad do multitasking?
The multitasking story is identical to the iPhone and iPod touch: Some built-in applications, most notably iPod, will run in the background. No third-party apps can do so.
Does the iPad support multiple users? In other words, is there a log-in system or does each person have to have their own iPad?
Like the iPhone, the iPad has no conception of different users being logged in. This means that the calendars, contacts, and e-mail accounts you link with the iPad are available for everyone who uses the iPad. You can add multiple accounts, but there's no way to segregate them so you can see your accounts and your spouse can see his or hers.
Can you set a keycode lock? I was thinking of using this at the office and even at home I'd like to lock it.
Yes, as with the iPhone and iPod touch, you can set the iPad to lock with a four-digit code required to unlock it.
Is there any way to get files off of the device? Can I access the filesystem when it's docked?
The iPad apps have access to a file-sharing area, which you can see when you attach the iPad to a Mac or PC via iTunes. In the Apps tab, there's a File Sharing area with two interface areas, Apps and Documents, next to each other. Click on an app in the Apps area, and a list of its files will appear in the Documents area. You can drag compatible files into this area—for example, Pages and Word files when Pages is selected—and even drag them out of that area out onto your desktop. You can even rename the files right from within iTunes. It's all a bit rudimentary, but it does seem to work. This system should allow app developers to ditch the desktop-uploader apps they've had to use up to now.
If I email you a Pages file and you open it, does the document get copied into Pages' File Sharing space?
Not quite. If you tap and hold on the attachment in Mail, it'll give you the option of viewing it in Quick Look or opening it in Pages. Once it's open in Pages, the document lives in Pages' "My Documents" view. From there, you can tap the Share icon to e-mail it somewhere else, share it via iWork.com, or export it into the File Sharing space. If you don't export it, it won't show up in the Documents area of iTunes.
Will the iPad stream video and audio podcasts from the iTunes store?
It appears that you can, but it's pretty inconvenient. The iTunes store podcast section is designed to let you download podcasts, then play them back.
Will I be able to print from the iPad?
The short answer is no. Apple hasn't created any systemwide printing feature for the iPad. Individual apps such as iWork will let you export a file to the File Sharing area or via e-mail, so you can open that file on a Mac or PC and print it from there. And we may seem some individual apps arrive that will let you print direct from those apps to compatible printers. But that's it, at least for now.
Can you send rich-text e-mails with Mail?
No. Mail uses plain-old plain text.
Can multimedia be streamed to the iPad from a Mac or PC running iTunes, rather than having to sync everything to the iPad before viewing or listening?
Not using Apple software. The iPad works just like the iPhone and iPod touch—you sync media to it and then play it back. But third-party apps do enable some degree of media streaming from Macs and PCs, and many of those third-party apps will probably be updated to support the iPad. It would sure be nice if Apple updated the iPad's iPod app to support iTunes sharing though, wouldn't it? But it's not there as of now.
What's the relationship between the Calendar and Mail apps on the iPad and their iPhone and Mac counterparts?
The iPad's version of Calendar and Contacts may look somewhat different from their iPhone counterparts, but the functionality is much the same. You can sync e-mail accounts, calendar events, and contact information over the air using the device's support for Apple's MobileMe or Microsoft's ActiveSync technologies—if you don't have access to either of those, you can still sync the information from your computer via iTunes.
Can I toggle the visibility of all my different calendars in Calendar?
Yes. Unlike the iPhone, which still (annoyingly) forces you to see all synced calendars or one calendar at a time, each calendar on the iPad can be toggled on or off. So if you want to occasionally view some calendars you're syncing, you can hide them the rest of the time.
If I get an e-mail with an appointment attachment, can the calendar see the appointment so I can accept it? On the iPhone I can't, but on my Mac it works perfectly. Which version made it to the iPad?
The iPhone version. Exchange invitations seem to work fine; invitations send via regular mail from iCal can't be opened.
Does the iPad have parental controls?
Yes, just like the iPhone and iPod touch. Open the Settings App, tap on General, and tap on Restrictions. Once you enable restrictions, you can choose to lock users out of Safari, YouTube, iTunes, location services, and app installation. There are also settings to control in-app content purchases, music and podcasts, movies, TV shows, and apps.
Can I buy or rent HD movies and TV shows direct from iTunes on the iPad?
Yes, depending on what's available on the store. Many new-release movies are only available to rent in HD, but some are also available for purchase. And TV shows are generally available to purchase in HD, right from the iPad.
When I visit a Web page via the iPad's browser, does it default to the mobile version of the site if there is one?
It depends on how the iPad's browser describes itself when connecting to a Web server. When we visited macworld.com with our iPad, it loaded the full version of the site, not the special iPhone version. But some other sites we visit did serve up their iPhone versions. It's up to each site to decide where it wants to send iPad traffic.
For those in the know, here's what the iPad reports itself as to Web servers: Mozilla/5.0 (iPad; U; CPU OS 3_2 like Mac OS X; en-us) AppleWebKit/531.21.10 (KHTML, like Gecko) Version/4.0.4 Mobile/7B367 Safari/531.21.10.
Will the iPad display Web content made using Flash?
Nope. As with the iPhone, the iPad's version of Safari doesn't support Adobe's Flash technology.
How does Photos on the iPad compare to iPhoto?
Photos acts mostly as a photo browser. You can browse through albums and—if you're syncing with iPhoto—Events, Faces, and Places. You can peek inside any collection of photos by reverse-pinching it in the photo browser—you'll be presented with a thumbnail overview of each image in that set. However, Photos does not offer any of the editing capabilities of iPhoto: for that, you'll need a third-party photo-editing app.
Can I browse my iPhoto files via Wi-Fi?
No. The Photos app only displays photos synced via iTunes.
Does the iPad support VPN? How about Exchange?
Yes and yes. The iPad basically supports all the stuff the iPhone supports. We were able to successfully connect to our office's Cisco VPN from the iPad.
E-books
Will iBooks and the iBookstore save the publishing industry?
iBooks and the iBookstore are a system for users to purchase and read books—not magazines, not newspapers, but books. Book publishers will be able to supply ePub-formatted books for sale in Apple's iBookstore, but magazine and newspaper publishers will need to find their own way onto the device, either by building their own apps or by contracting with an app developer or service to publish their content via a third-party app.
As of this writing, there are already some fascinating iPad news apps in the App Store, including ones from the New York Times and Reuters. We're sure more are on the way, too. But the newspaper and magazine industries will need to do a lot more work to take advantage of the iPad, and the results will be more scattershot than what we'll see from the book industry.
How much will books cost?
Right now, most books are listed between $12 and $15. But there are cheaper books, and even some free ones.
Can the iBooks app display PDFs or ePub files that didn't come from the iTunes store?
iBooks doesn't do PDF. It will display DRM-free ePub files, as well as ePub files that come from iTunes. To sync them to iBooks, just open the Books tab in iTunes and drag your ePub files in.
Will books purchased through iBookstore have digital-rights management restrictions?
Yes, books are linked to your iTunes account, just as music, videos, and apps are. This also means that if you have two iPads linked to the same iTunes account, both should be able to download all the same books and apps for a single purchase price.
Can I use iBooks to read the books I bought on another e-book store?
Almost certainly not, since most purchased books are wrapped in DRM, and iBooks supports only Apple's own DRM format and DRM-free books. The good news is, those other stores may very well be working on iPad editions of their apps, which would be able to read those books. But iBooks won't.
Does iBooks have a white-text-on-black-background option, the kind that makes reading in bed spouse-friendly?
Sadly, no, although you can fake it by opening the Settings app, tapping on General, then selecting Accessibility, and turning on "White on Black." You can even set that features as a short-cut when you click three times on the home button. But that feature inverts the iPad's entire interface, which is far from elegant. The good news is, iBooks does allow you to control the iPad's backlight level directly from within the app. But we agree that a white-on-black option would be a good idea and we hope it's added to iBooks.
Can you highlight text in iBooks? This would be essential for college books.
Yes, you can. In fact, not only can you highlight text (by selecting it and then choosing Highlight from the pop-up menu), you can even choose from five different colors (yellow, green, blue, pink, and purple). You can also quickly view all highlights (and jump to them) from the same screen that hosts the book's table of contents.
What sorting options are the in the iBooks app? Can you sort by Author and/or Title? What about Genre?
In list view, you can sort by title, author name, or category. You can also see the books in the same custom order as when they appear in Bookshelf view.
Other Software
Does the App Store offer two different classes of apps—iPhone and iPod touch apps on one side, and iPad-optimized apps on the other?
Yes. The App Store app on the iPad splits search results in two—there are iPad apps and iPhone apps. You can download either kind, but of course iPhone apps will only run in iPhone emulation mode. Some apps appear with a plus (+) symbol, which Apple has chosen to indicate that the app is designed for bothiPad and iPhone, and will display natively on either system. (In other words, it'll run in full-screen mode on an iPad, not in iPhone-compatibility mode. But on an iPhone, it'll transmogrify to fit in the iPhone screen.
Some developers are using this split to create separate apps for the iPhone and iPad, thereby generating more cash. Others are updating their iPhone apps to also support the iPad. If you've bought such an iPhone app, you're in luck—it means that you'll be able to upgrade that app to the new version and use it on your iPad without paying extra.
Will I be able to move the apps I've already bought for my iPhone onto an iPad?
Yes. Plugging in an iPad to your Mac or PC will automatically transfer existing music, videos, and applications that you've purchased. However, unless the app in question has been updated for the iPad, you'll get only the iPhone version.
Is there any way to get apps on the device that don't come through the App Store?
The iPad is just as locked down as the iPhone and iPod touch—all apps are App Store apps approved by Apple. (Try saying that one five times fast.)
Apple tweaked iWork to run on the iPad—why not iLife?
At the moment, the iPad seems more focused on media consumption than media production. You can view your photos and videos, listen to music, read books, surf the Web, and so on. While the iPhone 3GS's built-in camera takes pictures and records videos, there's no similar way of creating media with iPad. As such, iLife programs like iMovie, GarageBand, iDVD, and even the editing capabilities of iPhoto are all absent. iTunes's capabilities are mostly duplicated by the combination of the iPod application and the iTunes storefront application.
While it seems likely that the iPad will feature more media-creation tools (if not from Apple, then from third-party developers), it's possible Apple chose not to focus on that aspect of the device because it was more complicated to develop the interface for media creation than it was to do so for media consumption.
If I open a PowerPoint file in Keynote, and edit it, can I save it back to PowerPoint?
No. Your options are to save it as a PDF or as a Keynote file.
The big question
I already carry an iPhone and a laptop. Why do I need a third device?
When you get right down to it, that's the central issue surrounding the iPad. Apple touts its tablet as something that goes in between those devices. Not everyone will want one, but the theory seems to be that many people don't really need a laptop for a lot of tasks. A simpler device like the iPad could better fit into people's living rooms, or into their bags for commuting or long trips. But it's definitely a leap of faith by Apple. Whether users will buy the iPad and integrate it into their lives, either replacing or complementing their existing devices, remains to be seen.
We'll try to address this big question in our forthcoming full review.
iPad (2010)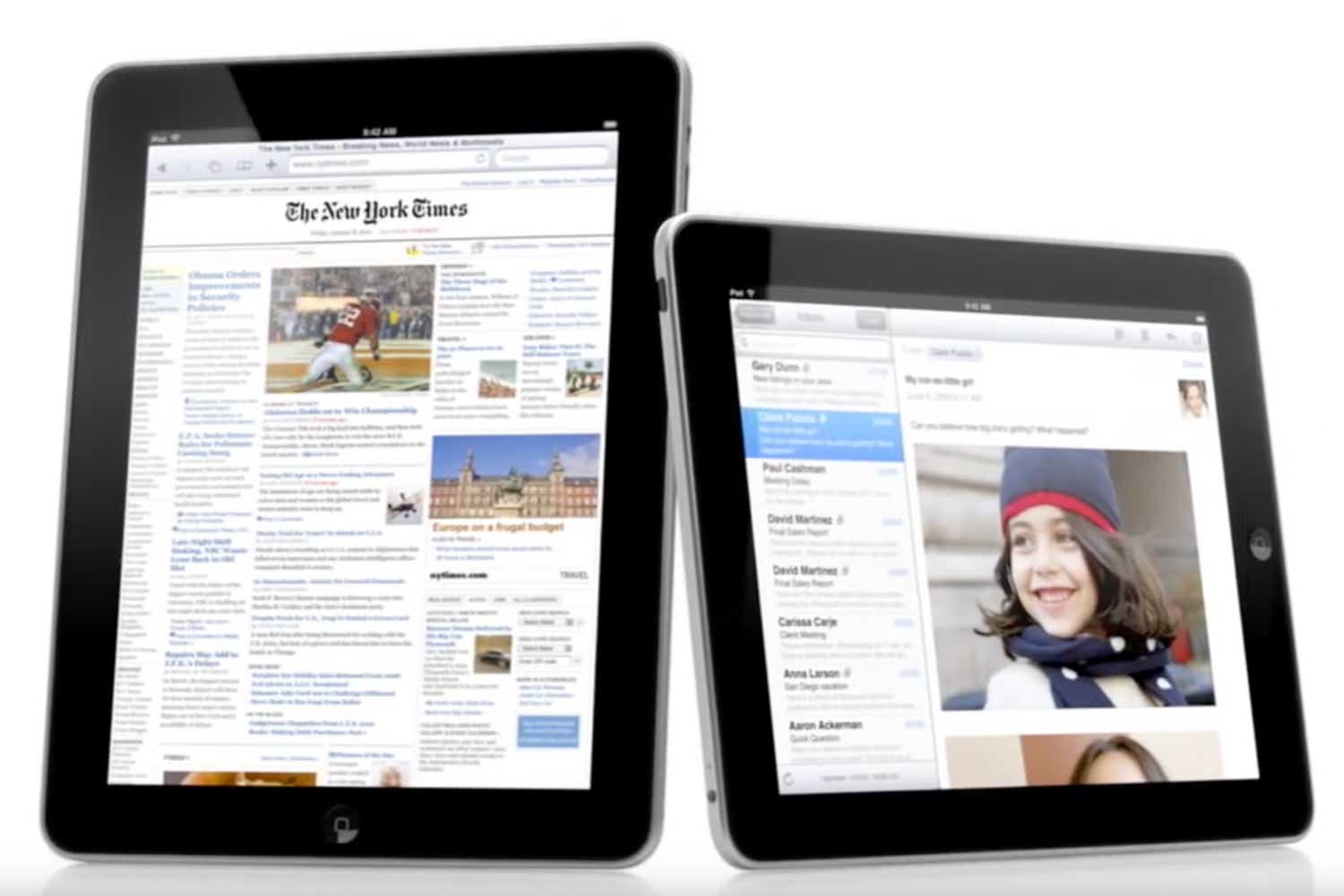 Read our full
Review iPad (2010)