What the iPod was to listening to music, Apple hopes to make the iPad to reading books. The company's much touted iBooks software landed in the iTunes Store on Friday, one day ahead of the iPad's debut.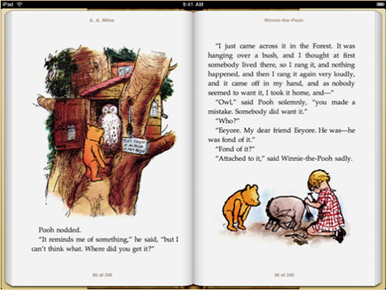 We've already seen a lot of the application's features, both from Steve Jobs's January presentation and Apple's demos of the program, but let's run down the list.
The app supports both portrait and landscape modes, showing one page or two pages respectively. You can adjust the screen brightness, font face, and font size to suit your personal tastes, and the built-in search feature lets you quickly look for a spot in the book. In addition, you can highlight passages for future reference with a bookmarking feature. Run into a word that's got you stymied? iBooks also features a built-in dictionary: just tap and hold on a word and a definition will pop up. And the iPad's accessibility functions mean that it can speak aloud the words on a page.
More than just letting you read, iBooks also lets you buy new books and organize your collection. The main bookshelf screen lets you browse by title, author, or category, or even drag books around to reorder them. Interested in finding something new to read? The iBookstore is just a tap away, allowing you to browse and search for books and even download free samples to peruse at your leisure.
The iPad only reads documents in the ePub format, though it doesn't care if you get those from the iBookstore or a free source such as Project Gutenberg, as long as they don't use a different DRM scheme. However, since the iBookstore (and thus, iBooks) is only available in the U.S. so far, those elsewhere will have to wait until the iPad hits their shores, a rollout that should begin later this month.
Our favorite previously unannounced detail: iBooks comes with a free copy of A.A. Milne's classic Winnie the Pooh.
iBooks is a free download and works with an iPad running iPhone OS 3.2 or later.