Smule, the developer of iPhone musical mainstays like Ocarina, Leaf Trombone, and I Am T-Pain, has announced its first iPad-only app: Magic Piano.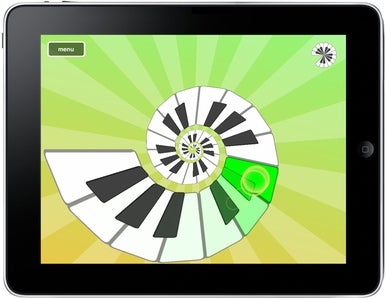 The app, which seems as whimsical as Smule's previous virtual-instrument creations, sports uniquely-shaped keyboards, arranged in circles or spirals. You choose the number of piano keys and your preferred layout, and then unleash your inner Mozart, Ben Folds, or Merton. Smule co-founder Dr. Ge Wang told Macworld that Magic Piano is "specifically designed for the iPad, and in fact wouldn't be possible on any other device."
You can play your own masterpieces, or instead choose to pound out songs that come bundled with Magic Piano, in which case beams of light shine upon the keys you're meant to tap next. And if you really can't stomach the idea of hitting a wrong note, Magic Piano lets you focus on timing, ensuring that each tap, regardless of where it lands, is pitch-perfect.
In "duet mode," Magic Piano lets you play against—no, with—other iPad-wielding pianists. Another option lets you sit back and listen to other pairs make music together. The duet mode, Wang says, "is pretty Smule-ian, if you will."
By default, though, the app launches with no visible keyboard at all. You tap anywhere on the screen and slide your fingers around and play. Wang describes it like "almost painting on the iPad's surface, but with music."
Magic Piano, available now in the App Store, costs $3 and requires an iPad running iPhone OS 3.2 or later.