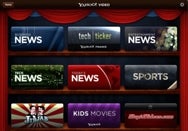 Yahoo has released Yahoo Entertainment for the iPad, a free app that offers a very fancy gateway to the company's Web-based counterpart. Heavy on the eye candy, Yahoo Entertainment will bring you TV schedules, movie and book reviews, news, and other original video content.
The interactive TV program guide shows you the local line-up for your service provider and highlight your favorite shows. You'll have options to sort by genres or categories and filter shows by time, day, or channel.
The video section features news channels of all kinds, including sports, business, entertainment, and current affairs. You'll also get weather forecasts and access to original Yahoo programming such as Tech Ticker, Primetime in No Time, and Daytime in No Time.
The entertainment section has the latest news stories from various sources that you can read from within the app, and include celebrity photos and gossip. You'll also find book and movie reviews, as well as other assorted content like advice articles and comics.
Yahoo Entertainment is available now on the App Store, and is compatible with an iPad running iPhone OS 3.2 or later.