Memeo Connect Reader 1.0.2 is handy iPad app if you're a regular user of Google Docs. While it is limited to providing read-only access to your Google Docs, it has an elegant, pleasing interface that's a lot friendlier than the Docs interface of Google Mobile App.
The Google Mobile App's simple Docs interface does the job, though its limited viewing options can be frustrating. Connect Reader uses a familiar way to organize your documents—folders, 11 of them, to be exact. Instead of trying to find a spreadsheet in Google Mobile App's long list, you can simply tap the Connect Reader's Spreadsheets folder, and the app will display only the spreadsheets. Tap on the Documents folder, and you'll see a list of your text files. Connect Reader also has a PDF folder, so you can use it to view PDF files. However, you'll need to upload your PDFs to your Google Docs account first though another computer.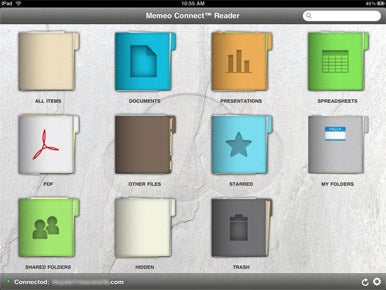 Google Docs can store any kind of file type, and I had success reading PDFs, Word, Excel, PowerPoint, Pages, Numbers, and Keynote files. Connect Reader has buttons to open Pages, Numbers, and Keynote documents in each file's respective app if you have them installed on your iPad.
I was even able to view a 2.4MB QuickTime movie that I uploaded to my Google Docs account. However, when I tried to look at a few 2MB JPEG photo files, Connect Reader crashed. Memeo says that opening large image files in Connect Reader has a known problem that it is working to address.
Connect Reader allows you to view your Google Docs files without an Internet connection, a very helpful feature for those times you want to read a doc but can't get Internet access, like on a plane. But you'll need to do a little bit of prep work beforehand. You must first connect to your Google Docs account (which requires an Internet connection) through Connect Reader, and sync the app. This will save small files (most documents and spreadsheets, and other files under 1MB) to your iPad, but large files (like the 2MB JPEGs I used for testing, or a lengthy and elaborate slide presentations) won't be saved. If you want to save one of those large files, you need to tap on it in Connect Reader and download it. Once synced, the offline Connect Reader works well.
With this version of the app, you can't adjust the size limit of the files that are automatically saved to your iPad. A Memeo representative said that it will add a setting that lets you have more control over what is saved to your iPad and what file formats to use.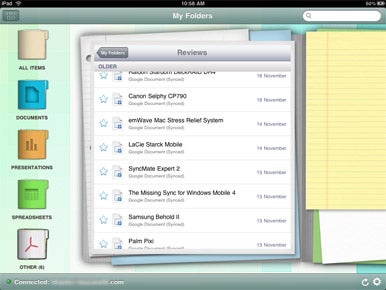 Connect Reader has a 200-file limit, which might be a severe restriction for some users, especially if Google Docs is used in a business with several users. A Memeo representative said that this limit was imposed when the app was being developed before the iPad was released; the developer wanted to insure adequate performance. Memeo plans to lift this restriction in the next release.
Like Google Mobile App, Connect Reader has a search function. If search is the primary way for you to find your Google Docs files, then you may not find any use for Connect Reader.
In addition to not allowing you to edit a Google Docs file, you also can't reorganize your files through Connect Reader. For example, you can't move files into your Hidden folder, you can't you create new folders in your My Folder directory, and you can't move files to or out of the Trash. To be fair, you can't do such tasks in Google Mobile App, either. To perform such tasks, you'll have to access your Google Docs account through a Web browser.
It may seem like Connect Reader has a lot of restrictions, but keep in mind that it is a reader for Google Docs. It's not being touted as a better way to edit and manage your files, but as a better way to read them. As a reader, Connect Reader's interface is quite pleasing and doesn't take much effort to use.
[Roman Loyola is a Macworld senior editor.]