At a Glance
Expert's Rating
Our Verdict
The Casio Exilim EX-G1 is certainly rugged—but you're paying more for durability, not great images.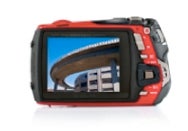 Attention snowboarders, snorkelers, and rock climbers: The ruggedized Casio Exilim EX-G1 point-and-shoot digital camera is a worthy companion for your next outdoor adventure. That's assuming, of course, you don't snowboard in weather colder than 14 degrees Fahrenheit, you don't snorkel in water over 10 feet deep, you don't climb rocks higher than 7 feet, and you can live with middling image quality.
One of many rugged compact cameras being released this year, the 12.1-megapixel Exilim EX-G1 features a 3X-optical-zoom lens (38mm to 114mm), a 2.5-inch LCD screen, and a variety of preset "Best Shot" modes. It's delightfully tiny at just 5.4 ounces and 0.78 inches thick—Casio says it's the slimmest shockproof camera on the market (the upcoming Sony Cyber-shot DSC-TX5, which measures less than 0.75 inches thick, might have something to say about that soon). The EX-G1 takes MicroSD and MicroSDHC cards, and it's available in black or red for $300.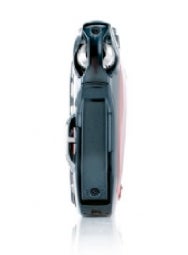 The Exilim EX-G1 is certainly sturdily built—its nonextending zoom lens is ringed in resin, its outer casing is made of stainless steel, and a polycarbonate cover near its shutter is built to absorb shock. To access the weather-sealed USB port and MicroSD/SDHC slot, you use a little turnscrew on the side. The wheel-like turnscrew moves easily, and the port door opens effortlessly.
Taking the battery out, on the other hand, is quite a hassle—especially if you have big hands. Casio includes a special tool for prying open the battery compartment; but even with said tool, the compartment requires some dexterity to open.
The buttons on the EX-G1 are straightforward, well spaced, and easy to press. On the top of the camera, next to the power button and the shutter button, is the "Best Shot" button, which you press to access all of the camera's automatic shooting modes. You can choose from 25 automatic shooting modes, including Snow, Sports, Pet, Sundown, Underwater, and Portrait; the closest you'll get to any manual controls is an "Auto" mode that lets you adjust white balance, exposure compensation, ISO, flash, and a few other in-camera settings (no manual shutter or aperture adjustments, though).
In the EX-G1, Casio also offers its unique Dynamic Photo Mode, which allows you to cut a subject out of a shot and superimpose it on top of a different picture or background. This mode actually works quite well, providing that you take the first shot (the picture of the subject) in front of a neutral background; the camera has a bit more trouble extracting subjects from unevenly lit or otherwise complex backgrounds.
You'll also find a dedicated movie button (labeled with a red recording circle) that you can press to go straight into movie mode. The EX-G1 can capture standard-definition clips at 848 by 480 pixels and 640 by 480 pixels (YouTube mode) at 30 frames per second; it can also take 320 by 240 pixel videos at 15 fps. A fun feature for active users is the Interval Snapshot/Movie mode; for snapshots, you can set intervals at 10 seconds, 30 seconds, 1 minute, or 3 minutes, whereas for movies you can set the capture time at 3, 10, 20, or 30 minutes.
For single shots, this camera exhibits virtually no shutter lag at all—fantastic news for the action-minded user. Unfortunately, I found that the shot-to-shot lag time was incredibly long, as much as 5 seconds. Capturing a fleeting moment isn't much of a problem—but trying to capture several in a row is a real issue.
In addition, Casio seems to have made this camera rugged at the expense of image quality. Its still images are, at best, decent. The EX-G1 offers ISO equivalency settings up to ISO 3200, but my images above ISO 400 started showing a lot of noise when zoomed in at 100 percent. Images look sharp enough when viewed at smaller sizes, but noise, artifacts, and color issues were evident at ISO equivalencies above 800 and at larger sizes. Though the camera offers a Macro mode (in the REC menu under the Auto mode), the EX-G1 had trouble focusing on objects as close as 4 inches away from the lens.
The EX-G1 also has no real image stabilization other than a digital "Anti-Shake" option, which is off by default and disabled automatically when you use a flash. You have to dive into the REC menu to turn it on, and it does little to combat shaky hands or darting subjects. Instead, it increases ISO sensitivity—leaving you with, well, a number of artifacts and a somewhat shaky picture.
Though the EX-G1 may not be the top point-and-shoot for high-quality pictures, it is certainly rugged. The camera is shockproof to falls as far as 7 feet, waterproof down to 10 feet (and it does sink, so use that wrist strap), freezeproof down to 14 degrees Fahrenheit (though using the camera at this temperature significantly decreases your battery life), and dustproof. I tested everything except the dust, and the EX-G1 powered through like a champion—though the LCD screen did suffer a scratch or two.
All in all, the Casio Exilim EX-G1 is not the best camera if you're looking to snap breathtaking, wall-size photos of the great outdoors. But if you simply want to tote something to get quick shots on your next mountain-biking/white-water rafting/rock-climbing trip, it's sturdy enough to withstand the journey.