The App Store is not the only place where you can find iPad-friendly apps—sometimes, all it takes is a friendly visit to the Website of your friendly neighborhood multinational corporation.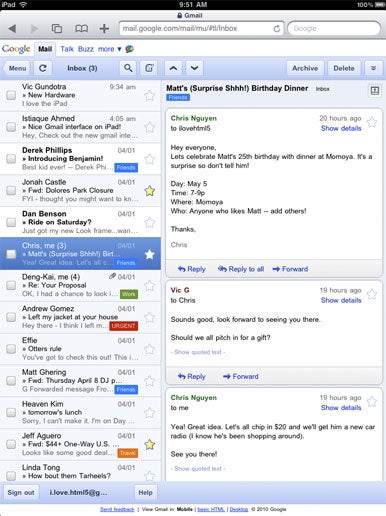 That's because Google has announced that, effective immediately, Gmail has a whole new interface designed specifically for Apple's new device. The new layout takes full advantage of the iPad's screen resolution to deliver a user experience that looks both slick and convenient, with conversations always on the left-hand side of the screen and messages on the right.
The change is part of Google's push to make Gmail for mobile, which is based entirely on web standards like HTML5, provide an interface capable of adapting itself to devices that are more capable than phones.
Because Gmail for mobile is a Web-based app, there is no download or installation required to enjoy it: all you need to do is point the iPad's version of Safari to the Gmail Website, and Google will do the rest. Better yet, you can create a handy home screen icon using the instructions provided by Google—thus keeping Google-powered e-mail always a single tap of the finger away.
Of course, you can still take advantage of all of Gmail's features—including accessing your account via IMAP through the iPad's built-in mail app.
The new Gmail for mobile app requires iPhone OS 2.2 (which, obviously, won't be a problem with iPads, which run iPhone OS 3.2 or higher). Devices that run an older version of the operating system will default to Gmail's old mobile interface.