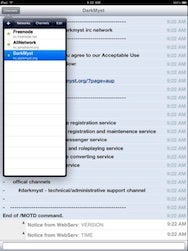 If you woke up last night in a cold sweat wondering if you'd be able to join Internet Relay Chats on your iPad, take it easy: Conceited Software has released an iPad version of its Linkinus IRC client. It has almost every feature supported by the IRC protocol and then some and features a well-designed interface that should instantly feel familiar to existing iPhone users.
Besides the neat interface, Linkinus allows you to connect to any numbers of networks and channels and supports multiple identities and authentication services such as NickServ, NickOP, and AuthServ, to name just a few. The network selection helps you pick servers from among the most popular chat networks and when you relaunch the app, it automatically connects you to the server you were last on.
Linkinus also highlights lines in the chat window where your nickname is mentioned and displays IRC colors. And not only does it support standard IRC input field commands, it also has support for Blowfish, channel op, and OPER commands. And if all of those sound too jargon-like to IRC newbies, the app also has some downright silly features like exploding emoticons to keep everyone happy.
Linkinus is currently available at an introductory price of $8 on the App Store and is compatible with any iPad running iPhone OS 3.2 or later.