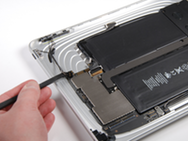 Most of us probably haven't even got our hands on our iPads yet, but the folks at iFixit are already taking one apart. Then again, that's what they do—they don't feel pity or remorse, and they will absolutely will not stop, ever, until the iPad is dead.
So far, the iFixit team has discovered a few little interesting tidbits. For one, it's pretty easy to do the initial disassembly with a plastic spudger—you won't need a heat gun or other intensive equipment. Most of the space inside the iPad, as you might expect, is taken up by the big lithium-ion batteries that give you those ten hours of video watching that Steve Jobs bragged about. The Wi-Fi model also has a nice gap for the 3G module (pictures of which hit the FCC earlier this week).
Surprises inside include the imprints on Apple's A4 chip, which suggest it's being manufactured by Samsung (other hardware makers involved in the iPad's components include Broadcom and AT&S) and an impressively large speaker assembly, which explains reviewers' generally positive remarks about the sound quality. Also, worth noting that the Apple logo on the back of the case isn't just for show: it's also where the device's antenna (for Wi-Fi and Bluetooth, presumably) resides.
For our part, we're sorry that a poor iPad had to suffer this ignominy, but we trust it was for the good of humanity. Your sacrifice will not go unappreciated.