The tech-savvy world is out of its mind today with iPad fever as Apple's new "coffee table" device that combines the power of the iPhone with the size of a Kindle hits shelves. Pundits call it a revolutionary device; critics say we don't need a larger version of the iPhone that can't even make phone calls. Whether you fall into the first camp or the second, here's what we can tell you about the iPad's effect (or lack thereof) on video games.
Go to iTunes right now and you'll find nearly a hundred video game apps already on sale. Many of them are "HD" versions of existing iPhone games that come with a steeper price point than the $3 we're used to paying; a few are ports of titles we're used to seeing on places like Xbox Live or PlayStation Network; and only a handful are totally original games designed just for the iPad. It's certainly not the dead zone the iPhone experienced for a month or so when developers were still learning to navigate the tools and the App Store—but it's not a drastically different landscape than gamers are used to seeing for mobile gaming in the last year.
Does this mean the iPad is irrelevant to gaming and that things will stay just as they are? That's not how smaller developers feel. A Flurry survey conducted weeks ago found that 44 percent of applications in development for the iPad were video games and while larger publishers like EA Mobile and Gameloft dominate the launch lineup, there's a healthy percentage of smaller developers with games ready to go. Something about Apple's new device appeals to developers and plenty are ready to evangelize the iPad's gaming potential.
"I think iPad gaming is a part of the future of games," game developer Mike Rasmussen told GamePro. "As a device a lot of people are underestimating its potential. Steve Jobs is sort of putting the world on notice that the past 30 years of computer hardware engineering is now obsolete. From that standpoint, we feel it is a revolutionary device and it's certainly an important part of our gaming strategy."
Rasmussen's company, Republic of Fun, has games ready for the iPad launch that take advantage of the larger screen and more robust specs. However, they're also retrofitting their existing iPhone games like Slug Wars to sell on the iPad a higher price (because it's a "premium experience," Rasmussen explains). So while he is enthusiastic about the iPad, it doesn't seem like he's sure enough about where the device is taking video games to risk abandoning games that sold just fine on the iPhone.
That doesn't mean things aren't changing for video games. Well before the iPad was even announced, the video games industry was in flux. After a tough couple of economic years, companies like EA, Ubisoft, and Sony all announced strategy changes that would leverage a lot of the old methods of moneymaking in the industry (like annual sequels), while also exploring new areas of delivering content digitally via Facebook, browsers—and, yes, mobile devices like the iPad.
From this perspective, the iPad is a symptom of change in the games industry, not the cause. Ben Cousins, General Manager of Battlefield Heroes, Battleforge at EA, is more inclined to name the Internet as the thing that's changing the way games are made and distributed. In a 2010 Game Developers Conference lecture, "Kings of Convenience: What Wal-Mart teaches us about the future of gaming," Cousins explained that the biggest changes we see in a market come from the introduction of a "disruptive technology" into a system that's largely stable. The iPad, while certainly disruptive to some markets, might not be as disruptive to video games.
"Since Steve Jobs returned in 1997, Apple have been at the forefront of disruption in the computing and entertainment space," Cousins told GamePro. "The iMac disrupted the home desktop, the iPod disrupted the MP3 player market and the iPhone really disrupted the cell phone market. I think the iPad has the potential to do the same."
In Cousins' GDC lecture, he explained that the introduction of the vehicle changed grocery shopping from a high quality, intimate experience at local shops to the convenient, gigantic supermarkets like the Wal-Marts we have today. Taken as an analogy to the games industry, the Internet is reducing the appeal of high quality packaged goods we have to go to GameStop and buy in favor of more convenient (and lower quality) downloadable experiences. The iPad certainly can deliver downloadable games, but so can other video game consoles and handhelds that have a head start on the iPad.
Instead, the disruptive effect the iPad has is more likely to be felt in other technology markets the device is geared to compete with, like the home laptop market. Cousins said the iPad may have a secondary impact on home console games, but only if gamers find a reason to swap their console for the iPad.
"If I can sit on the sofa and have an HD gaming experience on an iPad while my wife watches TV, we are moving the iPad into a moment usually occupied by an Xbox or PlayStation," Cousins said. "Compared to a TV-connected console like an Xbox, or a home laptop, [the iPad] is a lower-quality, more convenient and cheaper experience. The screen is lower-resolution, the CPU less powerful and the portfolio of games smaller, but it fits in your hand, game downloads are simple and its price point is competitive. However, compared to a handheld gaming device like a DS or PSP, it's a higher-quality, more expensive and less convenient experience. It's physically bigger, with a higher-price point and larger resolution screen. This is why I feel the iPad is more of a threat to home laptop or console gaming than handheld."
Sure enough, Nintendo hasn't batted a proverbial eyelash in its strategy toward video games between the iPhone and the iPad — they don't seem to feel any sort of disruptive effect from Apple's devices. The Nintendo DSi XL hit shelves just says before the company announced a new generation of handheld console, which will very likely feature downloadable content compatibility.
With companies like Nintendo holding steady and the iPad's role in the video game landscape still ambiguous, bold assertions that " the iPad will be the Mother of All Gaming Platforms," seem more fanatical than logical. It makes sense for many companies to have games on the iPad so that they could be out in front of consumer demand, but it for many companies, it doesn't make sense to pin all of the future of gaming on the iPad.
Christian Svensson, Vice President of Strategic Planning and Business Development at Capcom, said it best during an MI6 session titled Game Distribution 2015: "I'm not seeing where the iPad fits into my life versus what I already have that's better."
Catching up with him after the conference, Svensson that while everybody sees downloadable games in the future (you'd have to be blind not to), he didn't necessarily see the whole gaming world owning iPads for the purpose of playing video games.
"Right now, we're on version 1.0," he told GamePro after the session ended. "Maybe the iPad 2.0 version will be more targeted to games—but right now, I don't really have a use for [an iPad]."
iPad (2010)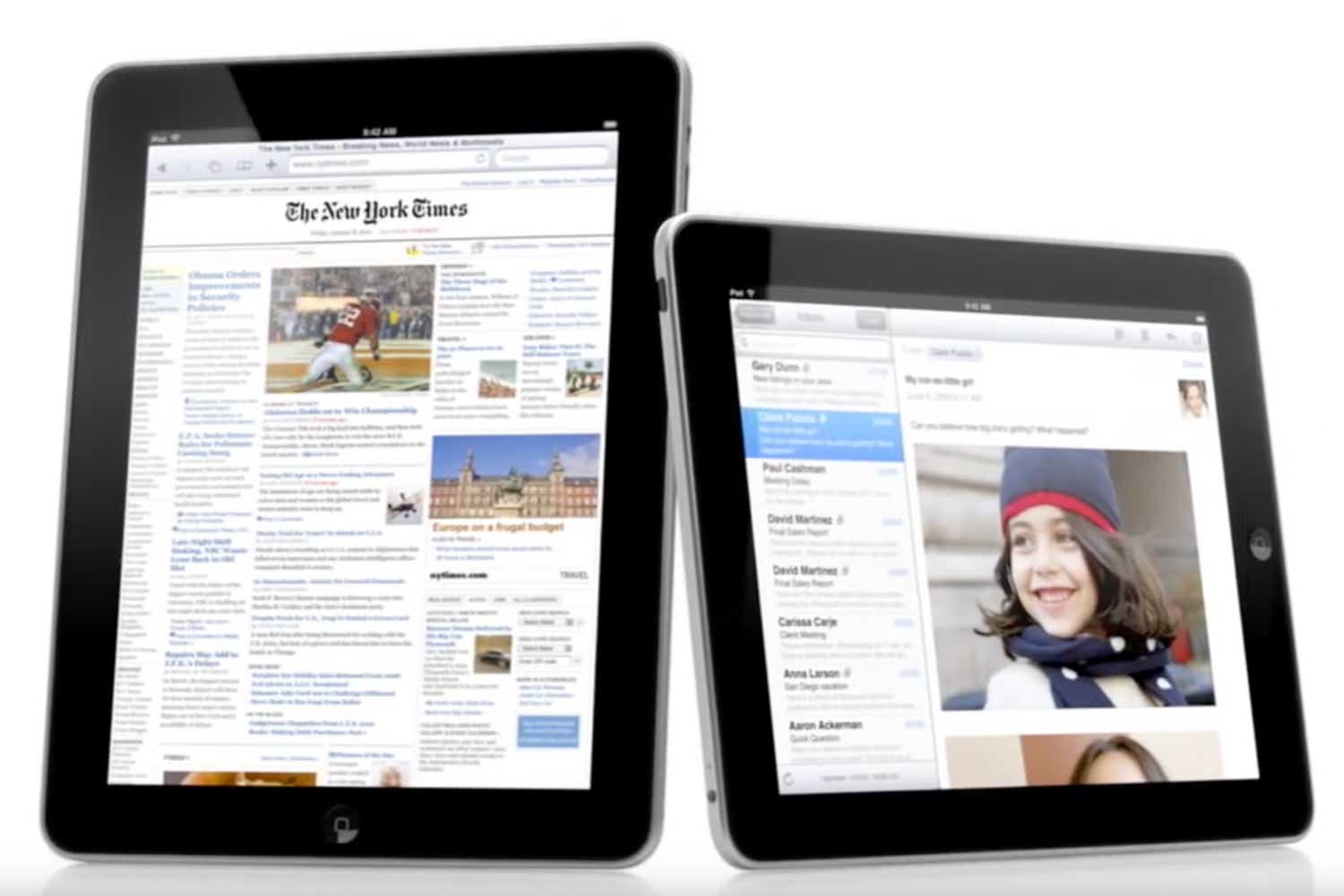 Read our full
iPad (2010) review