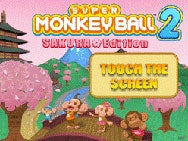 Other Ocean Interactive and Sega of America have partnered to launch on Saturday Super Monkey Ball 2: Sakura Edition exclusively for the iPad. This latest edition of the addictive primate ball-rolling series is available now on the App Store for $13.
"We are very excited to be part of the iPad launch with this great franchise." said Andrew Ayre, Other Ocean's CEO. "And are very proud to be one of the first developers to have shipped an iPad exclusive title."
By all accounts, Super Monkey Ball 2 for the iPhone ( ) was a huge leap forward for the franchise on the mobile platform. The first Super Monkey Ball was an iPhone launch title and never quite felt right-its controls were too sensitive and it failed to deliver the 3D graphics of the console original. Super Monkey Ball 2 was a huge leap forward graphically and also vastly improved the interface and intricate control scheme.
Now Sakura Edition comes to the iPad with even better graphics, four new mini-games (one of which is an iPad exclusive), and ten exclusive new levels. The four new mini-games include old favorites like Monkey Bowling, Monkey Target, Monkey Golf, and the iPad exclusive multiplayer mini-game Monkey Base. Monkey Base allows four players on the same iPad to launch orbs at each other as each player tries to be the last one standing. The ten iPad exclusive levels are from the Far East World and Other Ocean Interactive boasts that they are some of the most visually stunning to date.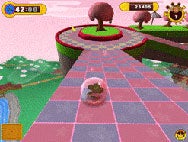 "The iPad's hi-res screen and multi-touch makes an amazing difference" says Other Ocean Technical Director, Gordon Wood, "Everything that's great about Super Monkey Ball 2 can now be played in Sakura Edition, only on a bigger screen and with even better graphics, new mini-games and more levels. Fans are in for a real treat."
Other Ocean Interactive and Sega have learned lessons from developing on the iPhone, and hope to have built a game that is not only an indication of what the iPad can do, but hopefully one of the better Super Monkey Ball games to date. The iPad exclusive Super Monkey Ball 2: Sakura Edition is now available on iTunes.