Sure, you could get up bright and early, head on down to your local Apple Store, and stand in line for the right to get your hands on an iPad—if you like doing things the old-fashioned way. Modern life provides such wonderful conveniences as indoor plumbing, electric lighting, and home delivery of that high-tech Apple gadget you ordered back in March. Macworld contributor Lex Friedman took advantage of that very service when he placed an order for one of Apple's new iPads. This is how he spent his Saturday.
I watched with glee as my iPad slowly made its UPS-powered trek from China to Alaska. Its vacation in the frozen tundra was a brief one, and it quickly skipped down into Kentucky—along with many, many other iPads if the steady stream of Kentucky-themed tweets I spotted were anything to go by. It was there, in Kentucky, that UPS and Apple parked thousands of iPads, whose final destinations were scattered around the country, not moving them from that UPS shipping hub early, not wanting iPads to arrive before the magic April 3 release date.
I imagine most of the iPads sat around in their cardboard boxes, sipping Kentucky bourbon, munching on Kentucky Fried Chicken (the "extra crispy," of course—only iPhones choose the original recipe).
I imagine that the visceral excitement I felt when my oft-refreshed UPS tracking URL showed movement on April 2 wasn't unique. My iPad—like so many of its Bluegrass State-based brethren—was on the move again, leaving the commonwealth for sunny Newark, New Jersey, where it landed Friday evening.
Overnight, it sat. Saturday morning, the iPad moved from Newark to Tinton Falls, New Jersey. It's a place I've never been, but UPS seems awfully fond of the town—the carrier operates a hub there, and all packages to my home go through that stop. Now, I was more pumped than ever. At 9:20 a.m. Eastern, my iPad had left Tinton Falls! Next stop: Lex's House!
Or so I thought.
Minutes went by, and no iPad arrived. But soon that minute stretched to an hour. And then another.
As time marched on, my sanity marched with it. I posted a series of increasingly distraught tweets, the postmodern form of a nervous breakdown:
iPad day + good weather day = epic battle brewing between me and the mother of my children, who likes things like 'activities for children.'

Has anyone seen my freaking iPad?

I WANT MY MOTHERBLEEPIN' IPAD IN MY MOTHERBLEEPIN' HANDS, UPS.

Screw it. Getting a Joo Joo.

9am: 'DESTINATION SCAN' status. That means it's at the facility that ships to my house. But I've yet to see the coveted 'OUT FOR DELIVERY.'
By this point, it was half past noon. My descent into iPad-less madness continued:
There's a cruel irony in the annoying amount of panning/scrolling required to monitor my iPad's status on ups.com with the iPhone's screen.

If I put my 16-month-old's hand on my iPhone, I can pretend it's an iPad. Which is good, since apparently today Brown can't do squat for me.

Totally tweeting this from my… SAME OLD DAMN IPHONE.

No updates since 9:21am Eastern on UPS's website. Dear UPS: GET BENT. By which I mean: GIVE ME MY IPAD.
(Note that the last entry in that sequence is a dramatic re-interpretation of what I actually tweeted, so that Macworld isn't hauled before an FCC tribunal.)
Finally, around 2:30pm, while I put my 3-year-old down for her nap, I heard the doorbell ring. To my credit, I finished the job of getting her tucked in before flying down the stairs.
Moments after plugging my iPad into my iMac for the first time, I snapped a photo with my iPhone and posted one last, profane update to Twitter:
It's about [redacted] time.
Swearing was cathartic, but now it was time to achieve nirvana, to embrace my new Apple gadget. After all, my interminable wait was over! The iPad was—finally—in my hands!
I connected my precious new device to iTunes and clicked sync. The glorious message appeared:
About 3 hours remaining.
iPad (2010)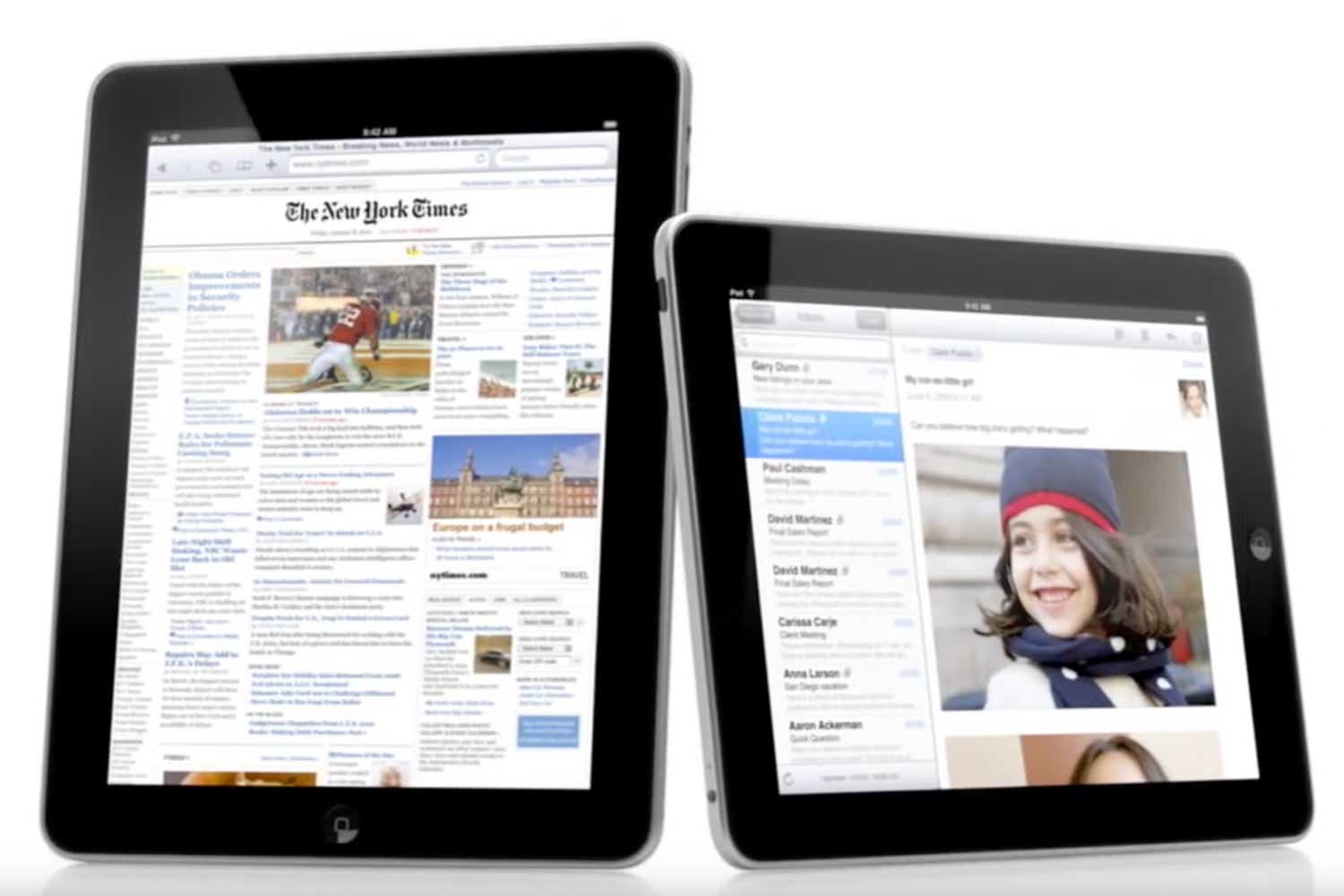 Read our full
iPad (2010) review
iPad with Wi-Fi 16GB
Price When Reviewed:
$568