Just when you thought Adobe could not possibly add anything new to its 20-year-old flagship image editor, along comes Photoshop CS5 and CS5 Extended with a host of improvements that promise to make routine tasks easier, while at the same time letting you work more quickly and accurately.
The program's new native 64-bit support (now based on Apple's 64-bit Cocoa framework) makes working with large files (over 4GB) swift and practical. Enhancements to the OpenGL engine hasten the delivery of 3D geometry to your Mac's video card.
Software upgrades tend to rely on flashy new capabilities, and there's no shortage of those in CS5. But with a mature program like Photoshop, which has long contained all the basics and much more, this upgrade promises to usher in new ease of use and improved performance and accuracy for difficult, tedious, or repetitive tasks.
Not surprisingly, Adobe has incorporated a long list of user requests into this upgrade—notably the ability to drag and drop a file into an open document to create a new layer and to simultaneously adjust the opacity of multiple layers. Enhancements to the image editor's warping and painting capabilities, selection-refinement tools, photographic tools, and 3D features—not to mention the program's ability to work with huge files—are the hallmarks of the CS5 release. It's all accomplished with relatively little change to the program's familiar interface.
Image editing
Refine Edge: Longtime Photoshop users are familiar with the program's array of selection techniques. In CS5, Adobe has revisited the Refine Edge dialog box to include Smart Radius technology to improve the accuracy of edge detection. This feature automatically chooses which selection technique to use with different parts of an image (hair versus a shirt sleeve), based on edge characteristics in different parts of the picture. The Refine Radius and Erase Refinements tools customize masks and selections as you make them, and the color decontamination setting eliminates background colors from the edges of the selection.
Content-Aware Fill: For years, photographers struggled to remove extraneous elements from their images, from pesky or unsightly objects to strangers who unwittingly make their way into a family shot. While many crude methods have been employed to accomplish this task, Photoshop CS5 has given it a higher level of accuracy and refinement with the new Content-Aware Fill feature. It is designed to remove an object from an image and automatically replace it with the background that would have been there if only that object were not. It uses surrounding elements to detect the natural underlying details so that, to the viewer, the intrusive object never existed. You can use this feature with the Spot Healing Brush or with the Fill command to replace content in an active selection.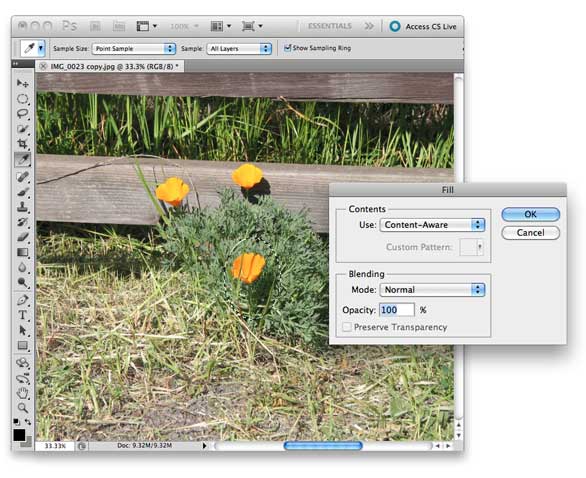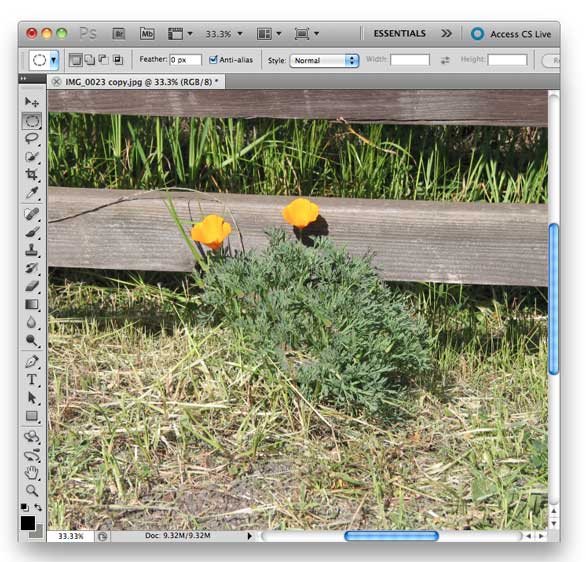 Painting
Mixer Brush: Photoshop CS5 sports a new Mixer Brush that offers a fresh, painterly way of blending colors on the screen. The Mixer Brush lets you define multiple colors on a single brush tip and then mix and blend them naturally with colors on the canvas. You can use the Mixer Brush on any photo to create painted effects without adding colors. You can make such images look extremely creative by controlling settings for canvas color wetness, load rate of paint added to a brush, mixing rate between brush and canvas colors, and whether the brush is cleaned or refilled between strokes.
Bristle Tips: This feature lets you define brush bristle properties such as shape, length, stiffness, thickness, and angle. You can adjust the bristle tips visually and save your tip configurations for repeated use.
Puppet Warp: This feature lets you reposition, reshape, and transform any element in your composition. Just click on an image and drop pins in strategic places on your image to hold them still. Then click and drag to reposition other parts of the object. When you're done, Photoshop adjusts the rest of the image to conform to the changes. The feature works with selections, layers, and whole photos.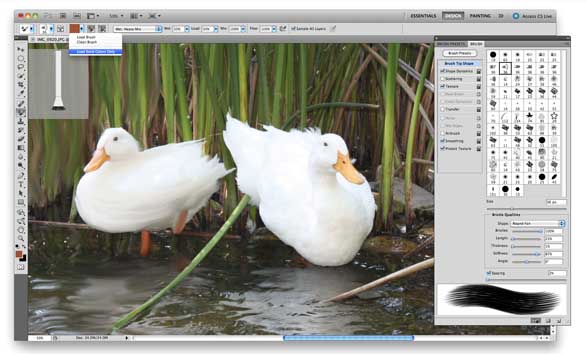 Photography
HDR Pro: High Dynamic Range imaging simply combines a group of the same images with different exposures to create a photo containing the full spectrum of light and shadow. With Photoshop CS5, Adobe significantly improves upon this capability. The new HDR Pro feature gives users even more control over the merging process and adjustment discretion over the mapping of tones in a combined image. New algorithms offer better alignment between images while an automatic deghosting feature fixes problems that occur when subjects have moved over a series of shots. You can save your HDR processing settings as presets and even use the new HDR Toning feature to create the HDR effect of a combined image within a single shot.
Camera Raw 6: Photoshop's Camera Raw plug-in, now in version 6, supports more than 275 camera models. The new version of the plug-in gives you better quality sharpening and noise removal, and lets you edit TIFF and JPEG files in addition to images shot in the RAW format. New settings in the Camera Raw dialog box let you apply vignette styles and film grain as part of the raw editing workflow.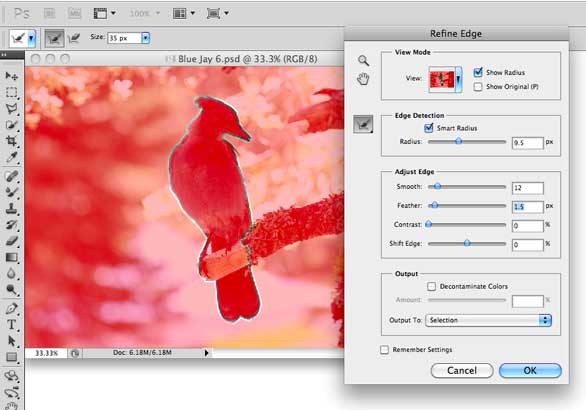 Automated Lens Correction: New lens correction features in Photoshop CS5 can remove or correct three of the most common lens-based errors: geometric distortion, chromatic aberration, and vignetting. The updated lens correction filter features both automatic and custom correction features. Users can also download the free Adobe Lens Profile Creator, from which they can create custom profiles of their lenses.
3D
Repoussé: Photoshop CS5 Extended offers a number of improvements to the program's 3D capabilities. Adobe's Repoussé feature lets you work interactively with a visual dialog to style your 3D objects. For example, you can use the feature to extrude text for creating logos and 3D artwork.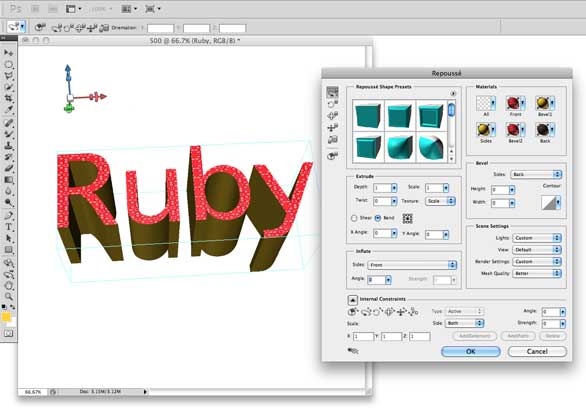 Use the Create New 3D Object section of the 3D panel to convert a 2D object to 3D. Then use the new Repoussé dialog box to tweak extrusion properties such as depth, scale, bend, shear, inflate, and twist. Photoshop CS5 ships with a library of 3D content you can use to spiff up your images, and more are available online.
Many more features
This is a close-up of some of the major new features in Photoshop CS5, but there are many more, such as the ability to customize panels (with a downloaded utility), revamped workspace management capabilities, and a new Mini Bridge panel that lets you access Photoshop's file manager from within the program.
Photoshop CS5 will ship within the next 30 days. Stay tuned for our full review, which will run when the shipping software becomes available.