If you lived through the golden age of platforming games in the 1990s, you likely had to suffer through a lot of bad Sonic the Hedgehog clones. Though it seems silly now, Sonic was "cool" then and virtually everyone wanted their own animal with an attitude. Developers thought we'd buy into wise-cracking rats, for example.
Now it's 2010 and the cultural seasons have changed many times—which makes Eco Punk's "Captain Planet meets Sonic as Sid Vicious" look seem positively retro. Eco Punk seems to cram every cliche possible onto the iPhone's small screen: the game stars a gun-wielding skateboarding punk bunny rabbit on a mission to save the planet. Though it's tempting to write Eco Punk off as parody, the game seems genuine in its environmental message, if not in its punk rock attitude. Developed by Nitako, this strange little game possesses unique charms and surprisingly fun gameplay.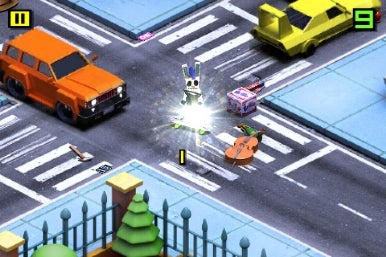 While skating around a busy intersection, your little blue-mohawked, anarchy shirt-wearing punk bunny collects trash while dodging cars, cops on Segways, and hippies on scooters. You maneuver by dragging, flicking, and tapping your index finger along the iPhone's touch screen. The controls are incredibly responsive, though you may start to feel a little wrist-ache after a while.
You collect points for picking up garbage of various shapes and sizes, as well as several varieties of power-ups. The purple orb surrounds you with a temporary force field making you impervious to oncoming traffic, so you can use it to take out those pesky cars and police officers. The red orb arms you with a continually firing gun for a few moments, for maximum damage.
And that's really all there is to it. The proper technique is quickly mastered, but there are three modes of play to keep it interesting: classic is just point-collecting until someone runs you over; Timebend synchs your speed with the speed of traffic so you can slow everything down for more precision; and Blitz puts a 60-second timer on the game, challenging you to collect as many points as possible in just a minute.
Point collection is the major goal of the game, so the inclusion of a leaderboard is a helpful reminder of how you're doing. Eco Punk is also equipped with OpenFeint, a service that puts your achievements online to compare with other players.
Though the game becomes progressively harder the longer you stay alive, it might be more interesting if there were more levels, or at least the ability to move out of the one intersection.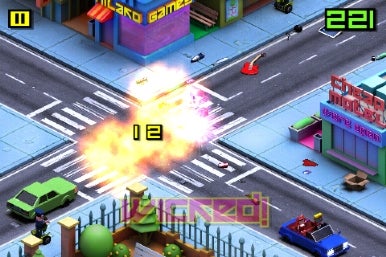 Otherwise, Eco Punk gets everything right, from the brightly colored 3D graphics to the hardcore soundtrack (though if that's not your thing, you can play your own music or turn the sound off entirely). The $1 price tag and the tongue-in-cheek humor are just icing on the cake.
[Meghann Myers is an editorial intern for Macworld.]