Outlining is an indispensable tool for many users' organizational and writing workflow, so it's not surprising that there are many outlining tools for the desktop. JOutliner from Sody Systems looks to translate the outlining practice to the iPhone and iPod touch.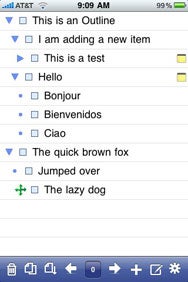 Just as any outlining tool should, JOutliner allows you to create a series of listed items organized in a tree-like hierarchy, with general ideas branching out into smaller sub-topics and ideas. One thing that this app does do well is give you the ability to drag and organize items by tapping and holding, then dragging to a desired position.
Creating items, on the other hand, is a bit of a hassle, with JOutliner. Each new item can only be added by tapping the plus button in the incredibly cluttered bottom toolbar.
Luckily, outlines can be exported through the built-in mail app as text or as OPML, and synced with the desktop JOutliner app. Yet, just like its iPhone counterpart, the desktop version of JOutliner is not feature-rich, in my opinion. You are able to sync outlines between the iPhone and desktop versions, so long as you enable syncing through a menu option.
Using JOutliner is a bit of a hassle, as it has a learning curve. It's not fluid and is often clunky and hard-to-use. Frankly, I'd rather just use paper than JOutliner. With a lackluster interface and limited functionality, it wouldn't be hard to find a better choice for a mobile outliner.
[ John Fuller is a freelance designer and writer from Texas.]
This review was reposted on June 10, 2010 to correct an error about the app's syncing capabilities. We also upgrade the app's mouse rating to reflect its syncing features.