Now that the iPad has been out for a few days and you've read every possible review, first-impressions article, and opinion piece, you're probably starting to think about more practical matters: Given that Apple's new device has the same connections—dock connector, headphone jack, Bluetooth—as my iPhone or iPod touch, will it work with the accessories I already have? Which new accessories should I buy? And will I need to carry a bottle of Windex for that screen?
You could just go out and buy new "Made for iPad" accessories. But we've spent the past few days testing the iPad with existing accessories to see if you can reuse those add-ons. Here's what we've determined so far.
Chargers and batteries: As we covered a few days ago, the iPad requires more juice than the iPhone or any iPod. As a result, no iPhone or iPod chargers we tested—AC or auto—were able to charge the iPad as quickly as its own 10-Watt USB charger. Higher-power USB chargers, such as Apple's iPhone Power Adapter and some AC and auto chargers designed specifically for the iPhone, will charge the iPad, albeit more slowly, even while the iPad is in use. Other iPhone chargers, and most chargers designed for iPods, don't provide enough juice to charge the iPad's battery while the iPad is being used; you'll see the message Not charging in the iPad's menu bar. (These lower-power accessories will power the iPad during use; they just can't charge the battery at the same time. When you put the iPad to sleep, the iPad's battery will charge, but very slowly.)
When it comes to external batteries, none of the existing iPhone and iPod batteries that we've tested can charge the iPad's battery during use. Higher-power batteries (those that can output approximately 5V, such as Sanho's HyperMac MacBook Batteries, which have a 5V USB-power jack) will power the iPad, but not charge its battery, during use; these will charge the battery only when the iPad is asleep. Lower-power iPhone and iPod batteries, such as the compact models you might bring along in your travel bag for a quick on-the-go charge, are similarly limited to charging the iPad's battery while the iPad is asleep, but do so even more slowly.
What we haven't yet had a chance to determine is how much juice a battery (or charger) must provide to maintain the iPad's battery during use—in other words, so that the iPad's battery level doesn't go down when you're using the iPad.
Headphones: The iPad appears to use the same headphone circuitry as the latest iPhone and iPod touch models. Which means that any set of headphones with a 1/8-inch miniplug will work with the iPad—and you'll need a set, because the iPad inexplicably doesn't ship with headphones. If you have headphones with an iPhone-compatible inline remote control, that controller will work with the iPad just as it does with an iPod touch: a single-button remote will let you control media playback, and a three-button remote will let you control playback and adjust the volume level. The microphone will also work (see the next item).
Microphones: The inline microphone on any iPhone- or iPod-compatible set of headphones works as a mono microphone for making voice recordings in supported apps. It also works in Skype and other voice-related apps. Unfortunately, none of the dock-connector microphones for the iPod that we tested—including the Blue Mikey—worked with the iPad, nor did the microphone on any Bluetooth headphones or headsets (covered below).
Bluetooth stereo headphones: We tested a number of stereo Bluetooth headphones; all paired quickly with the iPad and routed most audio—for example, audio from the iPod and Video apps, and sound from games—through the headphones. However, audio from the Skype app wasn't routed through the headphones, and for those Bluetooth headphones that included a microphone, that microphone did not work with Skype or audio-recording apps. In addition, as with the iPhone, if your Bluetooth headphones provide on-headphone controls, the only playback control you get via Bluetooth headphones is volume level and a play/pause toggle. Here's hoping iPhone OS 4.0—or, even better, an update to iPhone OS 3—finally brings us AVRCP, the Bluetooth profile that allows full playback control via Bluetooth headphones and speakers.
Bluetooth mono headsets: We tested the iPad with several Bluetooth mono headsets and were unable to pair with any of them—none even showed up in the iPad's Bluetooth screen when discoverable. Former PCWorld Editor-in-Chief Harry McCracken had similar experiences. However, we've had at least one report from someone who did get a mono Jabra Bluetooth headset working with an iPad. We're conducting further testing on this one. Update: A Macworld reader informs us that Jabra's recent mono headsets are actually A2DP-capable, so the aforementioned Jabra headset was likely paired as an A2DP device. Which would seem to confirm our suspicions that the iPad's software doesn't support the necessary Bluetooth profile(s) for standard mono headsets.
Bluetooth speakers: As with Bluetooth stereo headphones, the Bluetooth speaker systems we tested paired quickly and routed most audio—from music, video, streaming media (such as Pandora, ABC Player, and Netflix), and games—through the speakers. However, as with Bluetooth headphones, above, on-speaker playback control is limited to toggling play/pause.
Bluetooth accessories for streaming audio to your stereo, such as Belkin's Bluetooth Music Receiver (which I covered in a Macworld video), also work well, letting you watch video or play games on your iPad's screen while the audio plays through your big rig.
Docking speakers: Perhaps the most popular iPhone and iPod accessories after headphones, "speaker docks" are also among the least compatible with the iPad. The first and most obvious reason is that the vast majority of these systems sport a dock cradle using Apple's Universal Dock design and sized for the smaller profile of an iPhone or iPod—the iPad simply doesn't fit, and its dock-connector port can't make a stable connection with the dock connector in the cradle.
But even if you could put your iPad in one of these docks, you'd still have power issues. We were able to connect an iPad to a number of docking speakers using CableJive's Dock Extender Cable, one end of which plugs into the iPad's dock-connector port and the other into the connector in a dock. When connected in this manner, the iPad's audio plays through the speakers, and any on-speaker playback controls work properly. However, because of the charging issues covered above, none of the docking speakers we've tested have been able to charge the iPad's battery while the iPad's screen is on; most AC-powered speakers seem to just keep the iPad's battery level steady. On the other hand, we found that speaker docks do charge the iPad's battery, very slowly, if you turn off the iPad's screen (by pressing the Sleep/Wake switch) during music playback.
One exception here—in more ways than one—was Bowers & Wilkins' Zeppelin Mini. Thanks to that system's unique dock-cradle design, we were able to dock the iPad directly in the Zeppelin Mini's cradle; however, we couldn't play music through the Mini. On the other hand, the Mini was able to charge our docked iPad, even when the iPad was in use (cue Twilight Zone theme).
Of course, if your speaker dock has an auxiliary-input jack, you can connect the iPad using that jack (see the next item). The drawback is that you lose any on-speaker controls that require a dock connection.
Powered speakers and standard stereo systems: As with any device with an audio output, the iPad works fine with powered computer speakers or any standard stereo system with line-level inputs. You just run a cable from the iPad's headphone jack or the line-out jack on Apple's Keyboard Dock or iPad Dock to one of the system's inputs. If the Dock is also connected to the iPad's own charger, you get fast charging, as well.
While we're on the topic of speakers, it's worth noting that the iPad's built-in speaker is surprisingly capable. You won't get true stereo audio, and the speaker can't fill a large room, but it puts the iPhone's built-in speaker to shame: the iPad's speaker is less tinny, sounds clearer, and can play much louder than the iPhone's. If you're not concerned with ultimate sound quality or looking for huge sound, but rather with just getting enough volume and clarity to hear casual audio—for example, to listen to podcasts in your office or to hear streamed media from across the hotel room—give the iPad's speaker a try before splurging on speakers.
FM Transmitters: Most iPod and iPhone FM transmitters, especially those designed for in-car use, are actually a combination of an audio accessory that grabs your player's audio-out signal via the dock-connector port, and a charger that provides power via that port. In testing a few of these accessories, we found, as you might expect from the information above, that the FM transmitter circuitry was able to successfully grab the audio signal from the iPad and transmit it over the chosen FM frequency, but the charging circuitry suffered from the same issues as many iPod and iPhone chargers—the accessory wasn't able to charge the iPad while the iPad was in use, displaying the Not charging message. However, we're assuming that, as with docking speakers, dock-connector FM transmitters that provide power will charge the iPad when the iPad is asleep, and even—much more slowly—while the iPad is playing music with the screen turned off. (FM transmitters that simply grab the audio from your device's headphone jack will of course work fine with the iPad.)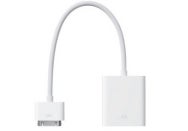 Video-out accessories: If you're looking to get video out of your iPod an onto another display, Apple's iPad-accessory page lists only the $29 iPad Dock Connector to VGA Adapter, which lets you output video—at 1024-by-768 resolution with a 720p scan rate—from compatible apps: Keynote, Safari (video content only), Videos, Photos, and YouTube. But Apple's recent Component AV Cable and Composite AV Cable—and compatible third-party accessories that include the necessary Apple-approved circuitry, which would be most Made For iPhone- and Made For iPod-certified video accessories made in the past couple years—also work, letting you output video to TVs via component or composite connections, respectively, and audio via left/right cables.
For watching higher-definition video on an external display, you'll want to use the Component AV Cable: iTunes-purchased HD videos include HDCP (High-bandwidth Digital Content Protection) and require an HDCP-compatible connection—which the Component AV cable provides. If you don't have the Component AV cable, you'll need to sync the standard-definition (480p) versions of your iTunes-purchased videos, which will play over the VGA Adapter or Composite Cable.
Camera connectors: Apple has announced a $29 iPad-specific Camera Connection Kit for transferring photos from an SD card or directly from your digital camera to the iPad; the kit is scheduled to ship later this month. Unfortunately, Apple's older Camera Connector, made for particular iPod models, doesn't work with the iPad.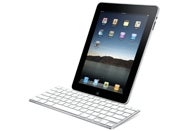 Keyboards: For those times you want a real, physical keyboard, the official iPad Keyboard Dock combines Apple's standard aluminum keyboard with a weighted dock that holds your iPad upright and stable while typing and provides ports for charging, syncing, and audio output. But the Keyboard Dock isn't the only option: the iPad is the first iPhone OS device that supports Bluetooth keyboards. We tested several Bluetooth Mac keyboards, including Apple's Wireless Keyboard and MacAlly's BTkey; each paired easily and worked as expected, including the MacAlly keyboard's numeric keypad (although the forward-delete key functioned as a standard [backspace] delete with the iPad). When using an external keyboard, you can even use many common Mac keyboard shortcuts, such as Command+C (copy), Command+V (paste), and Option-key special characters.
However, as we covered in our review, the iPad Keyboard Dock offers a number of special-function keys for quick access to the iPad's Home screen, Spotlight search, Picture Frame mode, and screen lock, and for bringing up the onscreen keyboard. Apple's Wireless Keyboard mimics the Keyboard Dock's special keys for brightness, volume, and media-playback control, but the only compatible non-standard keys on third-party Bluetooth keyboards are volume and mute keys. (On any Bluetooth keyboard, the Eject key brings up the onscreen keyboard.) And, of course, you'll need a separate stand when using a Bluetooth keyboard; Apple's iPad Dock will work, although it's not nearly as stable as the Keyboard Dock when you tap the screen.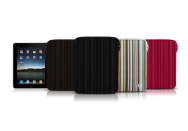 Cases, bags, and other protection: Wait, what? That's right, we've included these sundries here. Not because we think anyone would try to put their iPad inside an iPhone case—that would be silly. No, we included cases and bags here because, as you may have noticed from our big iPad case roundups (parts one and two), many vendors announced, and in some cases even released, iPad bags and cases before the iPad was available. We've now seen around 30 of these products, and of those, we've found that some early bags—such as those from Belkin, Griffin, and Tom Bihn—fit the iPad perfectly, while others, well, don't. (Most of the latter are too big, rather than too small, so at least they're still usable.) So, caveat emptor.
We'll be reviewing bags and cases for the iPad to help you choose the right one, but here are two quick tips: First, if you're shopping online for an iPad bag, and you see one that's already available for purchase, check the bag's specs with Apple's iPad specifications, or e-mail the vendor, to confirm that the shipping product actually fits the iPad well; some vendors are retooling their bags and cases now that the iPad is officially available. Second, if you see a bag that claims to be perfect for both iPads and netbooks, be doubly careful. Of the bags we've seen in person that claim to work with both classes of products, only a few (such as Tom Bihn's Ristretto for iPad/Netbooks and Skooba's Netbook/iPad Messenger) actually fit the iPad well—the iPad is much thinner than the typical netbook and ends up swimming around in the computer compartment in many of these bags.
What about screen films and all-over protective films? PCWorld stress-tested the iPad and found that the device's screen was "scratch-proof," even when PCWorld editors attempted to etch the glass with a nail. Given our own scratch-free experiences with the iPhone 3GS, which uses a similarly robust glass screen, a protective screen film doesn't seem all that necessary (and, in fact, interferes with the screen's oleophobic finish). The exceptions would be films that reduce glare or provide off-angle privacy. As for full-body films such as InvisibleShield and BodyGuardz, we've been impressed by the anti-scratch protection they provide for the bodies of Mac laptops, but we haven't yet tested the fit and finish of each company's iPad films; we hope to do so soon.
If you have any other accessory-compatibility questions, let us know in the comments. We'll of course be reviewing lots of iPad accessories in the coming weeks and months, so stay tuned for more information of specific products.
[Dan Frakes is a senior editor for Macworld.]
Updated 4/7/2010, 3:29pm: Added new information about mono Bluetooth headsets and the iPad.
iPad Dock Connector to VGA Adapter
HyperMac MBP-100 External MacBook Battery & Car Charger
iPad 10W USB Power Adapter