Western Digital announced today that it is shipping its fastest-ever VelociRaptor hard-disk drive, which uses a 6Gbit/sec. serial ATA interface and comes in 450GB and 600GB capacities.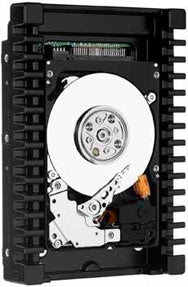 The new WD VelociRaptor has twice the capacity of its predecessor and is still the only 10,000 RPM SATA hard disk drive on the market. It's designed for blade servers and other servers, high-performance PCs and Macs, as well as professional workstations.
With 32GB of onboard cache and its 6Gbit/sec. interface, twice that of its 3Gbit/sec. SATA predecessor, the new model boasts a 15 percent performance increase, according to WD.
While Western Digital just released its first solid state drive, the 2.5-inch. SiliconEdge Blue SSD, the company still recognizes that when it comes to price-per-gigabyte, hard-disk drives will continue to outpace SSDs for years to come.
For example, the SiliconEdge has a suggested retail price of $279 for the 64GB model, $529 for the 128GB model, and the 256GB model will sell for $999. By comparison, the new WD VelociRaptor has a suggested retail price of $299 for the 450GB model and $329 for the 600GB drive.
"Demand for performance, combined with an increase in capacity, continues to rise and WD is the leader in this category," said Tom McDorman, vice president and general manager of WD's enterprise business unit.
The latest VelociRaptor sports a new three-platter design, each platter capable of holding up to 200GB of data. It also has a dual-core controller, another upgrade over its predecessor, which had a single core processor.
The drive comes with a five-year warranty and has a 1.4 million-meantime before failure rating.
Performance
The VelociRaptor VR200M (600GB model) model has a fast 145MB/sec. read rate, and an 82MB/sec. write rate, with a random data access time of about 17 milliseconds. By comparison, the previous 300GB VelociRaptor model had a 110GB/sec read rate and 81GB/sec write rate, with a random data access time of about 10 milliseconds.
WD's SiliconEdge Blue SSD, which features a serial ATA 3Gbit/sec. interface, comes with read speeds up to 250MB/sec. and write transfer rates of up to 170MB/sec.
The WD VelociRaptor drive is also available in a 3.5-inch mounting frame, which WD calls its IcePack enclosure. The IcePack has a built-in heat sink – a factory customization that fits the drive into a standard 3.5-inch system bay and keeps the drive cool through the use of ventilation ribs.
The drive also sports something called Rotary Acceleration Feed Forward (RAFF), which optimizes performance when the drives are used in a vibration-prone, multi-drive chassis. RAFF works by sensing rotational disturbances or vibration and controlling the drive's read/write head to keep it in a safe operating region.
The new VelociRator also uses a new data write method, which WD has coined "NoTouch" ramp load technology. With NoTouch, the recording head never touches the disk platter, which reduces wear to the recording head and platter. It also protects the read/write head when a computer with the drive is being transported.
[ Lucas Mearian covers storage, disaster recovery and business continuity, financial services infrastructure and health care IT for Computerworld.]
VelociRaptor WD6000HLHX 600GB
Price When Reviewed:
$245
WD VelociRaptor 450GB hard drive