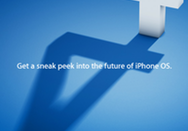 With all the sound and fury over Apple's latest creation, the iPhone may have begun to seem like the Jan Brady to the iPad's Marcia. But Apple deftly followed up on the excitement over the iPad's release by teasing a sneak peek at the fourth revision of the iPhone OS on April 8.
What will iPhone OS 4.0 bring to the party? The iPhone 2.0 update introduced the App Store while iPhone 3.0 added long-awaited and much-missed features like copy-and-paste and MMS. In the vein of our previous wishlists, here are seven features that Macworld's hopes to see in iPhone OS 4.0, whenever it might appear for good.
Pervasive multitasking
Yes, yes, the iPhone OS can multitask—let's get that out of the way up front. But right now that superpower is possessed only by Apple's own apps; it's not extended to third-party applications. Apple has touted push notifications as superior to true multitasking, which, to Apple's way of thinking, drains battery life and slows down device performance. But as we all know, it's a classic Apple stratagem to downplay a feature right up to the very moment the company unveils it.
We're willing accept a pretty broad definition of multitasking: it could be as simple as making it easier for apps to save their state when you quit them, so that you can relaunch right where you left off. Even being able to switch between apps without having to go to the Home screen every time would be a big improvement for those who want to do juggle tasks.
With rival mobile operating systems Android and webOS capable of running as many applications as you darn well please, and the arrival of the iPad's ginormous screen, it seems an opportune moment for Apple to deliver its solution and quell the doubters.—Dan Moren
Home screen and app management improvements
We've wanted a better Home screen back since before iPhone 3.0 (and, with the introduction of the iPad, we crave it all the more). Sliding apps around one at a time is getting old—even the app management features in iTunes 9 feel like a stopgap: Why should we have to be connected to a computer to rearrange our iPhone's apps? It's time for a better solution, though it's hard to say exactly what that is—folders, for example, feel a bit retro and out of place in this new future.
While we're at it, though, we'd love the ability to use all that extra space on our Home and lock screens to display useful information: how about bringing us some Dashboard-like widgets for things like the weather, stocks, or sticky notes? Workarounds do exist, but they're not nearly as elegant as what Apple could do.—DM
Better notifications
We've all done it: pulled out our iPhone and unlocked it, realizing in horror even as we did so that we'd accidentally dismissed the dialog box that had popped up while we weren't looking. Was it a text message? A score update from the Sox-Yankees game? There's no way of knowing short of hunting through all of your apps.
The iPhone OS's notification system is desperately in need of an overhaul. You need look no further than the iPad to see how ridiculous those little blue messages look, sitting right in the middle of a giant screen. Plus, the modal nature of the notification dialog means you can't do anything until you've either dismissed it or jumped to the app in question (thus derailing whatever task you're currently engaged in). Even worse: oftentimes if you get more than one notification, only the last one shows up, meaning the earlier ones are lost in the mists of time.
Apple ought to take a cue from Android and webOS's notification systems, which—while not without their own flaws—arguably manage to handle the problem more elegantly than the iPhone.—DM
Wireless Syncing
Use an Android phone and you'll discover that it was designed as if the personal computer had never been invented. Unlike the iPhone, which requires you to attach it to a Mac or PC before it can function, Android phones do everything for themselves without any middleman. We'd like to see the iPhone (and iPad) go one further, and embrace the network for everything that currently requires a USB connection.
Sure, you're probably not going to sync gigabytes of video over your home Wi-Fi connection, but for smaller amounts of data, why require a wire? Imagine coming home and plugging in your iPhone next to your nightstand, while it updates your contacts, photos, and even recently-purchased iTunes music from the iMac across the house.
How about going one further, and backing up via MobileMe, so that if you drop your iPhone while you're on vacation, your vital data is safe even if you haven't attached it to a computer in weeks? In short, we'd like to see the iPhone be aggressive with using your local networks and the Internet to sync data. The more, the better. Don't make us plug in our iPhones unless we absolutely have to, Apple.—Jason Snell
Streaming Media
Over the years, Apple has built out some nifty capabilities for sharing media over a local network. From a Mac or PC, you can view other computers running iTunes on your local network and stream music or even video from those remote systems. The Apple TV lets you do the same. And you can also play audio from a Mac to an AirPort Express or AppleTV via AirTunes. So, why not the iPhone?
We'd like to see Apple support iTunes sharing, so that your iPhone can connect to music on your local network and play it back without you having to load it on the device. And while we're at it, how about allowing the iPhone to send audio to AirTunes-capable devices, so you can fill your house with music being streamed wirelessly from your iPhone?—JS
Improvements to Mail
Mobile Mail on the iPad has gained some welcome improvements, but iPhone OS Mail remains the default app with perhaps the most unfulfilled potential.
The good news, if you believe the reports of Steve Jobs replying to customer e-mails: our top Mail request—a unified Inbox that lets you view messages from multiple accounts in a single list—is on the way. But there are a good number of other features we've become accustomed to on the desktop that we'd like to see on our iPhones and iPads: the capability to send e-mail to contact groups, to mark all messages as read, to flag messages for later action, to create and edit folders on the device, to configure multiple signatures (or at least a different signature for each account), to view discussion threads, and to save attachments.
We'd also love to see more options for text formatting, including a choice of fonts for reading messages and the capability to force messages to display in plain text. Finally, our pie-in-the-sky wishes include Smart Folders (saved Spotlight searches) and some kind of local spam filtering or labeling.—Dan Frakes
Better Bluetooth support
We've had a love-hate view towards Bluetooth on the iPhone since the very first model: it's a great technology with lots of potential, but Apple hasn't taken full advantage of it. Take Bluetooth keyboards: We've long wanted to use a Bluetooth keyboard with the iPhone, and an external keyboard was the accessory most requested by Macworld readers in an informal survey. So we were ecstatic to learn that the iPad supported external keyboards—that was one of our most welcome iPad surprises when Apple first unveiled the tablet. But why just the iPad? Why not extend this functionality to the iPhone and iPod touch?
Then there's multimedia and Bluetooth: iPhone OS 3.0 finally let you use Bluetooth headphones, thanks to support for A2DP (Advanced Audio Distribution Profile). But what's still missing is support for AVRCP (Audio/Video Remote Control Profile)—that's why those handy track-skip buttons on Bluetooth headphones and speakers don't do jack with the iPhone, iPad, or iPod touch. And while it's disappointing that the best portable media player on the market doesn't provide even basic AVRCP functionality, we're also missing out on the advanced features third-party vendors could provide with full AVRCP support—streaming metadata to remote devices, accessing and browsing menus, controlling multiple devices simultaneously, and searching content, all over Bluetooth.
Finally, the iPhone OS currently lacks support for many Bluetooth-data features. Any geek with a seven-year-old Sony-Ericsson phone can tell you how convenient it can be to dial your phone from your Mac, view caller-ID information on your computer screen, and transfer files between your Mac and phone via Bluetooth. Some printers even let you send them documents via Bluetooth. We'd like to see Apple fully embrace Bluetooth so users and app developers can take advantage of the technology's versatility.—DF
The list goes on
Of course, as long as we're wishing upon a star, there's plenty more we'd like to see in iPhone 4.0: over-the-air updates for the OS itself, so you don't have to plug in when updating the iPhone; the ability to customize alert sounds for SMS messages and reminders; a more easily accessible brightness control; shared file storage, à la the iPad; and maybe even support for Mac OS X's long dormant Inkwell handwriting-recognition software.
Not all of these will make the cut—and not all of them probably even should, given that Apple's modus operandi thus far has been to keep the capabilities of its mobile OS pared down. But come Thursday, we hope to see at least a few of our top complaints banished once and for all.
What improvements are you looking forward to most in iPhone 4.0? Let us know in the forums.