Welcome to Macworld's live coverage of Apple's iPhone 4.0 event. Jason Snell is handling the play-by-by-duties with Dan Frakes providing commentary. To see the latest updates, reload the page.
10:03 PT: Steve Jobs on stage. iPhone OS 4. Next gen of most advanced mobile OS in the world.
10:04 PT: Jobs: As of today, Apple has sold 450,000 iPads.
10:05 PT: Best buy is sold out, we're making them as fast as we can, our ramp is going well, but we're going to have to try harder (to make enough of them)
10:05 PT: Over 600K iBooks downloaded through today.
10:05 PT: 1 Million iPad apps downloaded in the first 24 hours. We were just thrilled with this. And as of today, they've downloaded over 3.5 million.
10:06 PT: App store: Users have downloaded well over 4B apps.
10:07 PT: And we have over 185,000 apps in the App Store.
10:08 PT: Steve Jobs has now started demonstrating some iPad apps.
10:09 PT: Of all of the futuristic magazines, Popular Science is king of the hill. These guys have done something really, really breakthrough.
10:09 PT: Praise for Netflix, ABC, MLB, other iPad apps.
10:10AM DanF: "And where would we be without an accordion?"
10:10AM DanF: Now let's get to the iPhone: We won the JD Powers smartphone award for the last three years in a row: 2008, 2009, 2010.
10:10 PT: iPhone has 64% mobile browser usage share, android 19, blackberry 9, iPhone 8
10:11 PT: To date we've sold over 50M iPhones, and if you add iPod touches, over 85M iPhones and iPod touches. If you're a software developer, that is a plum market to go after.
10:11AM DanF: Today: developer preview of iPhone OS 4, next major release of iPhone operating system. We're going to ship it this summer, and release a developer preview today.
10:12AM DanF: Over 1500 new developer APIs. Can access calendard, phot library, access to video camera data, Quick Look, put SMS inside apps (!), can use the same testing apps we uses, and over 2000 APIs for hardware-accelerated math functions.
10:13AM DanF: Over 100 new user features: can create playlists, 5x zoom in camera app, can tap to focus in video, every photo geotaged, added places to photo app, can change homescreen wallpaper, can use Bluetooth keyboards (yay!), better spell checking, gift apps… the list goes on.
10:14AM DanF: We're going to talk about 7 features today: "tentpole" features. First up: multitasking.
10:14AM DanF: We weren't the first to this party, but we're going to be the best, just like copy-and-paste. It's really easy to implement it in a way that really drains battery life. Easy to do it in a way that reduces the performance of the foreground app and makes the phone feel sluggish.
10:15AM DanF: We've figured out how to do it and avoid those things — that's what took us so long. Demo: Launch Mail, looking at a mail message with a URL. Clicks on the URL to go to Safari. Double-press the home button, window raises up and shows all the apps that are running in a "dock"-like area at the bottom of the screen. Tap on an app to switch to it.
10:17AM DanF: When you're playing a game: double-press Home button, game pauses and you can switch to a different app. Switch back to the game ad it picks up where you left off.
10:18AM DanF: If more than four apps are running, you can swipe left to right to find the one you want to switch to.
10:18AM: To explain how we did this while preserving battery life and performance, Scott Forstall.
10:19 PT: Scott Forstall on stage. How did we do it? We looked at the tens of thousands of apps in the app store, and distilled down the services those apps need in the background, and then we implemented them all ourselves, in a way that saves the battery. And we're providing those services as APIs to developers, so developers can add multitasking while the system preserves battery life and performance.
10:20 PT: Seven APIs we're providing. First is background audio. Example: Pandora. No app more popular. Pandora is changing the way people think about radio. Now here's a demo from Pandora founder Tim Westergren.
10:20AM DanF: Apple directly addresses all the people who said, "I just want to be able to listen to Pandora while I'm doing other things." But should also work with MLB and other apps that let you stream audio.
10:22 PT: Westergren: We add 30,000 users a day on the iPhone. So when Scott asked us to come here, we jumped at the chance. Just a few hours to make Pandora fully background aware. With the new OS 4, I can now head over to Safari while Pandora keeps playing. You can even control Pandora from the lock screen – double tap on the home screen brings up the familiar iPod controls, but now they control Pandora!
10:23 PT: 25 percent of Pandora's traffic is on the iPhone. "Just imagine when this thing goes live."
10:24AM DanF: The Pandora folks were eager to point out that this feature will let people buy stuff on iTunes without interrupting their music.
10:25 PT: Now here's a Skype example. You can be on the phone on Skype, and do other stuff. And even when you're not running Skype and locked, you can still receive a phone call. So here's David Ponsford, head of iPhone product development at Skype.
10:25AM DanF: The AT&T folks have gotta love this.
10:26AM DanF: The VOIP/Skype example should apply to any communications app: Skype, AIM, Twitter, etc.
10:26 PT: He's playing Doodle Jump, and when he receives a Skype call, a pop-up notification appears with a custom sound. You can answer via the pop-up notification and it brings up a very phone-like interface, but it's Skype. And there's a red status bar at the top (like the green one currently for live phone calls) indicating you're still in Skype.
10:28 PT: And for those playing at home, that was API number two – voice over IP.
10:28 PT: Next up: location services. GPS apps, for example. With OS 4, you can be getting directions from a GPS app, while listening to music in the iPod app, and it'll still be able to give you directions.
10:28AM DanF: This will be a welcome feature, as it will let you do other things while GPS apps track your location and continue to provide directions (via voice).
10:29 PT: But there's another class of apps- social networking apps like Loopt. For these apps, there's a solution that doesn't require GPS to be on all the time. And for that, we use cell towers. The radio in the phone knows you're moving from one cell tower to another. It's very low power, we're always listening, and when you switch cell towers, we can wake up and indicate that the location has changed.
10:30 PT: But we take privacy very seriously. We've always put up a panel to let you approve the use of location information. We're taking privacy several steps further. We're adding an indicator (an arrow) on the status bar (next to the battery) letting you know if something's tracking your location. Next, fine-grained settings like with notification services, so you can disable or enable location on a per-app basis. And if any app has asked for your location in the last 24 hours, there's an indicator (that arrow again) so you know it's been checking on you.
10:30AM DanF: This looks great — you'll always be able to choose which apps can get your location and even figure out which of those allowed apps have actually asked for your location recently. Nice.
10:32 PT: Next, push notifications. We've got this now in iPhone OS 3. That's what we heard last year. But now Apple is building a new service, Local Notifications. Just like push notifications, but you don't need a server. It can all be done right on the phone. So let's say you have a TV guide app that wants to let you know your favorite TV show is about to start. It can do that all locally now, no external server needed.
10:33AM DanF: So all those third-party alarm-clock apps can wake you up without having to be running all night…
10:33 PT: Next: Task completion. There are some apps that take a while to finish. So now Flickr can keep uploading in the background even as you leave to go somewhere else.
10:33 PT: Fast App Switching. Allows an application to store all of its state and move into a quiescent state in the background, no CPU at all. When you switch back, it's instantly where you left it. No need to launch, no need to restore the state, everything has been preserved and you're right back where you were.
10:34AM DanF: In all the talk about multitasking, there's been a lot of "I don't need true multitasking; just the capability to do [x]." Apple's actually provided nearly every one of those things.
10:34 PT: Steve's back on the stage. Second tentpole of iPhone OS 3: Folders. As people are downloading more and more apps, they have to keep flicking from page to page, they want a way to organize them and find them. And Folders fit the bill.
10:35AM DanF: When editing your home screen, if you drag an app on top of another app, it automatically creates a folder. The iPhone names the folder based on the app categories.
10:36 PT: Steve keeps dragging games onto the Games folder, and the icon of the folder is a set of small tiles of what apps are in it. When you tap, it expands down and displays what apps are inside. You can drag it anywhere on the home screen, and you can have as many folders as you like. You can even put a folder in the dock.
10:36AM DanF: Love that you can put a folder of apps in the dock.
10:37 PT: Steve: One of the other things I want to show you is the ability to change the wallpaper. (This is very much the same as the iPad.) You can set the home screen, lock screen, or both to a new image, from the Settings app.
10:38AM DanF: Now you can "see" over 2000 apps at a time.
10:38 PT: 2160 apps on one phone. Snap to it, people.
10:39 PT: Tentpole #3 – an enhanced version of Mail. First up: Unified inbox. Multiple e-mail accounts, and all the incoming mail is put into one inbox. And you can now have more than one Exchange account.
10:39AM DanF: Check one off our wishlist, Jason.
10:39 PT: Bazinga!
10:39 PT: Also, fast inbox switching. With just a few taps you can move quickly between different inboxes – Inboxes appear on the accounts list at the top. Also, ability to organize by thread. New indicator with a number and a double-chevron symbol, and when you tap you see all three messages in that conversation.
10:40AM DanF: Our Mail wishlist is being whittled down… unified inbox, threaded discussions, opening attachments in other apps.
10:40 PT: Now what will we complain about, Dan?
10:40 PT: And the ability to open an attachment – tap on an attachment, and open it in apps you've downloaded it from the app store.
10:41 PT: Next up: iBooks on iPhone OS 4. Great iBook reader for iPhone OS 4, it's a smaller version of the iPad bookshelf, and iBookstore.
10:42 PT: Taking a page from Kindle, you will be able to sync page and bookmarks between devices. That's a great feature.
10:42AM DanF: Apple's been paying attention here — one of the favorite Kindle features.
10:43 PT: Scott Forstall back on stage for tentpole #5. Great features for Enterprise. iPhone has made huge inroads in Enterprise. More than 80% of fortune 100 companies are using iPhones. Even better data protection: We will encrypt all e-mail, incl. attachments, with your pin code. And APIs available so devs can encrypt all their data inside their apps as well.
10:43 PT: Next: Mobile device management. Been a huge request. Enterprise solutions out there for deploying large numbers of phones to companies. We've done work so that those solutions can also deploy iPhones. Wireless app distribution – companies can now wirelessly distribute apps anywhere in the world from their own servers.
10:44AM DanF: Audience applause for the IT improvements. The business media is apparently in the house.
10:44 PT: Support for multiple Exchange accounts on one phone, as Steve said, and for Exchange Server 2010, and SSL VPN support for both Juniper and Cisco. End tentpole five. How many poles does this tent have?
10:45 PT: Here's #6: Game Center. It's a "Developer Preview" in iPhone OS 4. (Not sure what that means. Hmm.) More than 50,000 game & entertainment titles on the App store. Far more than Sony PSP and Nintendo DS. We want to make gaming even better on the iPhone, so we're adding a social gaming network. You can invite friends, do automatic matchmaking, leaderboards, achievements. It's a preview, and will be available for everyone later this year.
10:45AM DanF: Nintendo says the iPhone isn't a legitimate gaming platform, but Apple's chart shows 10x the number of game titles for the iPhone vs. Nintendo.
10:47 PT: Steve Jobs back on stage: Seventh tentpole is iAd, mobile advertising built into iPhone OS 4.
10:47 PT: A lot of the apps on the device are free, or 99 cents, or $1.99. And we like that. Users like that. But these developers have to find a way to make some money. And we'd like to help them. What some developers are starting to do is put advertising in their apps, and we think most of this mobile advertising really sucks. And we thought we could make some contributions. This is what this is all about. Helping our developers make some money in advertising so they can keep their free apps free.
10:48 PT: On the desktop, search is where it's at. That's where the money is. But on a mobile device, search hasn't happened. Search isn't where the money's at. What's happening is, they're spending all their time in apps. When people want to find a place to go to dinner, they're not searching, they're opening up the Yelp app. And this is where the opportunity to deliver advertising is. Not as part of search, but as part of apps.
10:47AM DanF: "It's all about helping our developers make money through advertising so they can keep teir free apps free." Unspoken: big benefits to Apple here, too.
10:49 PT: The average iPhone user spends a little over 30 minutes every day using apps. Now, if we said we wanted to put an ad up every 3 minutes, that would be 10 ads per device per day. We're going to soon have 100 million devices. That's a billion ad opportunities per day in the iPhone and iPod touch community. This is a pretty serious opportunity. And it's an incredible demographic. But we want to do more than that. We want to change the quality of the advertising as well.
10:50 PT: Now, we're all familiar with interactive ads on the web. (Shows a picture of a box ad on a web page.) They're not capable of delivering emotion, which is why most ad dollars still flow through television. What we want to do with iAds is deliver interaction but also deliver emotion. So interactive ads have no emotion, some interactivity. And television ads have a lot of emotion, and no interactivity. We want to be more interactive than ads you see on the web, and get some emotion from video. That's what iAd's all about. Emotion plus interactivity.
10:51AM DanF: Everyone's clearly waiting for the demo of this one…
10:51 PT: The ads keep you in your app. On mobile devices today, if you click on a banner ad, it yanks you out of your app and throws you into the browser. You may never find your way back. So people don't click on ads. Because iAd is in the iPhone OS itself, we have figured out how to do interactive and video content without ever taking you out of your app. And the user can return to their app any time they want. And so we think the result is, people are going to be a lot more interested in clicking on these things.
10:52 PT: It's really simple. You can build these in in an afternoon. Apple sells and hosts the ads. 60 percent of revenues go to developers, which Apple says is "industry standard."
10:52 PT: Now time for a demo. These are fake ads from companies who haven't endorsed this product. Steve has an entertainment app up, and there's a toy story 3 banner at the bottom. ("I've seen it, it's really good," he says of Toy Store 3.") Click on banner, ad comes down. All of this is done in HTML5, by the way. Really easy to do. Animation. With an X up at the top corner so you can close the ad out. You can tap into different areas of the ad, listen to the characters of Toy Story, play some videos.
10:53AM DanF: Appropriate that he's demoing it using a Twitter app. Big laugh when he points out this is all done in HTML5. The demo is actually very impressive—Apple has some very good HTML5 people.
10:55 PT: There's even a game in this demo ad. It's a little memory-matching game with Toy Story art. All happening within this in-app ad. (Steve is doing better than he expected.) Advertisers can also give you wallpaper you can save directly to your phone. Theater list with embedded maps. And a game you can buy right from the ad. Don't even have to go to the App Store.
10:56 PT: Fake Nike ad, plays a video for an Air Jordan shoe. Then goes to a menu, with slideshows and other whizzy stuff.
10:59AM DanF: Now a Target ad: these are essentially little apps, but they're all done in HTML5.
11:01 PT: Apparently this tent has seven poles, because Steve is now reviewing the seven tentpoles. "And these are just 7 of the over 100 user features and over 1500 new developer APIs in iPhone 4."
11:01 PT: Now. We are releasing a developer preview today. Developers can start testing this now, and start using these APIs now. We are releasing it to users for iPhone and iPod touch this summer, for iPhone 3GS and the iPod touch 3rd generation (32 and 64GB models from fall 2009). AND for iPhone 3G and iPod touch 2nd generation, they will run "many things," but there are some things they won't run, like multitasking. And we're bringing iPhone OS 4 to the iPad this fall.
11:02AM DanF: Jobs clarifies that the 8GB iPod touch model, which Apple kept around when it introduced the new 16GB and 32GB models last fall, isn't included in the "supports everything" group.
11:02 PT: That's iPhone OS 4, Steve says. We'll have a short break and in about 5 minutes we'll have a Q&A session.
11:06AM DanF: IDC: How is AT&T prepared to compensate for increased data usage from these features? Jobs: Data usage requires attention, so we don't think the assumption that multitasking means more data usage is correct. IDC: Pandora? Jobs: Pandora doesn't use that much data. Video does. We'll see.
11:08AM DanF: CT (Germany): Wireless app distribution was described as an enterprise feature. Will people be able to distribute apps outside the app store? Forstall: No, apps have to be code-signed via enterprise distribution.
11:09AM DanF: (Germany): Will huge popularity of iPad in US affect international launch? Jobs: No, end of April.
11:09AM DanF: SlideToPlay: Will social gaming features supplant Open Feint and similar services? Forstall: Goal is to build something into the platform where everyone is on the same network. We expect developers to use this technology. Jobs: Less work for developers, everyone interacts. Some of those social networks are the ones who asked us to do this. SlideToPlay: Will there be Xbox-style achievements? Forestall: Looking into it.
11:11AM DanF: CNET: Will there be an approval process for ads? Jobs: (long pause) I think there will need to be some boundries, just as you can't run anything you want on ABC. There will probably be some ads that we won't run, but ads need to be well received to be effective. Hopefully we will never have to reject an ad.
11:12AM DanF: InfoWorld: Any change in Apple's position on Java or Flash? Jobs: No.
11:13AM DanF: Our very own Jason: Will Apple provide a development enviroment to make these ads? Jobs: No need, it's all HTML5.
11:14 PT: Jobs says ad agencies are super excited, because so far digital ads haven't been rich enough to warrant having a world-class ad agency. For the first time, they're seeing how to bring their storytelling skills to digital ads. And they're really excited about going and hiring a bunch of technical people to create these types of ads, and combine them with their storytelling people. I think this could be a whole new advenue for the advertising agency people. Because for the first time they can take advantage of all those skills.
11:15AM DanF: Engadget: You don't seem to be providing tech to track Twitter/AIM timelines in background. Forstall: We believe Twitter and similar apps are more effective with notifications. Also, fast app switching means the state is saved and when you switch back, the app can poll for new data (messages). It will be far better than today, where app has to quit, then later relaunch, start up, negotiate a network connection, etc. App will open back to the same place. Engadget: iPad presents great opportunity for "widgets" (Dashboard). Jobs: We just shipped it on Saturday, and rested on Sunday. Everything's possible. One comment on push notification: it's turned out to be the right architecture for a lot of things: saves battery life, wakes up the app at the correct time. Competitors are tripping over themselves to copy it.
11:18AM DanF: MoboNews and Paid Content: Go back over ad impressions?: Jobs: Ave. user spends 30 minutes/day using third-party apps. New ad every 3 minutes meands 10 ads in 30 minutes. We'll soon have 100 million iPhone OS devices = 1 billion ad impressions per day. That's a large number, and the demographics of iPhone OS users are among the most desirable in all of advertising. Schiller: Search is useful on the phone, but not nearly as good as on the desktop. So ads are another way for people to find stuff, making mobile ads more useful, and more appealing to users, than desktop ads.
11:20 PT: This is Apple saying, Google's advantage on the web doesn't exist on the phone, and on the phone it's Game On.
11:22AM DanF: [can't hear questions] Jobs: No plans to become a worldwide ad agency. We don't know much about ad stuff; we're learning. We tried to buy AdMob, but Google snatched them because they didn't want us to have them. We bought Quattro, and they're teaching us a lot. We're babes in the woods, but we think we're going to contribute a lot to the industry.
11:24AM DanF: Technologizer: How did you make the decisions for which devices to support? Jobs: Older devices just couldn't support some of these new features.
11:24 PT: Will new apps degrade gracefully? We allow developers to see what features are available. Schiller: We've done a really good job trying to make an app store where the applications run on the widest number of devices, and customers don't have to worry about if the app will run on their device or not. It's a really simple model for customers and developers. Jobs: This isn't about apps running or not running, this is about end-user features like multitasking.
11:26AM DanF: Question about making phones more safe when driving and in other dangerous situations: Jobs: We do more than most to connect our phones into cars' control systems — users get hands-free calling, in-car displays, steering-wheel controls. Forestall: OS 4 has even more features for car integration.
11:27AM DanF: Financial Times Germany: Can you say anything about the revenue opportunities for Apple in iAds? Jobs: We're giving most of the revenue to developers, this is a way to help developers survive while keeping app prices reasonable.
11:28AM DanF: GDGT: On other platforms, you can run unsigned apps; it's not simply, but you can do it. Why haven't you done it? Jobs: There's a porn app for Android — your kids could download them. We don't want to go there.
11:29AM DanF: Bloomberg Business Week: Anything surprise you about the initial reaction to the iPad? Jobs: We've been working on this for a few years, but you still have butterflies in your stomach the week and night before a product launch — you never know what customers will think until the product is in their hands. Feedback has been great; people get it. We think this is a game-changer. We've been surprised by how quickly the average person has gotten it. I've received thousands of e-mails so far from people talking about how it's going to change their life.
11:30AM DanF: Schiller: The speed has been phenomenal. Developers have done amazing things, too. The pace has been beyond belief. Jobs: competitors would be happy with 3500 apps in the first year; we've seen 3500 in the first week. Also, iPad is standing on the shoulders of the 85 million people who already know how to use it.
11:33AM DanF: GamaSutra: How will the App Store change in iPhone OS 4. Improvements on finding apps? Jobs: App Store is not part of iPhone OS 4; it's a service that's programmed mostly on the server side, so we can improve it on an ongoing basis. We're constantly improving it. We've added Genius recommendations for apps. But we're starting to see an infrastructure develop for finding apps: third-party Websites that review and recommend apps.
11:35AM: DanF: Forestall: Game Center will help with the viral spread of apps, and gifting will help, as well, since you can give games you like to other people.
11:36AM: DanF: Schiller: We do more to promote third-party software than any company in history: billboards, TV ads, print ads. We'll continue to promote apps. We've also worked with developers to improve our top-selling lists and the like.
11:36AM: DanF: Dow Jones Market Watch: Are you concerned about leaving out a significant portion of customer base since all new features won't work on older devices. Jobs: iPhone 3GS and 3rd-generation iPod touch make up the majority of devices because of their sales. And older devices will gain many of these features, just not all.
11:38AM: DanF: San Jose Mercury News: How do you close apps now? Jobs/Forestall: You don't have to. When you switch out of an app, it saves its state and stops using resources. Jobs: Just as we said about the iPad, if you see a stylus, they (the developer) blew it. When it comes to multitasking, if a user has to use a task manager, they blew it. Will game developers be able to continute to use other social-gaming services? Jobs: Yes. No restrictions if you want to use something else.
11:40AM: DanF: [He didn't actually answer the question about how to quit an app — there's got to be a way or else heavy users would end up with a huge row of apps in the app switcher.]
11:40 PT: And that's that. So endeth the iPhone 4 OS event. Thanks for reading.
iPad with Wi-Fi 16GB
Price When Reviewed:
$568
iPad (2010)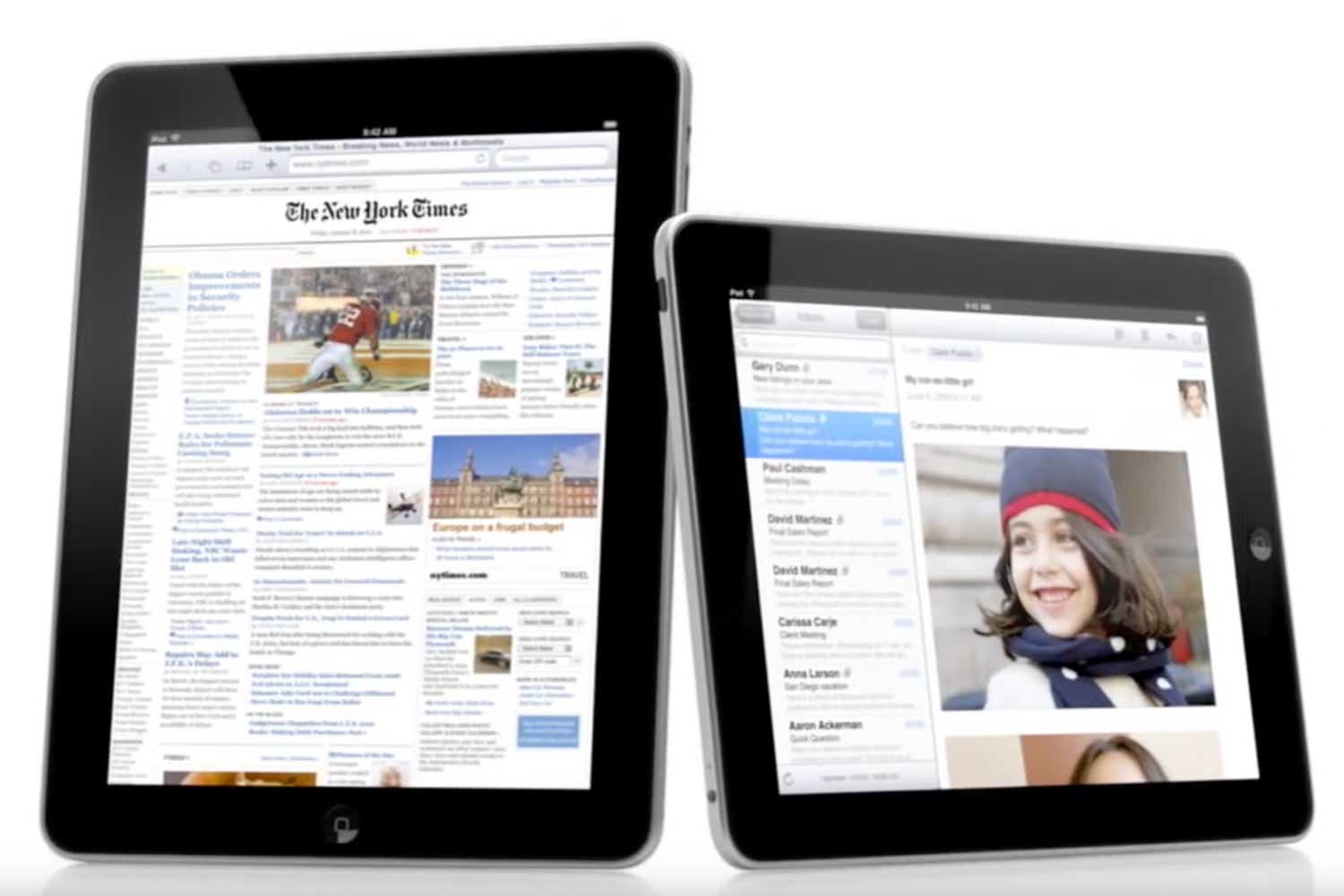 Read our full
iPad (2010) review