Straightforward and easy to use, Stock Genie 2 aims to make you money on the stock market by helping you select one stock per day to add to your investment portfolio. As a simple tool for finding good stocks, Stock Genie offers great features for helping you make purchasing decisions and while giving you an investment education all at the same time.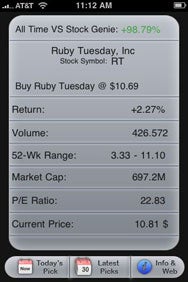 With information created and updated by a real human being, Stock Genie is designed to help you make a single, daily, after hours purchase for the next day's trading. New purchase suggestions appear between 4-4:30 each day and give you a target purchase price, information on the current value of the day's stock and other detailed (10 minute delayed) stock information. Tapping the Today's Pick button at the bottom of the screen explains why the stock was chosen and tells you what went into that stock's selection as the stock of the day.
The app also attempts to forecast short- and long-term growth for the stock, giving you the price you should use to set a stop loss order. A Latest Picks button at the bottom of the screen gives you a list of the last six stocks suggested by Stock Genie, the same detailed information on why each stock was chosen, and a percentage number showing how the stock has actually performed since it was selected. Stocks selected by Stock Genie are all major stocks.
Neither the app nor the Stock Genie Website give much background on who's making these recommendations. I sent an e-mail to the developer, and he promptly replied with a rundown of his experience—11 years in the financial industry, with nine spent working at two major brokerage firms and a license as a Certified Retirement Planning Consultant since 2004. The developer also wrote in his e-mail that he has no affiliations with the stocks he recommends and that he does not push penny stocks nor accept money or endorsements from companies to recommend or short stocks. He also doesn't trade in any stocks he recommends for at least three days to avoid any perception of conflict of interest. All that's well and good, but it would be better to see that information displayed more prominently in Stock Genie.
While all the usual caveats apply (past performance is not an indication of future results, be sure to check with your financial advisor, and all that jazz), Stock Genie 2 offers an interesting twist on stock selection, especially for people who want the benefit of a portfolio manager without the usual expenses. If nothing else, Stock Genie 2 offers to give you a stock market education for the price of an iPhone app.
[Jeffery Battersby is an IT Consultant, (very) smalltime actor, and regular contributor to Macworld. He writes about Macs and more at his blog.]