Camera Dialer, a $1 app from G.P. Imports, dials phone numbers when you point the iPhone's camera at them. It's a perfect app if you match the following three key criteria:
1. You frequently need to dial phone numbers that aren't in your address book, but are rather printed on signs, business cards, buildings, web pages, and the like. 2. You're a lousy iPhone manual dialer. 3. You don't have too many apps on your iPhone.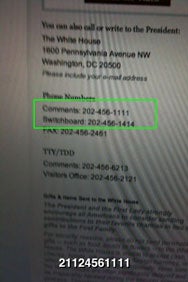 When you launch Camera Dialer, you immediately enter the iPhone's camera mode. Superimposed upon the screen is a slim green rectangle. Point your iPhone at any printed phone number—on paper, on a computer or television screen, anywhere—and focus it inside that rectangle, and the magic happens in an instant: Your iPhone places a call to the number.
That single screen is the extent of the Camera Dialer app's main interface. If you want to tweak its preferences, launch the Settings app. Camera Dialer offers control over two important elements of its functionality: You can adjust the number of digits it should look for to dial (which defaults to 10 for us Americans, but may be different around the globe), and you can choose whether the app should confirm the phone number with you before it starts dialing.
In my testing, accuracy wasn't an issue, so I left that confirmation option turned off. Camera Dialer is impressively precise about dialing the exact number you photograph—if it's printed. On rare occasions, I could get the app to recognize hand-written phone numbers precisely, but that's clearly not its focus.
Camera Dialer does precisely what it says it will. But as clever and capable as the app is, it's a tough sell for me to endorse it completely because of the three criteria I mentioned at the outset. For Camera Dialer to make sense as more than extra iPhone show-off fodder, you would need the app to be better suited to dialing printed phone numbers than the other, more obvious way to do so.
I have literally hundreds of apps on my iPhone, and my main home screen's real estate is devoted to a core group of apps. Camera Dialer hasn't earned the rights to pick any of them off. That means that the quickest way for me to launch the app is to hit the home button, hit it again to get to Spotlight, type in "Dial," tap Camera Dialer to launch it, line up the phone number in the green rectangle, and finally let the app do the dialing. That approach works, and it's undeniably fun in the "how cool is that?!" sense. But simply tapping the Phone icon and just dialing the 10 digits in front of me seems a lot more practical to me. Camera Dialer Lite lets you judge the practicality of the app for yourself at no cost, though the quality of the OCR and speed doesn't measure up to the paid version, according to the developer.
[ Lex Friedman is a frequent contributor to Macworld.]