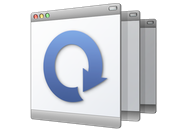 If you're dissatisfied with the way OS X's built-in application switcher interface works, then you might consider the latest version of Many Tricks's Witch window switching utility, which on Wednesday was updated to version 3.
Witch lets you select not just from open applications, but from any window in those applications. Among the marquee features in Witch 3 is the ability to assign Witch to the command-tab shortcut, thus bypassing OS X's own switcher altogether. In addition, you can use the 'H' and 'Q' keys to hide or quit selected applications, just as you can with the Mac's own command-tab interface. Witch even adds a couple of its own shortcuts: for example, hitting 'M' will minimize the window and 'W' will close the window.
In addition, Witch 3 adds enhanced customization, allowing users to load appearances from other sources as well as saving several different custom appearances. A new "window width slider" shortens long window titles by pulling out letters instead of just truncating them, making it easier, for example, to identify several different Web pages from the same site. And there's now support for the Sparkle update framework too.
Witch 3 requires Mac OS X 10.5 or later and costs $19. If you bought Witch 2 after March 17, 2010, you can upgrade for free. Those of you who purchased before that need pay only $8.
(Disclaimer: Macworld Senior Contributor Rob Griffiths is a partner at Many Tricks.)