Editor's Note: The following article is reprinted from Macworld UK. Visit Macworld UK's blog page for the latest Mac news from across the Atlantic.
Elgato has updated EyeTV for iPhone, iPad, and iPod touch.
The application lets Elgato EyeTV users view TV recordings wherever they are. EyeTV also gives users on the go control over remote recording and scheduling as well as providing a TV guide.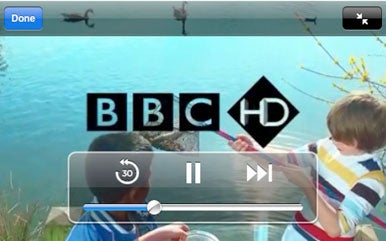 Version 1.0.2 of Elgato's EyeTV application enables streaming of live TV signals over Wi-Fi as well as 3G connections. The 3G option was previously only available unofficially via a "backdoor" that led to the EyeTV application being temporarily withdrawn from the App Store. In the U.S., iPhone service provider AT&T started allowing apps to stream video over 3G earlier this year.
Setting up EyeTV for iPhone is easy, according to Elgato. On a local Wi-Fi network, no configuration is needed. For 3G or Wi-Fi connections to a remote Mac, Elgato offers the free My Eye TV locator utility.
Available from the App Store, EyeTV for iPhone costs $5 and requires the iPhone 3.1.2 Software Update or later. EyeTV for iPhone 1.0.2 is available as a free update for existing customers.
Elgato notes the application requires a Mac with an Intel Core 2 Duo or better running EyeTV 3.3.3 or higher and a compatible TV tuner. For sending the live signal over a 3G connection, Elgato recommends Turbo.264 HD which enables adaptive streaming for the best picture possible under varying network speeds.