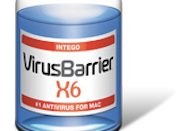 The iPad is a whole new platform, but it's not completely immune from what ails traditional computing. While there's no evidence to date that a stock iPad can be infected by malware, it's still capable of carrying around malformed files—like PDFs, Office documents, videos, images and music—that could do harm on Windows PCs and unpatched Macs. And now that the iPad has been jailbroken, it's potentially open to the same worms and malware issues that jailbroken iPhones have to contend with.
No worries: the 10.6.5 update for Intego's VirusBarrier X6 adds the ability to scan iPads to its existing functionality for scanning iPhones and iPod Touches. Just connect your iPad to the Mac via USB, and run a manual scan: VirusBarrier will copy all the music, videos, and photos from your iPad to your Mac to scan them and check to see if there's anything amiss. If your iPad happens to be jailbroken, VirusBarrier will copy every single file from your iPad to your Mac—from e-mails to personal files—and do its scanning magic to ensure that everything's okay.
This update also enhances VirusBarrier X6's ability to check for dangerous Websites; sites flagged as phishing scams or threats can be taken off the blacklist, added to a Trusted Sites list, or reported to Intego for further analysis.
Other new features include the ability to indicate to VirusBarrier with the press of a button that an application is "trusted," so VirusBarrier will never again call it out for suspicious behavior. An "Always require a password to access the interface" checkbox lets you decide if you want to secure VirusBarrier as you would in 1Password. For faster scans, Boot Camp volumes can now be skipped in the advanced scan options.
The 10.6.5 update also fixes some minor bugs and improves overall performance, as any good update should. It can be downloaded for free through VirusBarrier's NetUpdate.