The problem with first-person shooter games for the iPhone is that the controls are never going to match the responsiveness of the PlayStation or Xbox, though app developers continue to make a go of it. Rise of the Triad, from Mobila Interactive , makes a great effort to overcome the control issues that have plagued the platform in the past.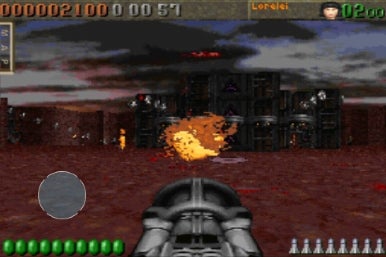 The plot of Rise of the Triad is a little murky, but a quick perusal of the game's App Store page fills in the blanks: you are a member of the High-risk United Nations Taskforce (H.U.N.T.), sent to battle an evil cult leader named El Oscuro. Who's in the "triad"? I have no idea, but it doesn't really matter.
You play the game as one of five – including a female! – agents, each with varying strengths and abilities, allowing for more varied gameplay as you test out each character. Five levels of difficulty bear clever names like "I am a chew toy," or "Two words: Reaper Man," with titles changing every time you play. Now consider that there are four episodes and 32 levels in all, and it becomes clear that there is perhaps no end to the gameplay combinations.
Even more multidimensional are the game's controls. There are a whopping four control schemes, in addition to options to invert the thumbstick controls, invert the up-down controls, adjust the tilt threshold, and adjust the thumbstick sensitivity. While this sounds complicated, everything revolves around a movement control, a view control, and tapping to shoot. It's not perfect, but with a little trial and error, it's easy to find the right fit.
Taking it even further, the user options include "auto detail adjust," and you can control the menu flip speed, the detail of the levels, and even the violence level if exploding heads and splattering blood don't tickle your fancy. The game is so customizable that it's nearly guaranteed you'll find a configuration to suit your needs and skill level.
Aside from the obvious task at hand—shooting cult members – the maps are strewn with all kinds of little goodies to make the game more interesting. Weapons abound, but there are also food items like the "monk's meal" and "priest porridge" to increase strength. The maps are plenty interactive, as well, with breakable glass, jump pads, unlockable doors, and plenty of environmental hazards to avoid.
The 3D environments are detailed and only pixelate slightly when you get really close to something. If something interrupts your game, Rise of the Triad saves your progress mid-level, so it works for short bursts of play as well as longer sessions. Though there isn't a multiplayer option, it would be almost superfluous considering how many variations on the game you can play by yourself.
All of these things come together for an ultimately enjoyable gaming experience, whether you're an FPS die-hard or not. Despite the immense amount of options, power-ups, and scenarios, the game never feels overwhelming or gratuitously complex. Shoot bad guys, pick up shiny objects, don't die—that's it. For $4, Rise of the Triad brings something new to the first-person shooter genre on the iPhone.
[Meghann Myers is an editorial intern for Macworld.]
Note: When you purchase something after clicking links in our articles, we may earn a small commission. Read our affiliate link policy for more details.