So here's what we know about Thursday's press-only event at Apple's Cupertino headquarters: The event starts at 10 a.m. PT and will focus on the forthcoming iPhone 4.0 update. The invitation was pretty clear about that.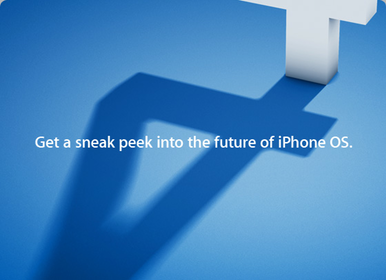 We also know that, whatever iPhone-related news Apple plans to unveil, Macworld's Jason Snell and Dan Frakes will be in Cupertino to live blog the iPhone 4.0 preview.
But apart from that? Your guess about Thursday's iPhone 4.0 preview event is as good as mine. And therein lies the peril of trying to prognosticate pronouncements from a company that keeps its cards pretty close to the vest.
"I don't think there's a whole lot of value in speculating on any given feature at this point," said Michael Gartenberg, a partner with Altimeter Group, when I spoke to him on Wednesday. And while that's true enough, half the fun of these Apple get-togethers comes from trying to deduce what Apple has planned. (The other half? Reminding anyone foolhardy enough to make a guess how spectacularly wrong they turn out to be, if my inbox is any indication.)
Fortunately, Apple offers a little hint as to what to expect from what it's done at past iPhone OS events. This is the third consecutive spring Apple has summoned reporters to its headquarters to give them the straight dope on what to expect in forthcoming OS updates. In 2008, the company took the wraps off the iPhone SDK, which paved the way for those hundreds of thousands of apps that currently fill up your phone, and talked up efforts to make the smartphone more appealing to enterprise users. In 2009, Apple focused on new tools for app makers, including in-app purchases and peer-to-peer connectivity. It also previewed new features like cut-and-paste and MMS support aimed at extending the iPhone OS's capabilities. (Or, if you're the glass-half-empty type, added features that probably should have been there in the first place.)
What could that mean for Thursday? More of the same, says Avi Greengart, research director for consumer devices at Current Analysis, who told me that the event "will be split between features aimed at improving the user experience for consumers and features aimed at helping developers build richer applications."
What those features will be, of course, is up to Apple. But the analysts I spoke to on Wednesday seem to agree with Macworld's wishlist, with third-party multitasking leading the requests. "I know why they didn't do it in the first generation," said Tim Bajarin, president of consulting firm Creative Strategies, adding that Apple felt allow apps to run in the background would consume battery life. But now with rival mobile operating systems featuring multitasking—most notably, Google's Android OS—"it's become a competitive issue," Bajarin added.
Even if full-fledged multitasking isn't in the works for iPhone 4.0, Greengart said, Apple could introduce some modified form of the feature. "It may allow a limited number of applications to run in the background, or, more likely, allow specific processes to run in the background," said Greengart, citing streaming music, GPS beaming, and messaging, as possible examples.
Other changes to the iPhone OS that Greengart sees as a possibility for Thursday include social network integration—"another area where where Apple lags Palm, HTC, and Motorola," he said—and notifications and alerts. "Apple has to have seen that the approach Palm and Google take to alerts is better than the modal method Apple uses every time you get a text message or even a phone call," he added.
Still, Altimeter Group's Gartenberg notes that Apple isn't typically in the habit of matching what competitors already do. "Apple typically doesn't respond in that manner," he said. "They keep their own counsel as to what's an important feature or not."
Apple's Thursday event comes less than a week after the iPad hit stores. But don't look for the tablet to garner much attention during Apple's presentation. True, the changes to the iPhone OS previewed Thursday may also affect the iPad, but it's the phone experience that figures to be front and center during the event.
That goes double when it comes to possible hardware announcements, like a future version of the phone itself. "It's unlikely if the past is any guide," Gartenberg said. "Apple has done [iPhone OS events] twice… and in both cases, it kept the focus on the software."
Bajarin is even more adamant about where Apple will place its focus at Thursday's event. "I don't believe it has anything to do with the iPad," he said. "I don't believe it has anything to do with hardware."
Instead, look for Apple to do on Thursday what it's done the past two years—set the stage for releases to come later this year. "They have often done this to set up the [Worldwide] Developers Conference and lay the groundwork for what can be next," Bajarin said. "Then, they roll things out closer to the Developer Conference."