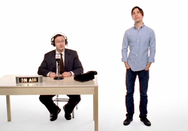 For those of you sitting patiently in front of your TV, waiting glassy-eyed for the next appearance of the classic Mac and PC duo, you may want to go get a snack or something. According to Mac portrayer Justin Long, Apple may finally have concluded its long-running ad campaign, which began in 2006.
In an interview with The A.V. Club, Long was asked about the status of the spots, and he had this to say:
You know, I think they might be done. In fact, I heard from John [Hodgman], I think they're going to move on. I can't say definitively, which is sad, because not only am I going to miss doing them, but also working with John. I've become very close with him, and he's one of my dearest, greatest friends. It was so much fun to go do that job, because there's not a lot to it for me. A lot of it is just keeping myself entertained between takes, and there's no one I'd rather do it with than John.
Perhaps it's finally time: the series has spawned 66 ads over the last four years, not to mention a few one-off videos that have aired at Apple events like WWDC. But there hasn't been a Get a Mac ad in 2010 yet, and so far Apple's news this year has focused largely on iPhone OS devices. Which isn't to say the Mac is going anywhere, but perhaps it's time for a fresh, revitalizing take.
So, what will Apple try next? Perhaps it will focus on what you can do with the Mac, as with its iPhone and iPad ads. Or full-blown dramatic productions of Shakespearean proportions. Noh theatre? There are more options than you can shake an iPhone at.
How about you, readers: Will you be sad to see the end of Mac and PC? Or are you looking forward to seeing what Apple's cooked up next? Me, I'm looking forward to the inevitable Hodgman/Long reunion ten years from now where they're just heads in jars.