Editor's Note: The following article is reprinted from the Today @ PC World blog at PCWorld.com.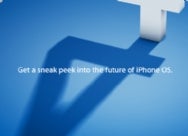 Apple is set to give the public a sneak peek at all the new features packed into iPhone OS 4.0 on Thursday morning starting at 10 a.m. Pacific. This preview of the next iteration of the iPhone OS follows on the heels of Apple's iPad launch, and as such speculation for this Apple launch is relatively low compared to the guessing games that surrounded last year's iPhone OS 3.0 preview.
Follow all the news Thursday with Macworld's live blog of the Apple iPhone event starting at 10 a.m. PT.
Nevertheless, there are still some pertinent questions that need to be answered by Apple on Thursday about the future of the iPhone OS. So after looking at all the rumors about coming features, and wishlists to improve the iPhone's functionality, I've assembled this list of 10 pressing questions I'm hoping to get answered by Jobs and co. on Thursday.
What kind of multitasking?
The most prominent rumor about iPhone OS 4.0 is that it will introduce multitasking for third-party apps. Apple may no longer be able to leave third-party multitasking off the iPhone since competing platforms, like Google's Android, feature this functionality. But what kind of third-party multitasking would the iPhone get? Will it allow multiple apps to be open at once? If so, how many? Will it include background processes for things like instant messaging? If so, what kind of controls will users have to kill those background processes if they are eating up battery life or slowing down device performance?
What happens to push notifications?
If third-party multitasking in the form of background processes comes to the iPhone, what does this mean for push notifications? Originally, push notifications—a system that pushes updates out to your device instead of having individual applications call home for updates—were used as Apple's answer to the absence of background processes. Although Apple was slow to launch push notifications and some have criticized the functionality, Apple's push system actually works quite well. So what's going to happen to it? Will multitasking replace it or simply augment the infrastructure that's already there?
How does the iPad fit in?
Both the iPhone and the iPad are running different iterations of the iPhone OS (the most current version for the iPhone is OS 3.1.3, and the iPad runs OS 3.2). Will this continue with the introduction of 4.0 or will the OS merge into one version for both devices? If the OS versions are merging, will the iPhone get any features that are currently exclusive to the iPad, such as iBooks?
What's up with WWDC 2010?
Apple has yet to announce the dates for its annual Worldwide Developers Conference for 2010. While the conference is mostly for developers, Apple has used WWDC for the past two years to introduce a new iPhone model. The latest rumors from Apple Insider pegged WWDC for June 28-July 2. Look for Apple to announce the dates for WWDC on Thursday.
What's up with AT&T?
Will Steve Jobs have anything to say about Apple's relationship with AT&T on Thursday? The rumors about the iPhone coming to Verizon have surfaced again, but there are some more pressing issues that Apple could discuss at the iPhone OS 4.0 sneak peek. AT&T has yet to deliver iPhone tethering, a feature that was promised more than a year ago. There's also the issue of accessing Skype over AT&T's 3G network. Granted, the issue with Skype on the iPhone has more to do with Skype than AT&T, since the carrier announced in January that Voice over Internet Protocol applications like Skype would be able to access AT&T's 3G network. But will any of these questions relating to the iPhone's 3G functionality and AT&T be answered on Thursday?
How about some file management?
One of the smaller complaints from critics after the recent iPad launch was the device's lack of any type of file management system. Some are saying having even just one folder on the home screen where you could place any type of file you wanted would be enough. So what about it, Apple? Will iPhone OS 4.0 introduce any kind of a "My Documents" folder for the iPhone and iPad?
What's up with home screen contacts?
Another persistent rumor about the next iteration of the iPhone OS is that it will allow you to place individual contacts on the home screen. What purpose would this feature serve? Is it just a shortcut that automatically dials a number for you, or is this a complete contact file you can open up? Also, if this rumor is true, how is this new feature better than the iPhone's favorites list, which appears in the phone application and allows you to quickly access important contacts?
Is over-the-air sync coming?
The iPhone has Wi-Fi connectivity and Bluetooth for ad hoc connections, and yet you still have to use a USB cord to share data between your computer and your iPhone. Is there any possibility that iPhone OS 4.0 will finally allow some kind of over-the-air sync? Come on Apple, my Palm Centro could sync via Bluetooth, why doesn't the iPhone have this functionality?
iTunes in the sky?
Apple in late 2009 purchased the cloud-based music application Lala, but little has been heard about this acquisition since. Earlier this year there was some evidence that Lala technology was powering previews in the Web-based version of iTunes, but many are hoping for a cloud-based version of iTunes that could be accessed through a browser as an alternative to the desktop version. So will iTunes 4.0 introduce any cloud-based features for iTunes similar to what Lala offers? To be honest, I wouldn't bet on this one. Apple typically shuts down its acquisition's operations before relaunching them under the Apple brand. At the time of this writing, Lala.com was up and running.
Free turn-by-turn GPS?
The days of GPS services like TomTom and Garmin may be numbered. Google has been offering and enhancing free, voice guided turn-by-turn GPS navigation for several months, and Nokia is also offering a similar free service to some of its users. Now would be a good time for the iPhone to feature this service for free or at least 'almost free.'
So those are some of the questions I'm hoping to get answered during Apple's iPhone OS 4.0 event, what about you?