Apple introduced a new advertising platform designed specifically for the iPhone OS platform during the company's iPhone 4.0 preview event on Thursday. The new technology, dubbed "iAd," will be built straight into the forthcoming update to Apple's mobile operating system.
"A lot of the apps on the [iPhone] are free, or 99 cents, or $1.99. And we like that. Users like that," Apple CEO Steve Jobs told reporters during Thursday's presentation. "But these developers have to find a way to make some money. And we'd like to help them."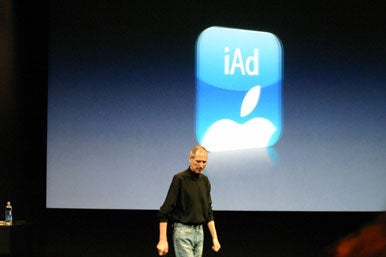 iAd allows developers to include ads directly into their apps. The ads, in turn, are designed to provide a rich promotional environment, complete with what are essentially mini apps-inside-the-app that, according to Jobs, are written entirely using the HTML5 standard—a clear jab in the direction of Adobe's competing Flash platform.
According to Jobs, the average iPhone user spends around 30 minutes a day using apps. "Now, if we said we wanted to put an ad up every three minutes, that would be 10 ads per device per day. We're going to soon have 100 million devices [running the iPhone OS]. That's a billion ad opportunities per day in the iPhone and iPod touch community," Jobs said. "This is a pretty serious opportunity."
Interactivity plays front and center in the new technology: at Thursday's event, Jobs showcased a few demos that included a Toy Story 3-themed minigame, a Target-branded ministore (complete with in-app purchase) and a full-screen video commercial from Nike.
"We want to change the quality of the advertising as well," Jobs said.
Because the ads are based on well-known technologies, in addition to the financial opportunities derived directly from their inclusion in app, developers should be also able to benefit from the technology by building ads for third parties.
Ads available through the iAd platform will be sold directly by Apple, which will share the revenue with the developers whose apps host them. In a departure from the traditional 70-30 percentage split of App Store revenue, only 60 percent of the income from ad sales will be shared with developer—a figure that compares favorably with the rest of the industry.
iAd was one of the seven "tentpole" features Apple profiled on Thursday. The iPhone 4.0 update promises more than 100 user features and 1500 new application programming interfaces (APIs) for developers. Apple released a developer preview of iPhone 4.0 on Thursday; iPhone and iPod touch users will be able to get their hands on the update this summer, with the update arriving on the iPad in the fall.