Real Racing HD and the iPad were basically made for each other. From developer Firemint, this first-person racing game is just as good–maybe even better–than any console racing game out there, but at a fraction of the price.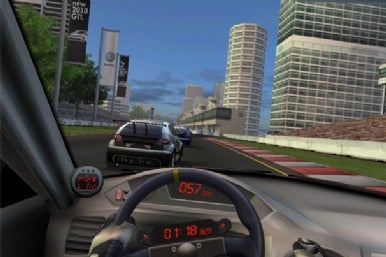 First thing's first: like any racing game, it takes some practice to get a feel for Real Racing HD's controls. Luckily, there are a whopping five control schemes to please everyone. Pick your combination of acceleration (automatic or manual, meaning accelerometer), steering (accelerometer or touch-screen), and braking (automatic or manual). I found the more tilting involved, the better, but there's something for everyone.
There are three main racing modes, with near-endless replayability in each. Career is your standard tournament race structure, with 12 multi-course cups in all. You start with the "hatch" car and a one-lap qualifying race, with a goal time to beat in order to win a bronze, silver, or gold cup.
After the qualifier, there are two tournaments to beat in the hatch car, before you move up to the "sedan" qualifier and its two tournaments—and so on and so forth, up through the "muscle" and "exotic" cars. If you manage to make it through all 12, there are three levels of difficulty to master before you're truly done.
And that's only one game mode. The other two, Quick Race and Time Trial, are quite a bit less labor intensive, but just as multidimensional. The courses here don't have specific cars associated with them, but you can only use the cars that you've unlocked in Career mode. Four courses are available at start and the other eight must be unlocked as well.
For Quick Race, you can customize how many laps you want to do and whether you race against opponents. Time Trial is always one lap and you're always alone, but as you unlock the more advanced cars, you can compare your times on the same track.
Multiplayer is available for local races through the same WiFi connection. For rankings and worldwide competition, Real Racing HD uses Cloudcell, an online, third-party service for leader boards and race matchups. Unfortunately, the registration process for Cloudcell is almost prohibitively involved. Worse yet, stats and rankings aren't integrated into the app, so opening the links to see them forces you to exit Real Racing and launch Safari, then go back when you're done looking.
There's nothing to say about the graphics except that they're flawless, and with the iPad sitting right in front of you, it feels like you're driving a go-kart. The looks and sounds of the game are customizable as well. Cloudcell provides skins to outfit your car: just follow the "More skins" button to the website, take a screen capture of the one you like, and wrap it or any other photo in your library around the car. And if you are so inclined, you can tap the pause button at the beginning of any race and select music to listen to from your iPod.
Real Racing HD has such a vast amount of gaming options and combinations, it would be impossible to enumerate them all here. Suffice it to say that you will probably never complete the game and almost certainly never get tired of it. Not many console racing games can say that, and none of them will set you back just $10 either.
[Meghann Myers is an editorial intern for Macworld.]