Apple's iPhone presentations are traditionally somewhat conflicted events—are they for average users or just developers? Going by the features the company showed off on Thursday, iPhone 4.0's disclosed changes appeal mainly to consumers. Unlike 2009's iPhone 3.0 event, where Apple spent a lot of time talking about developer features, Thursday's edition seemed to gloss over them for the most part, though two of the most interesting additions—multitasking and the introduction of iAd—could mean a lot for application makers.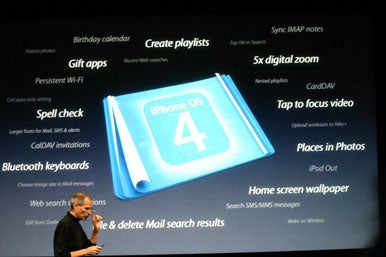 Developers I spoke to were generally positive about the additions—especially when looking at it from the perspective of users of the devices.
"To be honest, I'm an iPhone user first and a developer second," said App Cubby's David Barnard. "So, right now I'm most excited about all the shiny new stuff…listening to Pandora and other streaming audio in the background, better app organization with Folders, etc."
Craig Hockenberry of The Iconfactory, which makes Twitterrific, agreed. "As usual with these events they tend to be user-focused," he said, adding that he was looking forward to investigating the more developer-oriented additions. "Our real excitement begins after downloading the SDK and looking at the new APIs. There's a ton of great stuff in there."
"I'm more excited about the user-facing features that were announced today than I am about the developer features," said Instapaper developer Marco Arment. "Even though most of what was announced won't be relevant to my development priorities, I'm glad to see the platform maturing and adding great features."
Two, two, two tasks in one!
There's no question that multitasking was the star pony of Thursday's show, as Apple trotted it out in extensive detail, running down seven frameworks that would let developers carry out certain processes in the background. And for both developers and consumers, it's a welcome addition.
"We've all felt the need for the ability to easily switch between apps when performing a task," Hockenberry said. "It looks like Apple's solved the problem elegantly, as many of us expected."
A big part of that elegance is balance, as Barnard points out. "If developers were given free reign in the background, battery life and performance would suffer immensely," he said. "Apple has come up with an elegant solution that should be a lot less work for developers whose features fit nicely into Apple's box, but incredibly challenging, if not impossible, for developers who want to venture beyond the walled garden."
Arment is one of those who may be left out in the cold: "Unfortunately, the announced options for background functionality don't provide a way for me to periodically download Instapaper customers' newest saved articles without the app running." Still, he added that he's glad the feature will be there, even if he has no immediate plans to use it.
And while Hockenberry was mum about how multitasking might fit into Twitterrific, he did say that he'd be taking "a very close look at it."
For Barnard's part, it was the Local Notifications functionality that grabbed his attention, especially compared to Apple's previous insistence on Push Notifications as the solution to multitasking. "I definitely plan on adding Local Notifications to Gas Cubby and Trip Cubby. I've had several ideas for how notifications might be helpful to users, but they just weren't the kind of show-stopping features that warranted the hassle and long term maintenance of server-side Push Notifications."
Barnard did add, however, that he was disappointed to see that Apple didn't issue a more substantial revamp to the way the notifications system works—one of Macworld's own disappointments—especially in terms of the way subsequent notifications displace earlier ones. "It seems somewhat backward to me that Apple would implement something like local notifications that could significantly increase the frequency of notifications without first making it more likely that they'll actually be seen."
Money for nothing
The other part of Apple's event that caught a lot of attention was Apple's addition of its iAd framework. The goal is to make it easy for iPhone developers to add advertisements to their applications and, as Apple CEO Steve Jobs said during Friday's presentation, to improve the quality of advertising for end users. Developers who offer free and low-cost apps "have to find a way to make some money," Jobs told reporters on Thursday when demoing iAd. And we'd like to help them."
"The power of iAd is that anyone with an iPhone app, no matter how small, can be an ad publisher," says Arment. "This was always possible with a few mass-market iPhone ad providers, but the ads were usually of very poor quality, and most developers opted not to use them. Hopefully, Apple will maintain high standards for the ads."
Apple has promised that developers will keep 60 percent of revenue from the ads, which it says is "standard," though it means that Apple gets a bigger chunk than the 30 percent it gets from app sales. "The split looks favorable," says Hockenberry, "but the real question is what are they charging advertisers per click or impression. Given Apple's customer demographic, I'd suspect them to attract companies with big ad budgets."
Developers seem tentatively excited about the possibilities of iAd, though they remain curious about many of the details that Apple has not disclosed. "The biggest question is how Apple is going to manage iAd," says App Cubby's Barnard. "It just doesn't make any sense for advertisers to pay the same rate for ads in a New York Times app as they would for a sub-par tic-tac-toe game." That's been the problem for other companies such as mobile advertising powerhouse (and recent Google acquisition) AdMob, he says.
Hockenberry says the Iconfactory—which currently serves ads in its free version of Twitterrific—will keep a close eye on how iAd shakes out. But Arment doesn't think Apple getting into the ad game will mean the end of smaller, premium advertising networks such as The Deck. "That's not what Apple was targeting," he said.
At the end of the day, it seems that Apple itself may be iAd's most significant pro and con, as far as developers are concerned. "I'd expect advertisers to feel more confident working directly with Apple," says Barnard, "but I anticipate a lot of confusion and growing pains as Apple gets up to speed. My biggest fear as a developer is that iAd will end up being as much a black box as the rest of the App Store is currently."
The long and winding road
While we users have to wait until summer for iPhone 4.0 to arrive, developers have the added benefit of getting to play with the beta versions now, which means they can start implementing 4.0-specific features to wow all us later this year. And while most of them had only just started delving into the SDK when I spoke with them, they all seemed to have high praise for the latest version of Apple's mobile operating system.
"[iPhone] 4.0 appears to be an incredibly deep release," said Barnard. "After three years of iPhone and two years of third-party development, you'd think the pace of innovation at Apple would be slowing not accelerating."
Arment pointed out that even the features targeted at general users are a boon to developers. "The biggest favor Apple can do for developers is to give us more potential customers, so every feature that makes people buy more iPhones is great for developers."
But the Iconfactory's Hockenberry perhaps put it the best, when I asked him if he had anything he wanted to add: "Nope," he said. "I want to go back to looking at the SDK documentation."