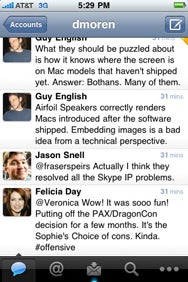 There was no shortage of Twitter clients for Apple's new iPad when it debuted last week, but one absence struck us as conspicuous: where was popular iPhone app—and App Gem winner—Tweetie? That question now lays answered as Twitter CEO Evan Williams announced on Friday that the company had acquired Tweetie developer Atebits.
The deal means that Atebits founder and developer Loren Brichter will join the Twitter team. If that's not enough, the iPhone version of Tweetie will be renamed Twitter for iPhone and dropped from its $3 price tag to free. Twitter also confirmed plans to launch a version of the app for the iPad. In a blog post on his own site, Brichter said that he aims to help simplify the Twitter experience and let people use Twitter wherever they are.
Curiously absent from these announcements, however, is any news of Tweetie for Mac's fate. Both Williams's and Brichter's blog posts emphasize the mobile aspect of Twitter, with no mention of the desktop. Might Tweetie for Mac find a new home elsewhere?
Of course, by officially conferring its stamp of approval on Tweetie, Twitter has immediately changed the playing field for all of those other third-party mobile clients. Then again, it also puts the pressure on Brichter to maintain Tweetie at the standard to which its users have become accustomed. Sounds like things have just begun to get interesting.