CrowdScanner is a $2 social app from Dudleymont Limited. You use CrowdScanner to poll people around you using your iPhone or iPod touch, and to see how others around the world vote on various issues. The app is executed poorly and hampered even more by being overrun with hyper-specific questions that have no business being shared globally.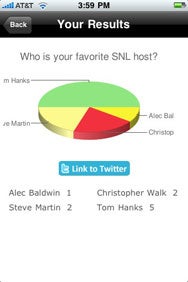 The first thing you're meant to do in CrowdScanner is to create a poll. Doing so is decidedly unintuitive: If you make any errors in the question or answer fields, your entire entry is wiped out and you have to start from scratch. Early on, you'll likely encounter that problem a few times, since these "errors" include things like the use of quotation marks or apostrophes.
Once your question is entered successfully, you can start polling the folks around you by passing them your iPhone. (If you use more than 4 poll options, note that your pals will likely not realize that they can scroll for the additional answers, since there's no visual indication that they exist.) After each person votes, CrowdScanner asks whether the voter wants to pass the iPhone to somebody else. If the last person to vote reasonably declines that option, that person's vote isn't counted—an annoying bug, but one that's easy enough to work around.
When you're ready, you can tap to see the poll results as a pie chart. For me, the answer labels usually didn't fit on the pie chart—they were harshly cut off. Of course, unless you're polling hundreds of people, bravely sharing your iPhone with all of them, it may make more sense to simply take a show of hands from your friends, or perhaps engage them in actual conversation.
The one bonus feature that CrowdScanner offers is thus the ability to see how other users of the app voted on recent questions (or to poll your own friends on those questions). During my testing, the questions that came up from this feature were insightful ones like "Are u sick of talking about El?" and "What is your fav food?", the latter with options like "Matts mom" and "subway."
CrowdScanner seems like a cute enough idea, but the execution leaves me with just one question: "Who would pay 99 cents for this?"
[Lex Friedman is a frequent contributor to Macworld.]
Note: When you purchase something after clicking links in our articles, we may earn a small commission. Read our affiliate link policy for more details.